Steve Johnson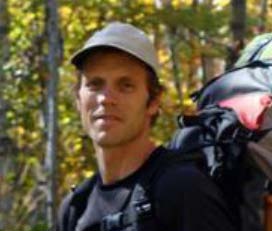 A self-propelled recreation junkie and fan of all things outdoors, Steve Johnson parlayed that passion into a 20-year freelance writing career in a variety of outlets. Author of ten books, including Minnesota Waterfalls, Best Loop Hikes Colorado, Bicycling Wisconsin, and Best Bike Rides Minneapolis and St. Paul, his latest title, Steve is also a regular contributor to Backpacker, Wisconsin Trails, and other regional magazines across the country, as well as editor for related spinoff projects like media guides for sporting events in the upper Midwest. Watch for excerpts, blog entries, and more info at his website, higherlatitude.com.
Camping
Steve spent his first night out in the woods as a wanderlust kid, in the shelter of a lean-to fort made of sticks and branches, and that mini-adventure launched a lifetime of camping outings from tame overnighters to multiday epics. Steve learned the basics of cooking and sleeping outside on family trips, with a canvas tent so big it echoed inside. He honed his skills with stints at local gear shops, following the footsteps of seasoned outdoor experts, and testing his mettle and a garage full of well-worn equipment in thirty years of exploring, from deep forests to high mountain summits.
Travel
Researching the minutiae of where to go for the best-of in his collection of guidebooks, Steve developed a keen ability to uncover hidden gems and crowd-free alternatives to the usual fare. He has hiked and bicycled nearly every nook and cranny in the forests and bluff country in the northern Great Lakes states, and found Colorado's finest sights over two decades of roaming its quiet valleys and alpine peaks. Steve has also wandered the sun-drenched streets of Mexico's Yucatan coast, pausing just long enough to scuba dive its turquoise waters with clown fish and manta rays, and in recent years explored the incomparable Oregon coast and inland mountain ranges of Southern California.
Skiing
As soon as he could balance on cross-country skis without tipping over, Steve took to the woods behind his boyhood home and learned how to swish through the snow, gaining momentum and a respectable skill set in ensuing years on family trips to trail systems from Minnesota to Michigan. On the alpine side, Steve's parents treated him to a Colorado ski trip as a 14th birthday present and he never looked back, skiing most every resort in the state since then, in addition to staying fresh on the lower elevation hills in Minnesota.
Cycling
A ten-year-old with a gleam in his eye, Steve helped his dad cobble together a little BMX/cruiser Frankenstein bike, with cast-off parts and hopes it would roll. It did, and the bike was rarely left alone after its maiden voyage. Steve stoked that initial fire for cycling on a soon-to-follow, father-son ride to northern Wisconsin in a t-shirt, cut-offs and reject basketball shoes on a two-day odyssey of enlightenment and sore legs. Following a couple of years learning the trade at a local bike shop, a competitive streak started nearly 15 years of on-and-off racing, and Steve's two-wheeled passion for both road and mountain biking has only grown, visible in his recount of the best riding in Minnesota and Wisconsin from the pages of his cycling guidebooks.
Most Recent Contributions by Steve Johnson
All Contributions by Steve Johnson