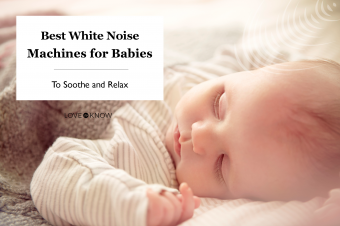 Some infants sleep like little rocks, while others seem to be missing the snooze chip and are awakened by every tiny creak and squeak. Babies who are light sleepers make slumber all the more elusive for exhausted parents in desperate need of some zzz's. You may not be able to wave a magic wand and turn your infant into a sound sleeper, but you can enhance the sleeping experience by using a white noise machine. You need rest, the baby needs rest, and these top-of-the-line sound machines will help everyone in the house.
Best White Noise Machines That Will Be Your Right Hand Sleep Time Man
---
Best Sound Machine for Parents Who Don't Have Time for Gadgets and Buttons:
Yogasleep Dohm Classic
Not everyone loves the dozens of bells and whistles that sound machines come with. The Dohm classic does its job without any added stress of learning a hundred varying functions. Man, we love simple.
Read more.
---
It's hard to make a white noise machine stand out from the pack soundwise, but the Baby Shusher cracked that code and has brought exhausted parents something truly inventive and unique.
Read more.
---
Babies need so much stuff, and a white noise machine might be a must have for you. If it is, this option does its job at a fraction of the cost of other models.
Read more.
---
For families on the go, a compact and portable sound machine is a must.
Read more.
You have a new baby. You're surviving on coffee and cuddles, and your brain is fuzzy at best. You don't have time for white noise machines with more buttons and functions than a space rocket. The Yogasleep Dohm Classic is a favorite sound machine of many parents because it does its job effectively and simply. Turn it on, shut your eyes, and BOOM! That's pretty much it.
What We Like
Lightweight and easily portable
What We Don't
Less aesthetically pleasing compared to other sound machine models
Does not play nature sounds or songs
This white noise machine does just about everything but make you a ham sandwich, so if you think more is... well... more, then fork over sixty bucks and get yourself and your infant some rest.
The basic functions are built into the sound machine, but it also connects to your smartphone to access advanced features and has the ability to coordinate to the whole family's sleep schedule. With a sound machine, night light, and time to wake phone alert, it is essentially the Mary Poppins of white noise machines.
What We Like
Can adjust to several sleepers in the house
What We Don't
Advanced features require an app
This is part soothing sound maker, part cuddle toy, and totally adorable. While many white noise machines on the market function wonderfully, they look and feel like a gadget meant for adults, not young children. The Mommy Paradise Sound machine plays a wide range of sounds, from melodies to white noise rhymic patterns. It includes several levels of volume and brightness, a cry sensor, and can be hand-washed. It will fast become your little one's go-to item come nap time, and you won't ever want to be without it either!
What We Like
Several levels of brightness and volume
What We Don't
Some parents agree the cry sensor doesn't activate quickly enough
Have you ever tried to walk through the neighborhood with a screaming infant? I have, and it is no fun at all. Once my daughter screamed so fiercely that I panicked and cut through the backyards of neighbors just to get her home where she didn't chance waking the dead.
I wish I had this sound machine with me during that episode. The Baby Shusher uses real human shush sounds to soothe babies. Besides being inventive and awesome, it is portable! It runs on batteries, and if you have screaming infants like I had, and about a million places to be in a single day, you'll want to buy this white noise machine along with about one hundred batteries at Costco.
What We Like
Small, sleek, and portable
Uses human sound instead of static noise
What We Don't
If you run out of batteries, you are up a creek
Only one sound option available
Babies are not cheap. All of the items they require add up to a pretty penny. If you can manage to snag a necessity here or there at a low cost, well, winner, winner chicken dinner!
The HoMedics myBaby SoundSpa costs under twenty bucks, and delivers sights and sounds to your tired infant. You can choose from white noise, nature sounds, or lullabies to play as well, and you can pair those with images of animals that dance across the ceiling. Sights and sounds can be played together or separately, and a timer can be set, so the machine's images and noises shut off when your infant does.
What We Like
Small and easily portable
Variety of sounds offered
What We Don't
Some reviewers were disappointed in the quality of sounds
Users must scroll through each sound to get to the one they want
Do you know what's worse than having a screaming infant wail away at home all night long? Having a screaming infant wailing away at a relative's house or a hotel with paper-thin walls. Parents who know that sleeping isn't going to come easy during travel will want a sound machine that can be packed up and used no matter where they rest their heads.
The Yogasleep Hushh White Noise Machine + Travel Case Bundle is small, offers three adjustable sounds, and can be quickly recharged using a USB port cable and a laptop or phone. Traveling with tots might not be the easiest thing in the universe, but with the Yogasleep Hushh White Noise Machine, it's at least a fraction easier.
What We Like
The travel case is extremely durable
What We Don't
If small size is key, there are smaller sizes available
Needs a place to be recharged
All of the sights and sounds on this model can be adjusted right from your tablet or your phone. If you know that entering your baby's room to turn the sound machine back on, adjust the volume level, or change the sights is going to alert them to your presence and make sleep an even more elusive task, controlling the machine from another room is a function you won't want to go without.
With a few clicks of a button from your personal device, you can create the ambiance of a Celine Dion concert or turn it up like you and baby are at a Jay Z and Beyonce affair. Everything is customizable with this sound machine. Honestly, some days this might be the single thing you are able to control.
What We Like
Sights, sounds, volume, and time can be customized
All functions can be controlled from an app
What We Don't
Buttons can be challenging to operate
Parents looking for a sound machine are certainly in the market for something that gives comfort and serenity through noise. Many are looking past the white noise, the shushing, and the nature-esque vibes to a more complete package model. They want to set the mood for sleep with sound and color. The Jack & Rose White Noise Machine addresses a wide array of sounds, including a fetal heartbeat function, but also allows parents to select any of the seven colors to set a perfect tone for the room.
Should your children grow out of the need for this, put it in your room, use one of the six white noise or six nature sounds, and select a color scheme that gives you a bit of relaxation. This might be the closest you get to an actual spa experience for a while.
What We Like
12 sounds and 7 colors to select from
Includes timer and memory function
What We Don't
Buttons can be hard to see at night
For parents of new babies, there is no greater prize than a little more sleep for everyone. Parenthood is a beautiful, yet tiresome journey, and a white noise machine that can ease the cries, stifle the tears (yes, even yours), and enhance a mood of peace and serenity is worth purchasing. Choose the best one for your needs, put baby down for a nap, and take a flying leap into your bed, because when you're a new parent, there is no sweeter gift than some R & R.