Vijayalaxmi Kinhal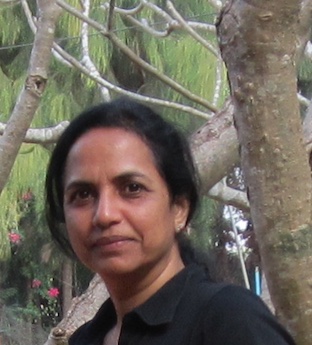 Vijayalaxmi is an ecologist. Her deep connection to nature pervades her life choices. In her career of more than 25 years, she has expertise through practical experience in organic farming and trade, research in tropical forests, land restoration, and environment protection in India. Vijayalaxmi has been a freelance writer for a year since moving to Germany with her family.
Writing
As freelancer, Vijayalaxmi has written about sustainability, organic agriculture, climate change, geography, and alternative energy. Earlier she covered forests, bio-architecture, and green living for reports and grant proposals as part of her management duties in the non-profit sector.
Vijayalaxmi uses her writing to bring information generated by scientific studies to the public sphere.
Organic
Vijayalaxmi studied Agriculture (B.Sc.), and Ecology and Environment Sciences (M.S.), looking for a way to engage and work with nature. During the latter, she got her first introduction to permaculture through talks and a farm demonstration by Masanobu Fukuoka, the founder of natural farming. In the light of her interest in patterns of organization of plants, she realized that natural farming seems to be an economical system of cultivation that is closest to natural ecosystems. This led her to take up organic cultivation and trade. She has also promoted organic farming through consultancy and her writing.
Forest Ecology
Vijayalaxmi did her doctoral work in a south Indian state, documenting biodiversity, tracing regeneration of tropical dry forests and land use, and validating traditional ecological knowledge. Last year, she conducted a short study that applies GIS techniques to help in locating regenerating forest patches on the southeast coast of India. She is currently working on another scientific article for publication.
Non-Profits
Post-graduation, Vijayalaxmi worked for five years restoring land and coordinating a women's empowerment program. She was a member of the team that won a national (Indian) award for managing the afforestation project covering a few hundred acres spread over three villages. As part of a trust, she focused on promoting environment protection, organic farming, alternative building and waste management techniques for nine years.
Hobbies
Vijayalaxmi spends her free time appreciating her new surroundings in a small and organic valley among forested hills in central Germany. She goes for walks in the woods that are part of a large natural broadleaved forest. Her little garden also keeps her busy and her family supplied with fresh vegetables.
Most Recent Contributions by Vijayalaxmi Kinhal
All Contributions by Vijayalaxmi Kinhal