If you have begun to notice dark spots on your face, you may be wondering about using foundation makeup to cover up this hyperpigmentation. With the right products and process, you can hide the spots and protect your skin from further breakouts by using good makeup coverage.
The Top Five Foundations for Hyperpigmentation
Your foundation makeup plays an important role in how you feel about your skin. Makeup serves as a barrier between your skin and free radicals, like UV rays that cause hyperpigmentation.
Choosing the right foundation for your skin can be a challenge since you have to take coverage, breathability, color, and texture into consideration. What works for one person may not work for someone else, but overall, there are a few trustworthy names on the market that are a good place to start.
Dermablend
For years, Dermablend has been a go-to for those with hyperpigmentation, and it's the #1 dermatologist recommended camouflage brand. Its Camo line was designed to cover hyperpigmentation and age spots, and there's a liquid, powder, and even matching concealer to choose from. Coverage is buildable, not cakey. Dermablend products are great for sensitive skin, hypoallergenic, fragrance-free, non-comedogenic, non-acnegenic, and are also available in a wide range of shades to match all skin tones.
Kat Von D Lock-It Tattoo Foundation
The Kat Von D Lock-It Tattoo Foundation is designed to provide fantastic coverage. It comes in a wide variety of skin tones, so it should be easier to find a perfect match than it is within some other lines. On Sephora's website, the product has 3394 reviews and 4.2 stars. Users love the full matte coverage, the wear time, the fact that a little goes a long way (some users recommend applying with a BeautyBlender for best results), and that it doesn't break them out.
Tarte Cosmetics Amazonian Clay 12-Hour Full-Coverage Foundation SPF 15
What's not to love, based on the name alone? One thousand reviewers on the Tarte website seem to agree. Tarte Amazonian Clay Foundation has non-chemical sunscreen, all-day wear, and full coverage that doesn't feel like a mask. The Amazonian clay component helps the makeup adjust to your skin type whether it's oily or dry. It's creamy, a little goes a long way, and users report flawless-looking skin.
Black Opal Total Coverage Concealing Foundation
For those with deeper skin tones, the Black Opal Total Coverage Concealing Foundation may be the key to the perfect complexion. 90% of reviewers on the Black Opal website would recommend this product to a friend based on its matte finish, impeccable coverage, color matching, lightweight feel, and price.
Estee Lauder Double Wear Maximum Cover Camouflage Makeup for Face and Body SPF 15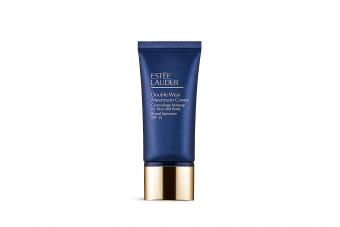 Estee Lauder's Double Wear foundation has long been a staple in many makeup kits because of its lightweight, natural, long-lasting finish that seems to cover just about everything without making it obvious. The Double Wear Maximum Cover Foundation takes that one step further, adding on more flawless coverage, so much that it can effortlessly cover everything from varicose veins to, yes, hyperpigmentation. 87% of reviewers on the Estee Lauder site would recommend this product to friends, and the overall rating is 4.3 out of 5.0 stars. Reviewers seem extremely enthusiastic about this foundation's ability to cover just about anything you could want it to.
Types of Foundation to Cover Spots
Besides the health benefits of wearing makeup, covering the hyperpigmentation may boost your self-confidence. However, no two foundations are alike, and some do more to shield skin and cover the spots than others. You'll find that there are many options on the market in addition to the products recommended above.
The following is a quick primer that gives a brief description of your foundation choices. Each of these foundation makeup choices offers the wearer some level of coverage. The darker and more frequent your spots, the heavier the coverage you need.
Sheer Powder
Sheer powder usually comes in a compact with a flat powder applicator. This type of makeup is for teens that have few flaws or don't need much coverage. The coverage level with sheer powder is light.
Mineral Powder Foundation
While healthy for your skin by itself, mineral powder foundation may not cover very dark spots. Mineral powder makeup is finely milled powder that contains ground minerals that are good for your skin. The coverage level of mineral powder foundation is medium to full. In some extreme cases of hyperpigmentation, you could use a powder foundation to set a liquid foundation. If you have the opportunity to experiment in the store before purchasing both products, give it a try first. Layering this way could look extremely natural or turn cakey. It's important to find two products that work well with your skin and each other.
Liquid Foundation Makeup
Liquid makeup may come in a tube or a bottle. This classic makeup can offer some coverage. Liquid foundation comes in a wide range of finishes, from light to full. Medium coverage is usually water-based while the full coverage often has an oil base.
Crème to Powder
Apply this makeup with a dry or damp sponge. Thick creamy makeup goes onto the skin more smoothly when using a cosmetic sponge. The makeup dries to a powder in minutes. This product will give you full coverage.
Mousse Makeup
Mousse makeup is relatively new but surprisingly effective. Dispense mousse makeup by pressing on the jar dispenser. It goes on light and moisturizes skin effectively. Depending on the brand, mousse makeup will give you light to medium coverage.
How to Cover Hyperpigmentation with Foundation
For the ultimate in coverage, start with clean moisturized skin. Then apply a medium to full coverage foundation to your skin if spots are very visible. Choose a lighter makeup if you only have a few light or pink spots. Here's how to do it:
Locate the areas you want to cover by examining your skin in a mirror.
Using a concealer that closely matches the natural tones or your skin, dab the product onto the spots. Use concealer sparingly but cover the entire brown spot.
Apply foundation to your entire face with a brush, your fingers, or a sponge.
Blend the makeup into your skin (natural sunlight is best for making sure there are no obvious lines). Allow makeup to rest a few seconds before examining the spots.
If the spots are still visible, apply more concealer and/or foundation to those areas for additional coverage.
Finally, carefully blend out the edges once more.
A Personal Choice
The best foundation makeup for hyperpigmentation is really a personal choice, but some foundations will give you greater coverage than others. Set aside some time to go explore the shades and feel of each of the foundations you're interested in trying. To find your best personal starting point, read reviews on MakeupAlley.com to see which ones seem to work best on people with your skin type and provide the finish you want without flaking on dry skin or sliding off oily skin.