Christmas equals cookies. Everyone has their favorites, whether it's a time-honored favorite passed down to each generation in your family, or an exciting new trendy treat. A Christmas cookie exchange party offers a fun way to celebrate the holiday season while sharing your favorite treats, recipes, and traditions. The best part is that you only have to bake a few batches of one cookie, then return home from the swap with a delicious assortment of goodies!
Cookie Exchange Basics
A Christmas cookie exchange party is a tasty event that provides an opportunity to share precious time together during the start of the holiday season. At a cookie exchange, guests prepare and bring enough of one type of cookie to share a dozen with everyone who is attending. They should also bring a copy of the recipe for each person. Each guest then goes home with a variety of holiday cookies to enjoy or share with loved ones.
Planning a Cookie Exchange
As with any party, the size of the party is best decided by the host. Some people might prefer a more intimate party and choose only to invite a few select, close friends, and family members. Others live by the rule "the more, the merrier" and opt for inviting additional guests. Six to 15 guests are optimal. Organizing thirty different types of cookies and having guests make thirty dozen is unreasonable.
Cookie Exchange Invitation
Invitations should be informative, and they should set ground rules for guests to make the cookie exchange party fun for all. Essential information includes date, time, place, a brief description of the event, and a list of what guests should bring. You can also print the above invitation and personalize it. If you need help, use this Guide for Adobe Printables.
Number of cookies to bring: A dozen of their favorite holiday cookies for each guest - specify this number on the invitation (total number of guests, minus one - guests don't need to bring a dozen of their own treats for themselves to take home).
Containers for taking home treats: A large tin (or tins, depending on the number of guests) to keep the cookies fresh is ideal.
Printed copies of recipes: Confirm with guests the number of people attending at least a week prior to the event and what type of cookies each guest is bringing to avoid duplicates.
Other Baked Treats
Cookie exchanges can certainly include other baked treats like bars and biscotti. However, this is the host's decision and should be communicated to the guests. The host should inform guests which treats are acceptable to prevent any disappointment. For example, are bakery treats allowed or only homemade? Should the baked goods be holiday-inspired, or are classics like chocolate chip or oatmeal welcome?
Party Preparations
Remember that others will take your cookies home, so one thing to keep in mind is safe transport to the party. Guests might want to consider pre-packaging, as it ensures that cookies keep their shape and taste. Guests can use their imaginations to create festive packages using colored plastic wrap or parchment, ribbon, or dimensional stickers.
Make cookie transportation simpler with these tips:
Bake cookies two days before the exchange.
Always cool before packing to prevent sticking.
Line cardboard containers with foil or plastic wrap to keep cookies fresh.
Place sheets of parchment between layers of cookies, especially those which are iced or decorated with royal icing (remember that cookies iced with buttercream do not stack well).
If cookies are delicate, pack them into shallow containers in a single layer.
Wrap cookies singly or in pairs, and group wrapped cookies in a pretty box, bag, or basket.
Party Supply Checklist
To make sure the cookie exchange runs smoothly, make a list of the supplies you'll need to have on hand. These can include:
Festive holiday decorations
Invitations
Snacks and drinks for guests
Place cards to label cookies
Footed dessert stand and trays for displaying cookies
Tongs
To-go cookie boxes
Plates and napkins
Cookie Swap Table Set Up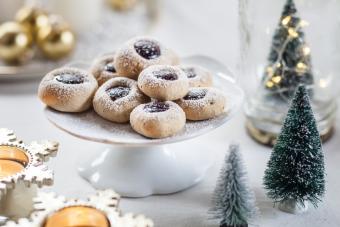 Display guests' cookie contributions on footed dessert stands and trays to add height to your setup and maximize table space. Use place cards to label each type of cookie. Make sure essentials, such as tongs, napkins, plates and to-go cookie boxes, are included.
Kids Cookie Decorating Station
If you are having kids in attendance, set up a cookie decorating station where the kids can get creative. Supply baked sugar cookies in cute cutouts along with decorative items like icing, sprinkles, and small candies.
Holiday Drink Station
If you are feeling extra creative, consider a drink station your guests can enjoy along with their assortment of cookies.
Milk: There's nothing like a good cup of milk to pair with delightful cookies. Set out cups, napkins and labeled milk carafes, such as 1%, whole milk, skim milk and oat, coconut or almond milk to accommodate guests with dietary restrictions.
Coffee: If you own a Keurig, set out holiday blend and original coffee pods along with mugs and essentials, such as milk, coffee creamer, sugar, and sweetener packs.
Hot cocoa: No holiday party is complete without hot cocoa. Set out hot cocoa packs, marshmallows, cinnamon, whipped cream, and other fun fixings for guests to customize a hot cocoa to their liking.
Cookie Exchange Party Printables
Party printables make planning easy and take the stress away from trying to find someone to design invitations and other coordinating stationery to go with the style of your event. Opt for a Cookie Exchange Party Pack that includes everything you need for a successful party.
Invites: Fill out the date, time, place, and number of cookies they should bring. Send invitations at least 3-4 weeks in advance to allow people to plan.
Cookie place cards: Place a labeled card with cookie type and the name of the person who baked them so they're easily identifiable. List any allergies (gluten -free, nut free, dairy free).
Recipe cards: Email the editable recipe cards to your guests ahead of time and have them bring printed copies to share.
Voting ballots: Have everyone vote on the top cookie by handing out printed voting ballot cards during the party.
Additional Tips
If you will be inviting a guest with special dietary constraints, remember to get specific details from that guest. You can do some research and share any substitutes you might have found with your other guests, and ask if they are willing to be accommodating. Make sure all guests know about the constraints.
Some cookies freeze well, while others should be stored in a sealed container along with similar cookies. Hard with hard and soft with soft, or all of the same kind in a single container. This extends the "cookie eating period" over a longer time frame.
Communication is key. Make sure that one week prior to the party, you reconnect with your invited guests to double-check that they are planning on attending. If the number of expected guests changes, you will need to adjust the cookie count and inform your guests.
Cookies should be baked from scratch, preferably seasonal flavors.
No burnt cookies.
Get Your Baking On
Planning a cookie exchange party takes time and lots of preparation, but it really pays off in fun and, of course, in cookies. Whether you are hosting or attending one, nothing compares to a fun-filled time spent with special friends to kick off the holiday season.