Christmas Inspiration!
Get inspired with exciting ideas for Christmas window decorations! When you choose a festive Christmas design for your windows, you enliven the entire room. These Christmas window decoration ideas will make this season's celebration extra special.
Nostalgic Felt Ornaments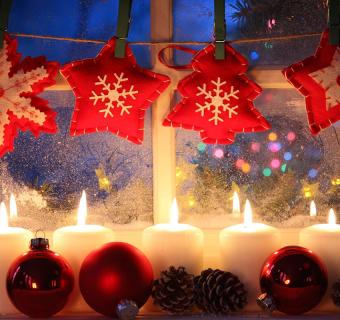 Old-fashioned felt ornaments are easy to make using red and white felt. Just sew with a simple blanket stitch and they're ready to hang. String a length of twine in front of the window and attach ornaments with green painted clothespins.
It's time to put it all together. Choose three-inch white column candles, red Christmas ball ornaments with a red gloss and matte finish, and a few pinecones for design depth. Spray the windowpanes with faux snow and you're finished.
A Touch of Gold
A simple yet very effective design features the rich color of gold. One large gold star and one large white star with gold highlights are just two of the star sizes used in this window design.
The other gold stars and Christmas ornament balls rest on a bed of artificial snow placed along the windowsill. Snow frosted pine boughs complete this vignette of gold elegance. Use one or more star-shaped votive candle holders to light up your design.
Windowbox Nutcracker Toy Soldiers
A fun and creative use of a window box employs a mantel display approach with pine boughs and strings of miniature lights draped over the window box. A plaid bow is suspended from the center. Faux snow covers the tops of the boughs, and vigil nutcracker dolls guard each window section.
The top window frame displays fans of pine. Lighted pine garlands trail along the outer sides of the window. Use several white strands of lights to create a valance. The center window section frames the inside lighted Christmas tree. Be sure all materials can withstand outdoor elements.
If desired, add more light strands along the back of the window box to better illuminate the nutcracker toy soldiers.
Kitchen Window Christmas Decor
One way to show off special Christmas ornaments is to hang them in front of a series of windows. This is especially attractive for hand-painted or hand-blown Christmas balls and ornaments. Choose a theme and add appropriate touches to create a vignette that tells a story in your window.
This cleverly decorated Christmas window features a small cedar bough secured over the window. The ornaments are tied onto the branch with red and white holiday ribbons. A larger ornament of Santa riding a reindeer leaping into the air makes this window decoration come alive.
Silver Bells
This window design is elegant in its simplicity. A pine wreath paired with silver bells, a bright blue bow and lights fills the window. The top of the window is framed with a lighted garland. You can use this type of Christmas window decoration to carry your holiday color scheme outside.
Christmas Card Window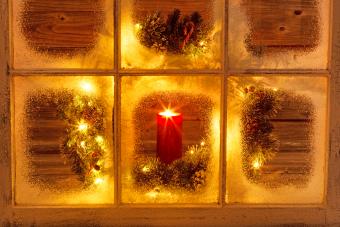 Create a classic look found on many Christmas cards. This window decoration is easy to create. All you need is faux spray snow, a flameless red pillar candle, and a Christmas wreath.
Each window pane is sprayed with faux snow paint, leaving an oval opening to glimpse the wreath and candle inside. Although simple, this classic vignette is truly Christmas card worthy.
Every Window Gets a Wreath
More Details
A traditional window design means a wreath in every window is highlighted with long red ribbon hangers and red bows. This design features a single taper electric candle positioned in the center of the windowsill beneath each wreath. This Christmas window decoration is a great way to celebrate the holiday and say, "Merry Christmas!"
Christmas Stars
You can decorate a row of windows with different styles of paper star lanterns. These beautiful stars give your windows a bold Merry Christmas statement. This display features a unique red and gold star in the center windows, flanked by matching gold stars.
While these stars are fixed on stands, you can easily suspend other star lantern designs from the top of the windows. If you don't have a row of windows for this type of display, opt to hang a star lantern in a single window. You can trim the window with light strings or garland. Add a pop of illumination and color to the garland with a light string of small gold stars. When night falls, light up your window to shine the way home.
Light It Up!
This bay window is outlined with Christmas lights. The colorful display highlights the Christmas tree inside, poised so it fills the middle portion of the window. The overall effect completes the rest of the exterior lighting display.
If you don't have an elaborate exterior light display, you can still take advantage of this type of window decoration. You may prefer to use an icicle lighting style above the window for a more dramatic effect. Make sure that you position the Christmas tree in the center of this type of large window for the best display.
Whimsical Santa Window
Ho! Ho! Ho! Santa is inside the house and peering out at you. If you're feeling creative, this Santa Claus window decoration is easy to create. All you need are two duplicate posters of this jolly old guy, and a string of Christmas lights. Attach the string of lights to the inside frame of the window. You may need to use two or three strands of light, depending on the depth of the window casing. String the lights so they illuminate and outline the inside of the window.
Next, turn the two posters so they are back to back with the image sides face out. Tape these together at the corners using double-faced tape. You're now ready to place the poster in the window so one side is facing out the window and the other side is facing into your room. Secure the poster in the window corners with tape. This is a fun way to enjoy seeing on the inside what anyone passing by will see from the outside.
Window Box Christmas Decorations
Window boxes needn't be neglected during the winter months. It's Christmastime, so fill them with cedar boughs. Use any leftovers from trimming your Christmas tree, or snip a few branches from a tree in the yard or forest behind your home. This lush window Christmas decoration has a few surprises that draw your attention to it. Faux snow painted pine cones are accented with Christmas ornament balls hanging from the boughs. The big surprise is the wisps of blue tinsel that give this Christmas window decoration a magical appeal.
Hand-Painted Window Christmas Scene
Forget about buying Christmas window decorations. Create a window design that's all about self-expression. Decide on the Christmas scene you wish to paint. This may be a scene of the three wise men on their camels, a manger scene, a snowman, a Christmas tree, or Santa stooped over his bag, retrieving presents to place under the tree.
Once your hand-painted Christmas window is completed, you may want to add light strings to frame the window and show off your artwork at night. Be sure to use a paint that will wash off the window once Christmas is over!
Rustic Christmas Window
A rustic window decoration that's versatile enough to be used inside and outside may become your favorite decoration. You can use live fir branches or faux ones. Take an old curtain rod or even a stick from the forest floor and secure it along the top of the window. Tie the branches or drape them over the rod.
Next, drape a string of star-shaped lights in the same fashion you would a Christmas tree garland. You can use twine, or ribbon if you prefer, to string pine cones that hang as streamers from the branches. Don't forget to add a few decorative Christmas balls, finials, and other ornaments to make this an enticing window Christmas decoration.
Reindeer Windowsill Scene
A woodsy and natural scene with two miniature fir trees and a metal cutout of a reindeer create a windowsill Christmas scene. Sprigs of greenery spread across the length of the windowsill, give the illusion of a forest bed. Add a few river rocks and a platter of pinecones for an authentic representation of a wintry scene in anticipation of Christmas.
Winter Wonderland of Cutouts
What says Christmas more than a winter wonderland? White paper and cardboard cutouts of snowflakes, Christmas trees, forest animals, and Santa's sleigh make this Christmas window decoration spectacular.
Hang the snowflakes of all sizes and designs above the forest and animal cutouts. The final magical touch is the cutout of Santa in his sleigh being pulled by flying reindeer soaring among the snowflakes. Merry Christmas to all!
Country Christmas
Select a few red ornament balls and a Santa ornament. You don't have to duplicate the exact ornaments/objects used, such as the nearly hidden violin. Homemade country ornaments are excellent choices. You may prefer to include a wooden red apple or two. Don't forget the spray faux snow for a wintry effect.
Christmas Village
Transform a windowsill into a magical Christmas village. It's that time of year when you want to show off your Christmas village. This holiday season, arrange your special decorations on a windowsill to take advantage of the reflective glass to further illuminate your village. Be sure to place the ice rink in the center of town. To set the right ambience, add faux snow or cotton batting for a wintry appeal. Be sure to turn on all the lights so your Christmas town comes to life.
Amaryllis Christmas Flowers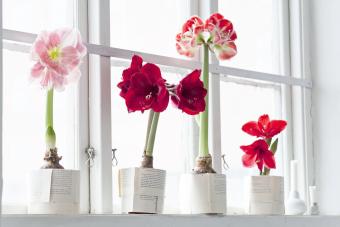 A variety of amaryllis flowers create a beautiful display just in time for Christmas. These bulbs need to be planted 6-8 weeks before Christmas to ensure you have flowers blooming during the holiday season. Of course, you want to display these beauties, and placing them along a windowsill will liven up your window space and make your flowers happy. Choose festive Christmas planters for the bulbs. Enjoy watching your flowers emerge and bloom.
Keep It Simple
If you're running out of time, don't panic, you can create beautiful and attractive window decorations with simple items. This grapevine wreath is commandeered and placed on top of pine sprigs. A sprig of pine with pine cones and a spray of red berries complete this wreath when placed in the center of the windowsill. The time required to create this amazing Christmas window decoration is less than a few minutes.
Repurpose Christmas Decorations
Most people have leftover decorations that no longer work with newer decorations. Instead of tossing them into a storage box, repurpose them for a windowsill design. Cotton batting can be used to create a hilly mountainside. Just crunch up some paper or use boxes to create the hills. Fluff the cotton batting over them and scatter faux presents and Christmas ornaments. If you have any leftover tinsel or garland, hang it overhead. Now, you have a cool snowscape that looks as though the contents of Santa's bag may be spilling.
Make Christmas Special With Window Decorations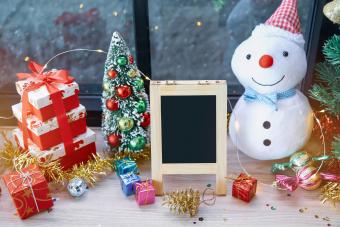 Expand your Christmas decorations by focusing on the windows of your home. Windows offer great opportunities to create several Christmas vignettes that can be enjoyed inside and outside your house. Select a theme for your window decorations. You can assign each member of your family a window to decorate. You may decide to turn it into a competition with special prizes and, of course, Christmas cookies and hot chocolate for everyone.
Once you've finished your window decorating, it's time to turn your attention on creating a Christmas mantel with a similar fun, festive design.