The holidays are about to get ugly! Host the ultimate Christmas get-together with an engaging ugly Christmas sweater party that will guarantee lots of giggles and belly laughs. Make it memorable with creative and festive entertaining ideas that will earn you the title of the best hostess in the neighborhood.
Select a Festive Ugly Christmas Sweater Party Invitation
Send out a super festive ugly sweater invitation to your guests at least two to three weeks in advance. Set the tone to your party by explaining the rules: "Must wear an ugly sweater. The tackier, the better. There will be a contest with fun prizes." Encourage guests to RSVP for a headcount so you can plan enough food and drinks for the event.
Get Your House Holiday-Ready
Whether you are hosting your ugly sweater party at home or a venue, get in the holiday spirit and decorate a Christmas tree with felt ugly sweater ornaments, colorful shatterproof ball ornaments, sparkly tinsel, and holiday lights. Set the mood to your party by hanging a humorous sign on your front door to welcome your guests and remind them, "Ugly sweaters only." You can use the printable sign below. If you need help downloading it, check out the Guide for Adobe Printables.
Plan a Christmas Playlist
A holiday party isn't complete without Christmas background music. Whether you stick to the classics or not, playing your guests' all-time favorites will set the mood and get everybody into a holly jolly spirit.
Make an Ugly Christmas Sweater Cake
If you are feeling adventurous in the kitchen, consider baking and decorating an ugly sweater cake. Make it festive and somewhat tacky. If decorating is not your cup of tea, opt for an easy ugly sweater cake design with a step-by-step video tutorial that will help you with the process from beginning to end.
Plan Holiday Drinks
From candy cane martini to creamy spiked eggnog, there are wonderful festive cocktail options to get the party going. In addition, plan a kid-friendly Christmas punch and mocktails for light drinkers.
Create the Ultimate Holiday Board
Themed snack or appetizer boards for every holiday is the new trend. Have an oversized wood board featuring a variety of great holiday appetizers, spreads, Christmas cookies, holiday candies, and other crowd-pleaser snacks that have been a special traditional at your house. Add a holiday touch to your board by decorating it with an eucalyptus garland, berries, and non-toxic ornament balls.
Serve Hot Cocoa With Fun Fixings
Serve a classic decadent hot cocoa or get fancy with a hot cocoa infused with fragrant spices, such as a cinnamon, nutmeg, ginger, and cardamom. For extra holiday fun, set out a tray with hot cocoa fixings, including marshmallows, holiday sugar decorations, candy canes, crushed peppermint, and whipped cream.
Set up an Ugly Christmas Sweater Cookie Decorating Station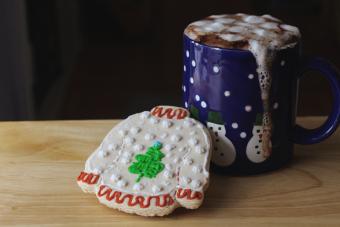 Get your guests into a creative holiday mood with an ugly sweater cookie decorating station. It makes the perfect holiday party activity if there are kids in attendance. Set out ugly sweater shaped cookies on a platter, decorating bags filled with buttercream or royal icing, and mini bowls of holiday sprinkles, candies, and sugar decorations.
Build a Christmas Tree Charcuterie Board
Show off your creativity and build a Christmas tree charcuterie board. Start with a star-shaped pineapple made using a cookie cutter, then add grapes, prosciutto, cheese, and salami, forming a pyramid (tree-like) shape. Finish it off with a piece of celery for the tree trunk. You can decorate your "tree" with fresh rosemary and berries.
Play Pin the Ornament on the Sweater
Break the ice with an entertaining games even the kids can join. The instructions are simple:
Hang an ugly Christmas sweater on the wall decorated with a tinsel garland.
Hand players small shatterproof ornaments with hooks.
Blindfold each player and see who can hang the ornaments successfully.
Dress up Your Pet
Pets deserve to have fun during the holiday party as well. Dress up your dog or cat for the occasion with an ugly Christmas sweater of their own and let them join in on the fun.
Set up a Photo Booth
Taking pictures and making holiday memories with family and friends is top priority. A photo booth frame and hilarious photo ops are fun ways to engage the guests and establish new relationships.
Have an Ugly Christmas Sweater Contest: The Ugliest of Them All
No ugly sweater party is complete without an ugly sweater contest. Your guests made a fashion statement (a tacky one), and now it's time to have a few categories on the ballot and let the judges deliberate.
Ugly Christmas Sweater Contest Categories
Create tacky medals or ribbons with these festive ugly sweater printables to hand out awards accompanied by a small prize for each category.
Most likely to get arrested
Most likely to belong to your mom
Ugliest thrift store find
The tackiest
Best handmade
Most original
Most festive
The ugliest of them all (grand prize)
Present the awards to the winners with funny announcements, "Congratulations on having the ugliest Christmas sweater at the party. Please stay away from the Thrift Store next time."
Prizes can be simple holiday gifts, such as mugs, socks, chocolate boxes, candles, and other inexpensive Christmas gift ideas.
All I Want for Christmas Is Ugly
The holiday season can be stressful when the focus is primarily on holiday shopping, but hosting a Christmas party for family and friends will put you in a relaxing mode to kick-off the season with flying colors and make you focus on what matters most.