Italy is about as gorgeous as it gets when it comes to Christmas, and it's easy to add some traditional Italian Christmas decorations to your holiday design collection. Many of these beautiful displays include ornaments, nativity scenes, and even food used as centerpieces for Christmas feasts.
Get ready to up your holiday decorating game with a little Italian inspiration.
Presepe (Nativity) Display
The presepe (crèche or nativity) is one of the most popular Italian Christmas decorations, and it's also one of the most delicate and magical. It depicts the birth of Christ with the key figures of Mary, Joseph, and the infant Jesus.
Many nativities are really elaborate, such as this Neapolitan-style creche displayed in an Amalfi fountain in the city center. Live nativity scenes are popular in many Italian cities and towns, and they often include live animals, such as sheep, goats, and others.
You can make this a part of your Christmas decorating by buying or making your own nativity scene. Start with just a few basic figures and add more details as the years pass.
Rustic Centerpiece Display
This table centerpiece display comes from an Italian store. It's a good example of a combination of rustic natural elements and purchased ornaments. The greenery is often cypress, cedar, or fir boughs.
Other natural materials, such as pinecones, gourds, and berries, are great, too. Mix them with candles of varying sizes, shapes, and colors. A gold cherub takes center stage in this centerpiece design, but you can choose anything you want to show off on your table.
Pandoro Centerpiece
This classic Christmas bread originated in Verona, Italy, and it's a super delicious addition to any holiday celebration that's pretty enough to double as a centerpiece. Pandoro, or golden bread, has a rich color created by using many egg yolks in the recipe.
Pandoro is made using a star-shaped mold. Once assembled, the bread looks like a Christmas tree and is sprinkled with confectioner's sugar to simulate snow on the branches.
Quick Tip
If you want to try your hand at making pandoro, The Daring Gourmet has a well-written recipe to help. Give it a shot to make your own edible centerpiece inspired by Italy.
Panettone Cake Centerpiece
This is another traditional bread from Milan that makes a great Christmas dinner centerpiece. The sweetbread is often made with candied lemons, oranges, and limes.
Some recipes call for raisins, while others are plain dough and have chocolate icing to decorate them as a holiday cake. This bread sometimes takes a long time to prepare (several days for the proofing process, similar to sourdough), but Sugar Geek Recipes has a quick version you can make in 20 minutes of hands-on time.
Turin Christmas Tree
More Details
Located in Piazza Castello central square in Turin, Italy, this modern tree uses elaborate designs as part of the Luci d'artista (Lighting Artist) event. Turin first sponsored this annual cultural event in 1998 and in 2006, Salerno began a similar program.
The event features contemporary artists who display their symbolic and conceptual work using high-tech light art that illuminates streets and squares throughout the cities. While it's a modern approach, this tree captures the intricate artistic style often seen in Murano handblown glass.
You can try this colorful high-tech lighting approach for a modern Italian Christmas tree display of your own.
Murano Glass Ornament Balls
Made exclusively on the Venetian island, Murano glass is hand-blown and has been a prized possession for centuries. Many Italian Christmas trees include beautiful ornaments in this style.
The famous hand-blown Murano glass is a must for any Italian Christmas. Indulge in a few colorful hand-blown decorative balls to add to your tree ornament collection.
Modern Tree Decorations
This pink and white tree is found in Taneto, Italy in the great Christmas market, Villaggio di Babbo Natale, in the Mondoverde garden center. Stylized ornaments of glass balls and a green wire ribbon make this a colorful tree design choice for a modern look. Even though Italy may have lots of Old World decorations, there are contemporary takes on the holiday as well.
Painted Ornaments
This tree is another good example of a combination of traditional Italian Murano glass, hand-painted, and other types of ornaments that give any Christmas tree that special touch. Look for painted ornaments that have specific cities, villages, and Italian sights, and start a tradition of ornament giving to build up your collection gradually.
Babbo Natale in Verona, Italy
Babbo Natale (Santa Claus) is becoming more popular in Italy than in the past, although La Befana (old woman) is a more traditional figure for Italian Christmas than Santa Claus.
La Befana is a kind woman with magical powers and flies on her broom to deliver gifts to Italian children on the Eve of Epiphany (January 6). She wears a black shawl and is soot-covered from descending chimneys to leave candies and gifts.
Gift giving is also becoming more prevalent in Italian Christmas traditions. Children have eagerly embraced Babbo Natale and hang stockings by their fireplaces so the jolly fellow can leave Christmas goodies. We like the idea of incorporating both traditions.
Christmas Angels
Angels are a big deal in Italian Christmas decorations, maybe even more than they are in other places. The cherub is a traditional angelic depiction and has graced many artworks and religious artifacts. You'll see porcelain statues with chubby cheeks, flowing robes, and various musical instruments to use in home decorations, such as mantels and tree ornaments.
You can purchase Italian Baroque-style cherubs and replicas of Borghese Gallery's angel statues by Gian Lorenzo Bernini to recreate an old-world Italian Christmas décor.
Star of Bethlehem
Just as it is around the world, the star is a popular Italian symbol for the Star of Bethlehem that shone over the birthplace of the baby Jesus in the Christmas story. Many of the street decorations in Italy depict the star with a shooting trail behind it that's lit up like the comet.
You can use this type of shooting star ornament for Christmas tree ornaments or outside decorations.
Christmas Italian Cottage Décor
This adorable Italian cottage has several great ideas for a traditional Christmas decorative style. A red bow with sleigh bells graces the door that's framed with a garland of greenery featuring lemon slices, roses, pine cones, and red ornament balls. All that color and beauty is so inspiring.
The side garland also has strings of red beads. Notice the cute facade plaque by the door and most importantly, the broom for La Befana.
Elegant Window Decorations
This window is located in Rome, Italy. It's an elaborate decoration that includes deer, gold balls, and Christmas trees decorated with white balls and gold bows with flowing gold ribbon garlands. You can DIY your own version by incorporating some of these touches in your own front window.
Window Package Fun!
This clever series of window displays on this building also uses cypress boughs, oversized ornament balls, and garlands. Many Italian city buildings aren't just shops but house numerous apartments and flats. Decorating an entire building like this is an extraordinary way to celebrate the holidays!
Banners and Wreaths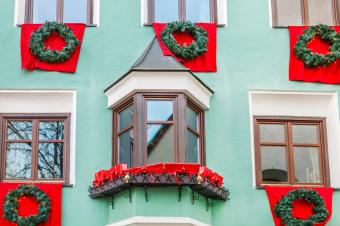 In Vipteno, Italy, this home is decorated with a simple but colorful style. We love how a red banner drapes below each window and creates a backdrop for a lighted wreath. The bay window flower baskets are filled with faux red packages with bows and ribbons to complete the look.
Window Vignettes
We adore these adorable window vignettes from in the small alpine village of Chamois, Italy. This is a creative way to add exterior decorations to your home, especially if the windows feature a windowsill.
If the sill is too narrow, consider using a window planter to support a cut-to-fit board to create a faux ledge. Then you're all set to go all out with this kind of window vignette.
Find Your Inspiration in Christmas Decorations From Italy
Italy is such a beautiful source of inspiration when it comes to decorating, and Christmas is definitely no exception. Regardless of whether you enjoy traditional religious Christmas decorations like nativity scenes or modern and unusual Christmas decor, you can use Italian styles as your inspiration.