Start October 31st off right with a fun and thoughtful family breakfast for your ghoulish gang. These simple and creative Halloween breakfast ideas are bound to put smiles on the faces of your little trick-or-treaters first thing in the morning.
Halloween Breakfast Ideas With a Hint of Sweetness
Sure, the kids are going to end the day loaded up on enough sugar to keep local dentists in business for years to come, but hey, Halloween only comes around once a year! Spring for a sweet breakfast packed with seasonal flavor.
Gluten-Free Pumpkin Pancakes
Gluten-free pumpkin pancakes are sweet, seasonal and a perfect morning treat for kids with dietary considerations. The recipe calls for ingredients that you likely already have on hand, and parents can top off the morning treat with cinnamon syrup or a drizzle of chocolate or caramel sauce in a spiderweb design.
Monster Donuts
Halloween is a day for treats galore. Worry about the sugar detox on November 1st! To make a sweet donut treat that is sure to be a monster of a hit, you'll need a good recipe for a delicious glazed donut. Purchase a package of funny ghoulish teeth and enough icing to create some frightful design elements on your freshly baked donuts. Place neon-fanged teeth into the center of the donut. Use icing or candy eyes to create a face for your monster donut. Serve these sweet treats with a warm apple cider.
Jack-o'-Lantern Fruit Bowl
Not every Halloween breakfast dish has to be loaded with sugar. You can still create a sweet seasonal dish by playing on the natural sweetness of fruit. Hollow out a large orange and carve a jack-o'-lantern face into the hollowed-out orange. Fill the orange with chopped-up fruits (and even seeds and nuts) of your choosing. Feel free to add whatever touches to this dish you see fit. A topping of granola or a small squeeze of whipped cream with a few orange sprinkles will make for a picture-perfect Halloween breakfast.
Gluten-Free Apple Crisp
Apple crisp is a perfect fall dish, and while apples are starting to move out of the spotlight to make way for pumpkin EVERYTHING by late October, no one is going to balk at a warm, oozing apple crisp to start off Halloween morning right. Play on iconic caramel apples and give the dish a drizzle of the sweet stuff to top it off.
Monster Smoothie
Green smoothies are packed with flavor and nutrients to start the busy day of Halloween with a healthy kick. Make your family's favorite green smoothie into something extra spooky on October 31st. Pour the contents of the smoothie into a clear glass or plastic cup. Using either a permanent marker (for plastic disposable cups) or an erasable marker (for glasses), draw a funny Frankenstein face onto the beverage container. Top the smoothie with blueberries to emulate everyone's favorite creature's iconic hair!
Monster Mouths
Make a plate full of monster mouths for your kids come Halloween morning. You'll need to cut red apples into wedges and have plenty of peanut butter (or any nut butter substitute that your family prefers). Maneuver the apple wedges so they look like the open lips to a mouth (you'll want the red skin sides out). Fill with peanut butter so that the lips stay in place. Pop some miniature marshmallows in the peanut butter, so they take on the appearance of teeth. What a cute, healthy, and fun way to kick off this action-packed day.
Savory Halloween Breakfast Dishes for Your Little Ghouls
These spooky, savory breakfast ideas are simple to make on a bustling Halloween morning. While they're easy to pull off, they are dazzling. They might even make your kids believe that you're a legit wizard when it comes to culinary skills.
Baked Breakfast Pot Pie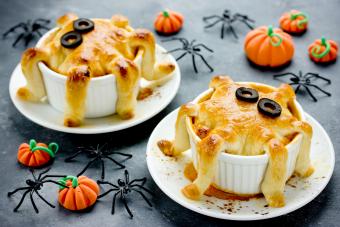 Breakfast pot pies are perfect breakfast ideas for any holiday. You can create individual pot pies or bigger ones to feed large families of hungry Halloween monsters! This savory pot pie contains delicious breakfast food ingredients all folded underneath a golden-brown crust. Excess dough is twisted to create spider legs, making this dish delicious and Halloween-ready.
Easy Overnight Oats for Fall
Pumpkin overnight oats are simple, delicious, and oh-so festive! Recipes like this are hits among busy families who have limited time on holiday mornings to make breakfast magic happen. Whip a batch up in jars the day before Halloween and save yourself time on an already busy morning. If your kids turn their noses up at pumpkin, try other seasonal flavors like cinnamon spice, apple, or toasted pecan.
Mummies in a Blanket
All you need for this warm and fun breakfast dish is a sheet of puff pastry, a package of breakfast sausages, and an egg. Cut the thawed pastry sheet into strips. Wrap the strips around the sausage so that it looks as if the sausages are wrapped up in a mummy's gauze. Brush a mixture of egg and water over each wrapped sausage. Pop them in the oven for 15-17 minutes at 400 degrees and dot some eyes onto your creations using mustard and the fine tip of a kitchen tool.
Cheese Straws With a Twist
Mmmmmm, cheese. Cheese makes everything better unless, of course, you are lactose intolerant! Cheese straws are a unique breakfast food to serve kids in the morning. The ingredients are simple, but they do take some time to prepare and bake. To put a special twist on these savory breakfast snacks, pop a halved almond on the tip of the straw to make the cheese straws look like fingers! For an added protein punch, make some sunny side eggs on the side so that kids can dip their cheese straws in the runny yolks.
Spooky Toast That Looks Alive!
This recipe is so great because it is basically foolproof (anyone can make it). It requires few ingredients, and who doesn't want to start a chilly Halloween morning off with warm toast and a spooky twist? Brown up some toast any way you please. Fill and decorate it with whichever cheeses, meats, and other ingredients your kids enjoy. Cut the toast so that it appears to have jagged teeth and create eyes from the meats and cheeses you choose to include in the meal. Be creative and have fun with your ideas.
When It Comes to Holiday Dishes, It's the Thought That Counts
Whatever dish you choose to kick off Halloween day with, know that the kids will love it. Even if your creations don't turn out exactly as you planned them in your mind, it truly is the thought and effort you put into every part of the special day that makes all the difference to your family. Get inspired, be creative, and have fun with what you make, because Halloween is all about creativity! And don't miss these creative Halloween dinner ideas to fuel kids up before you head out on your trick-or-treating adventures!