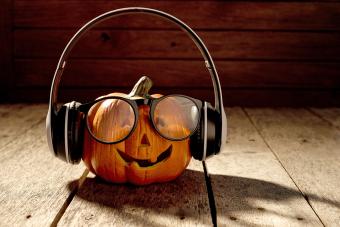 Halloween sound effects can set the scene for a great Halloween party or serve as a spooky backdrop when trick-or-treaters come to the door. These sound effects are easy to find in various formats, from free downloads to purchased CDs.
Haunted House Sound Effects
Halloween is the time of year when ghosts and goblins come out to play. These sound effects are a great backup for ghostly gatherings and haunted houses.
Free Downloads
Free scary sound effects are an ideal addition to any haunted house.
Paid Tracks
Not every haunted house sound is available for free. It may be worth your while to explore some fee-based options.
Frightening Creature Sound Effects
All kinds of scary creatures come out on Halloween. Use these sound effects of monsters, witches, and werewolves, among others.
Free Downloads
What Halloween horror setting would be complete without a cacophony of creatures? These free downloads can set a fabulously frightening scene.
Paid Tracks
Enhance your collection of frightful creature sounds with a few paid downloads of horrifying noises.
Spooky Sounds
Halloween isn't all about ghosts and creatures. Set the stage for Halloween with other spooky sounds, ranging from alien crafts to thunderstorms.
Free Downloads
Create a unique Halloween soundtrack with a variety of downloadable scary Halloween sounds. Several are available for free.
Paid Tracks
To create a perfect compilation of scary sounds, go beyond what's available for free and explore some low-cost options.
Droning: A pulsing, droning sound for around $2 per sound
Howling wind: Paid sound effect of howling wind for less than a dollar
Scary noises: Unlimited spooky sounds for $30 per month
Explore Streaming Services for Halloween Sounds
Music streaming services are also a good resource for Halloween sounds. Do a quick search on any of the streaming services you use to find out what's available. Examples include:
Find Halloween Sounds on Albums and Apps
You can save some time by downloading or purchasing an entire album of Halloween sound effects. You may also find what you need via a mobile app that contains great sounds. Some to consider include:
Halloween Spooky Sound Box Pro: This app, available for Apple devices through the iTunes store, features a collection of over 96 effects for just under $10.
Scary Sound Effects: This free album download, subtitled Nightmarish Noise for Halloween, offers 39 minutes of spooky effects.
53 Scary Sound Effects and Music: This CD by Hollywood Studio Sound Effects contains a nice variety of sounds for about $9 as an MP3 download.
Where to Use Halloween Sound Effects
Once you've gathered a collection of sound effects for Halloween, you can put them to good use in a variety of ways! Make sure that all of your sounds are in the same format, and then put them together in a playlist or on a CD so that you can take your sound effects with you.
Haunted Houses - Haunted houses are a staple of Halloween celebrations. Use scary sounds to set the right atmosphere. Consider playing certain eerie sounds at key stops in the haunted house, suddenly and loudly, for maximum impact.
Background Noise on Halloween - When trick-or-treaters come to your door, treat them to some Halloween sounds. Save the really scary ones for later in the evening, when the very small children have already finished going door-to-door.
Halloween Party - Halloween sounds make the perfect "filler" between Halloween-themed songs at a party. Intersperse your sound effects among the playlist to make sure that the theme of the party is carried out throughout the evening.
Voicemail - If you're not taking serious business calls, use your Halloween sounds as part of your message on your voice mail.
Ringtone- Get in the Halloween spirit by changing the ringtone of your phone to a scary seasonal sound.
Video or photo collection - You could use these sound effects to create a fun video of your family's Halloween night, or put together a slideshow of photos that incorporates background sounds.
An Eerie Halloween
No matter what you use the sound effects for, Halloween clips can be lots of fun to download or purchase and play. Challenge yourself to find different ways to use these sounds to make your Halloween even eerier!