Looking for creative birthday party ideas for 9-year-olds can be a daunting task. The best way to decide on a theme you can easily bring to life in order to host a successful party is by making a list of your child's hobbies. Taking into account what your child enjoys doing while in a group of friends can be extremely helpful to determine what type and size of party you should plan.
Cupcake Baking & Decorating
A cupcake party is a sweet theme that can be fun for kids who find joy in baking and decorating. Whether you are planning to bake from scratch or keeping it simple with a cake mix box, make it fun by setting up a cupcake decorating station around a theme of your child's preference. If your child opts for a dinosaur theme, for example, set out chocolate sprinkles, cookie crumbs, chocolate pebbles, frosting in different colors, and non-toxic miniature dinosaur toys they can use as fun toppers.
Picnic at the Park
Inviting friends for a picnic is a lovely way to celebrate a special birthday. Opt for a park near a playground where the kids can play while parents socialize. Plan portable food and drinks that are easy to pack and serve to minimize clean-up. To minimize the workload, encourage guests to bring their own blankets and pillows for an enjoyable day at the park.
Backyard Camping
Bring the camping experience to your backyard to celebrate your child turning 9. Set up camping tents and plan a fun-filled day of roasting marshmallows and s'mores making with special friends. Keep the party going with a fun scavenger hunt and have a special prize for whomever finds most items.
Under the Sea Party
If you are planning the ultimate summer bash, an under the sea party gives you plenty of opportunities to get creative with a theme. You can narrow down to a magical mermaid, narwhal or a Goldfish theme, for instance. Your child is the decider. Whether you live close to the beach or not, soaking up the sun by the pool with special friends can be as much fun.
Pancakes & Pajamas
Invite a group of friends for an epic birthday celebration at the comfort of your house. Have your guests wear their comfy pajamas and set up a pancake station in which the kids can customize their own pancakes with fun toppings.
Outer Space
Have a little future astronaut at home? Host an out of this world birthday party filled with galactic details the kids will love. Invite the kids to work as a group and build a rocket ship using an extra large cardboard box or you can plan a craft station where they can build their own separate rocket ships to take home.
Spa Party
Celebrate in style by creating an at-home spa experience and invite your child's close friends for a day of pampering. Have a bathrobe and spa slippers for each guest and treat them to relaxing manis & pedis, peel-off masks, and cucumber eye pads. You can set the mood by lighting scented candles and playing soft background music.
Dinosaur Party
If you are looking for a theme that fosters imagination and curiosity, a dinosaur party is the perfect idea to celebrate your child's birthday. From dinosaur footprint cookies to prehistoric dinosaur fossil activity, there are terrific dinosaur party ideas to make your child's birthday party memorable.
Slime Making
If slime is your child's newest obsession, plan a slime making birthday party. Slime making can be messy, but it's a fun and educational activity that can be very satisfying for the kids. When choosing a slime recipe, opt for non-toxic, kid-friendly recipes that are safe for the little scientists. From basic to glow-in-the-dark slime, there's a multitude of types of slime you can choose from.
Donut Party
A donut party is the perfect theme if you have a donut lover at home. If getting crafty is your thing, you can impress your guests by building your own donut wall. Have a headcount so you can have an idea how big the donut wall should be and have extra donuts in case you need to refill it.
Petting Zoo
If you are planning on a farm themed birthday party for your child, consider narrowing down to a petting zoo theme to keep things simple and interactive for the kids. Just make sure there's a great combination of domesticated animals and some exotic species that are docile enough to touch and feed.
Slumber Party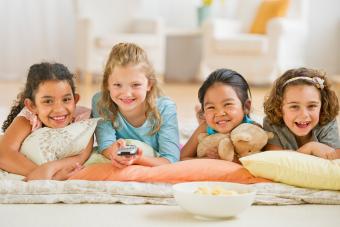 Invite a group of close friends for an epic slumber party filled with pillow fights, a fun movie session, activities, and unlimited snacks until bedtime. Timing each activity is encouraged to make sure the kids go to bed at a decent time.
Karaoke
Break out the karaoke machine and gather friends for an epic karaoke party to celebrate your child turning 9! Opt for a portable karaoke machine that can be hooked up to a TV or tablet and ask the kids to help put together a fun playlist in preparation for the party if selecting the perfect tunes can feel a bit overwhelming.
Superhero Costume Party
Calling all superheroes! A costume party is a fun way to bring friends together for a fun birthday celebration. Have your guests come to the party dressed in their favorite superhero costumes and have obstacle courses set up, using cardboard box tunnels, DIY balance beams, adding masking tape to the floor and chairs, and setting up stools you can drape blankets over.
Roller Skating
Roll out to the nearest roller skating rink to celebrate your kid's special day. A roller skating party is a terrific idea to get a group of kids to socialize and burn some energy. Most roller skating rinks offer custom party packages to take the stress away from party planning, so be sure to reserve your date in advance in preparation for a wonderful birthday celebration.
Choose the Perfect Party Theme
Whether you are hosting your child's birthday party at home or at a venue, opting for a theme that's meaningful to your child is the ideal approach. if your child loves the outdoors and enjoys being around a big group of people, a camping party might be the best bet. If your child is an introvert and feels more comfortable around very close friends only, a slumber party can be the perfect choice for a smooth celebration.