Whether you're hosting a crowd or having an intimate holiday dinner for two, a little Thanksgiving table setting inspiration can help make your celebration a success. Beautiful and elegant Thanksgiving dinner tables come in all shapes and sizes, and you can show off your personal style and favorite dishes and linens while making everyone feel welcome.
Thanksgiving Table Setting Ideas for Big Groups
If you have a large family or are hosting a Friendsgiving for a lot of people, you'll have less space to spread out on the Thanksgiving table. Compact place settings and long centerpieces can be stylish and functional at the same time.
Skip the Placemats
Placemats can take up a lot of space when you have a big group for Thanksgiving. Skip them and lay the place settings directly on the table. Use a long, low centerpiece made of fall leaves, mini gourds, and candles to add plenty of decoration and holiday beauty.
Embrace a Rustic Style
Set a long table with a rustic style by using antique lace as a table runner and keeping the rest of the settings simple. Arrange the antique lace down the center of the table and skip the tablecloth. Then use neutral colored dishes and linens. If the weather is warm enough, you can even set this type of table outdoors.
Mix Old and New
You can use your grandma's china for a big group, mixing different patterns if you need more dishes than a single set. Contrast the antique look with a modern table runner and minimal fuss. It will feel eclectic and casual but still special enough for this important holiday.
Make It Clear and Neutral
If you have a big group, it's easy for your Thanksgiving table to look cluttered. By using neutral china and linens and clear glass goblets and vases, you can reduce the visual input and let guests focus on what matters: the meal and one another.
Use High and Low Centerpieces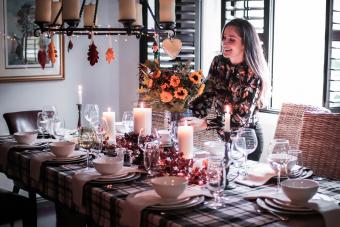 Make it easy for guest to chat across the table with a combination of high and low centerpieces. A long, low centerpiece rests below eye level, and a narrow, higher one doesn't get in the way either. A combination feels fancy and helps distract from the length of the table.
Let the Candlelight Shine
If your dinner will be after dark, light the table with lots of candles for a magical Thanksgiving meal. You can arrange lots of different candle heights in the center of the table and then add small candles by each plate. It will feel warm and cozy, no matter how big a group you're hosting.
Scatter Small Floral Arrangements as Centerpieces
It's always hard to have enough room at the Thanksgiving table; the food alone can take up a lot of space. Use small bouquets scattered down the table instead of a large centerpiece. It will look lovely and leave room for everything else.
Don't Try to Match
If you're hosting a lot of people, no one expects you to have matching dishes, linens, and chairs for every guest. Instead, embrace the mix-and-match aspect of things by alternating different china, napkins, chairs, and flatware. The overall effect will be eclectic and welcoming.
Thanksgiving Settings for Intimate Celebrations
When you're setting a Thanksgiving table for a small group, you can go all out with the details. You'll have plenty of space for large centerpieces, and there are so many ways to make the place settings really special.
Use Tree Slab Chargers
A charger adds a little extra style and height to your plates, and a rustic tree slab can be the perfect option for Thanksgiving. Pair it with any type of china, from antique formal patterns to modern stoneware. Because you only need to find a few of these in similar sizes, you can use this to make your table really amazing.
Make It Cozy and Casual
Thanksgiving dinner for two can be cozy and casual if you make a fall arrangement between the plates. Use pumpkins, candles, and greenery, and add rustic touches like woven linen napkins and textured dinnerware.
Embrace the Circle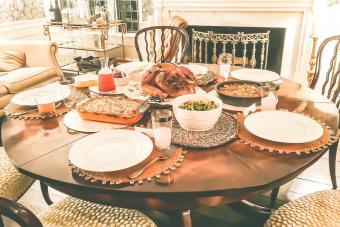 If you have a small group and an oval or circle table, you can embrace the unity of this shape by using it in other areas of your table setting. Use round placemats or chargers, round dishes, and round mats for under your hot foods. The effect is elegant and classic for a small group.
Head Outside for the Holiday Meal
If it's warm enough, plan to host your intimate Thanksgiving celebration outside. You can set a beautiful table in the garden or on the patio, complete with fall flowers, pumpkins, and plenty of pretty dishes and linens. Orange, brown, and yellow table decorations can look beautiful with fall leaves.
Focus on the Napkin Decorations
With a smaller group, you can spend your time on decorating the napkins at each place setting. One fun idea is to spray paint acorns silver and scatter these with fall flowers or berries on each napkin. Keep the napkin color neutral to make sure the decorations show.
Build a Fruit Centerpiece
When you think of Thanksgiving, the cornucopia is one of the common symbols that comes to mind. You can channel that tradition when you stack fruit and candles in the middle of your table. There needs to be a lot of fruit for this to work well, so it's a good choice for a small table.
Fill the Table With Decorations
If you won't have a lot of place settings at your table, it leaves more room for other decorations. Scatter candles, pumpkins, fall flowers, and other colorful decor all over the table, leaving just enough room for the plates and glasses.
Stress-Free Thanksgiving Table Ideas for Any Group
No matter how large or small your gathering, setting a simple Thanksgiving table can keep the stress out of your holiday decorating. These ideas can help you create a festive and fuss-free table.
Bring in Some Fall Leaves
Add lots of fall style to your table with a few leaves carefully arranged near each place setting. You can grab some leaves from outdoors or even send the kids on a leaf-collecting mission while you work on the turkey. Big leaves offer the most impact, but bright colors are fun too.
Focus on the Napkins
Skip worrying about which china and tablecloth you'll use and focus your energy on the napkins. You can pair a simple cloth napkin with a bright paper one, use a napkin ring to bring in some style, or tuck a fall flower into the napkins. These are easy to make ahead and toss on the plates just before everyone is ready to eat.
Use Place Cards to Add Easy Formality
If you want your Thanksgiving table setting to feel a little formal, you can use place cards to make things fancier. These are easy to make ahead of time, and they go well with any color scheme or style of table.
Go Nuts With Your Centerpiece
You don't need a fancy floral arrangement or lots of greenery to make a festive centerpiece. Instead, use nuts and candles to give a fall feeling that will match any china pattern. Add in brown or neutral linens to play up the colors of the nuts.
Make a Leaf Garland
This is a fun Thanksgiving table decoration you can make way ahead of time, so it won't add to the holiday stress. Simply gather lots of fall leaves and use an embroidery needle and brown embroidery floss to string them together as a garland. You can lay it across the table just before everyone arrives, and it will look like you've been working on it all day.
Place Apples at Every Plate
Everyone associates Thanksgiving with pumpkins, but apples are just as much a part of the traditional fall meal. After all, apple pie is a favorite for a reason. Pick some apples at a local orchard or buy some apples with the leaves still attached. Scatter these on the table and place them on each plate for an easy update to your Thanksgiving tablescape.
Use a Berry Branch as a Centerpiece
A long branch with colorful berries can make a simple Thanksgiving centerpiece. You can find these at any craft store for a few dollars, and they store well for use every year. Add in some orange pumpkins to give it more visual impact.
Little Details for Your Thanksgiving Table
Pay attention to the little details on your Thanksgiving table to give your holiday celebration some extra style. From napkin rings to special colors, there are a lot of tiny ways to make things special.
Use a Beaded Napkin Ring
You can make or buy a beaded napkin ring for each place setting at the Thanksgiving table. Beads add lots of sparkle, and you can find or make them in exactly the color scheme you have in mind for your dinner.
Bring in Some Gingham
Gingham napkins add an instant country feel to your Thanksgiving table. You can choose traditional fall colors or pair blue gingham with red or orange fall leaves for a pop of fun.
Mix in Patterned China
You don't have to use patterned china for your entire table. Instead, you can add a fun little detail in the form of a salad plate or dessert plate in your favorite design. This is a great way to use your grandma's dishes and still have your table feel modern.
Decorate With Lace-Edged Napkins
Use napkins edged in lace to bring a delicate and beautiful style to your table. You can sew this type of lace onto pre-made modern napkins or simply buy napkins with lace edges. Either way, it's a subtle style statement for your Thanksgiving table.
Use Grapevine Wreaths as Chargers
For a fun and rustic touch, ring the plates with grapevine wreaths from your craft store. Choose wreaths that are low profile and won't get in the way. They should be sized to just fit around the dinner plate.
Make a Pomegranate Centerpiece
Arrange a low centerpiece everyone will find beautiful. Simply place evergreen boughs or fall greenery in the center of the table and decorate with pomegranates and candles. You can add fall gourds, leaves, and other touches too.
Try a Napkin Knot
Instead of folding the napkins into a fancy shape or elegant rectangle, try a more casual napkin knot. Simply loosely tie the napkin with a piece of twine and add a bit of greenery. Then place it atop your stoneware dishes.
Mix Silver Patterns
You can find silver-plated flatware at many thrift stores and antique shops for a few dollars apiece, and it's fun to mix and match different silver patterns on your Thanksgiving table. Pair these with simple dishes and linens so the silverware can be the focus.
Display Oak Leaves on the Table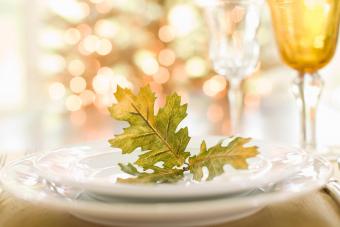 Your Thanksgiving table will look pretty with a sprig of oak leaves on each plate. You can find these ahead of time at your local park and use floral wire to twist them together. This is a simple and beautiful accent that will look pretty with any china.
Layer Table Linens
One tablecloth is pretty, but two can be even lovelier. Start with a simple, solid-colored tablecloth and layer a lace or patterned runner over the top. It's a pretty detail everyone will enjoy.
Accent With Wheat
A small bundle of wheat at each place setting on your Thanksgiving table is the perfect way to channel the harvest theme of this holiday. Wheat is neutral, also, so you can use it with any pattern and color of dishes.
Tie Herbs in With Napkins
You use herbs like rosemary and sage to flavor your turkey, stuffing, and other traditional Thanksgiving dishes, and these same herbs can be a beautiful and fragrant accent to tuck in with the napkins on your table. Simply choose a few sprigs of your favorite or a selection of several.
Pretty Twists on the Traditional Thanksgiving Table
If you're going the traditional route, your Thanksgiving table set up is probably pretty well established. You can use your best china and crystal, the antique dishes you've inherited, and your silver flatware. Still, there's room for a few twists on the traditional table.
Scatter the Table With Touches of Fall
Set the table with a white tablecloth and napkins and your favorite china, and then scatter little touches of fall between the place settings. Think small gourds, leaves, berries, apples, dried flowers, and anything else that seems pretty and seasonal.
Choose a Different Background
Choose a different background for your traditional Thanksgiving table with a slate blue tablecloth. You'll be surprised how this near neutral makes all your dishes really shine. It's also a practical choice that's easy to wash for use year after year.
Add Some Metallic Beauty
If your traditional Thanksgiving dishes have a gold rim, you can expand on that theme by using touches of gold or silver throughout the table setting. Use crystal and other dishes accented with gold or silver. You can even use metallic napkins.
Let the Sunflowers Shine
Thanksgiving is a great chance to set the table with your favorite antique china, but not all china patterns have that autumn feel. You can use fall-colored napkin and miniature sunflowers to give your traditional china and glassware an instant festive charm.
Add Warmth With Tall Taper Candles
Place several tall taper candles around your Thanksgiving table to add lots of warmth and a cozy vibe. They will look beautiful with any china pattern, and you can use small candle holders to keep them from taking up too much room on the table.
Try Some Fall Pastels
People usually associate Thanksgiving with deep orange, rusts, reds, and browns, but you can shake things up a bit with some pastel peaches and pale oranges. Pick up lots of mini gourds in these pale shades and use them with paper napkins in the same colors. You can pair these with your traditional dishes and china.
Pick Up Some Gold-Toned Flatware
Everyone expects flatware to be silver-colored, but you can find gold-toned flatware in many home stores. This is an unexpected way to update your traditional Thanksgiving table setting, especially if you choose a pattern that complements your china.
Use Any Pretty Fabric for Napkins
You don't have to stick to traditional napkins for your Thanksgiving table. You can find any pretty fabric and cut it into napkin-sized pieces. Then just fold it and add details like leaves to give it a fall feel.
Go All White With Your Thanksgiving Table
Although Thanksgiving is usually a colorful holiday, you can change that up with an all-white scheme. Use white dishes, white table linens, and simple flatware, and then decorate with white mini pumpkins. It will be a surprising twist on the classic.
Modern Thanksgiving Table Settings for a Contemporary Celebration
Go beyond the traditional china and crystal and set a sleek and modern Thanksgiving table. Simple lines and subtle textures can add depth and beauty without channeling your grandmother's holiday dinners.
Play Up Textures on the Table
Keep colors neutral and embrace texture instead with this simple Thanksgiving table setting idea. Use stoneware plates and linen napkins in muted colors, paired with sleek and modern flatware. Give the entire setting a Thanksgiving feel by accenting with neutral-colored gourds with textured surfaces and a collection of fall leaves.
Use Non-Traditional Colored Stoneware
Stoneware feels modern and casual on the Thanksgiving table, especially if you choose dishes in a non-traditional color. Shades of blue can be very pretty when paired with fall leaves, simple flatware, and solid-colored napkins.
Create a Casual Arrangement
You don't have to lay everything out in the traditional way with silverware on either side of the plate. Instead, stack the dinner plate and salad plates together and lay a loosely folded napkin between them. You can place the flatware on top. This casual approach feels modern and easy-going.
Choose a Black Background
Black isn't the color most people think of with Thanksgiving table settings, but it works really well as a modern background that gives maximum impact to your dishes and decorations. Choose a matte black tablecloth and black serving platters for this look. Scatter the table with bright leaves and other colorful decorations.
Try Ivory and Gold
Use ivory and gold to give your Thanksgiving table a modern look. This monochromatic color scheme looks sophisticated, and it's easy to achieve. Use simple stoneware in tan or ivory, linen napkins in a similar color, and ivory mini pumpkins. Add gold or neutral flatware to complete the look.
Channel the Autumn Wind
Add a contemporary fall touch to your Thanksgiving table by using a simple place setting with a neutral napkin. Then scatter fall leaves like they are blowing across each plate. Choose leaves with a little color, such as gold or red, that will brighten up the neutral tones.
Ideas for a Colorful Thanksgiving Table
Although Thanksgiving often includes pops of red, many table settings are neutral to allow the food to take center stage. You can bring in lots more color with fun accents, bright linens, and dinnerware in exciting hues.
Add a Pop of Blue
Your Thanksgiving table may already contain lots of orange in the form of pumpkins, mini gourds, and warm-toned dinnerware. Blue and orange are complementary colors, so if you add a blue linen napkin, some cobalt dishes, or a sprig of blue flowers, your table will look artistic and lovely.
Use Autumn Plaids
Bring in lots of fall color in the form of autumn-toned plaid fabrics and dishes. If you have simple dishes, fall plaid napkins or placemats are a good way to brighten things up. You can also pick up plaid plates to mix and match with your regular dishes.
Bring in a Colorful Fall Centerpiece
Set a mostly white or neutral table, but go wild with a fall centerpiece that will be the star of the show. You can use a long runner to draw attention to the centerpiece and help extend its impact. Then place an arrangement of fall leaves and flowers in the center of the table with a tall candle jar.
Accent With Green
Green isn't a traditional color for Thanksgiving tables, but it can work beautifully with many china patterns. Use green linens and green glassware to bring a little extra color to the table. Neutral and natural touches like grass arrangements and white pumpkins allow the green to draw the eye.
Try Some Bright Orange Plates
Pick up some bright orange plates with a pretty scalloped edge and allow those to be the colorful focus of your Thanksgiving table. You can use white mini pumpkins and other neutral fall decorations to make the table even more festive.
Let the Sun Shine With Some Yellow
Yellow isn't necessarily what you'd expect at the Thanksgiving table, but it makes a beautiful choice. Use yellow accent plates, yellow linens, and yellow flowers to warm things up with this unexpected shade. Yellow fall leaves will help make sure it has that autumn feel too.
Play With Purple
Purple is an unexpected and elegant choice for your Thanksgiving table. You can use neutral dishes and glassware and add in deep purple in the form of dried flowers, linens, and berries. Purple also looks lovely with silver flatware.
Welcome Everyone to Your Table
Setting a beautiful table is just one of many Thanksgiving traditions that mark this special holiday. No matter how you choose to decorate your table, the key is making everyone feel welcome and relaxed at the big meal.