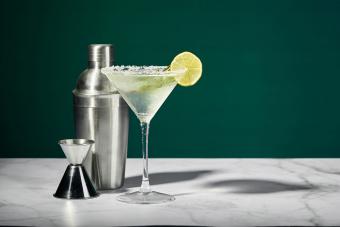 Ingredients
Lemon wedge
1 tablespoon superfine sugar
¾ ounce freshly squeezed lemon juice
¾ ounce simple syrup
1½ ounces citrus vodka
Ice
Lemon wheel for garnish
Instructions
Chill a cocktail glass.
Run the lemon wedge around the rim of the chilled glass and dip it in sugar to rim.
In a cocktail shaker, combine the lemon juice, simple syrup, and citrus vodka.
Add ice and shake to chill.
Strain into the prepared glass.
Garnish with a lemon wheel.
Variations
A sweet and sour simple lemon drop is a thing of beauty. However, you can also vary it a little to punch up the favors.
Replace the citrus-flavored vodka with a berry flavored vodka such as huckleberry or blueberry for a fruit forward variation.
Muddle some fresh fruit such as peaches or strawberries with a splash of the simple syrup before adding your ingredients to bring fresh fruit flavors.
For even more lemony flavor, infuse your simple syrup with lemon peel.
Replace the simple syrup with an equal amount of triple sec.
Infuse your simple syrup with ginger for a spicy bite.
Infuse your simple syrup with lavender for a slightly floral lemon drop.
Replace the simple syrup with an equal amount of honey.
Make a pretty, color change lemon drop by replacing citrus vodka with butterfly pea flower infused vodka.
Use lavender vodka or lavender-infused gin for a light floral flavor.
Garnishes
A sugar rim and lemon wheel is the traditional lemon drop garnish, but feel free to add your own artistic flare.
Garnish with a dried violet or hibiscus blossom.
Drop a lemon drop candy in the bottom of the glass.
Garnish with a sprig of rosemary, thyme, or lavender.
Mix some freshly grated lemon rind in with the sugar before you sugar the rim.
Spear raspberries or blueberries on a cocktail pick.
Garnish with a simple lemon peel.
About the Lemon Drop Martini
When you were a kid, did you like lemon drop candy? If so, then the lemon drop martini is the perfect drink for you. While no one knows for sure, speculation is that the lemon drop gets its name from the sweet-tart childhood treat. The sugar-coated hard candy has been around since the 19th century, but the sugar-rimmed cocktail is a more recent invention, circa 1970. And while it's not technically a martini, it's served martini style, chilled and up in a frosty martini glass.
A Glass of Liquid Sunshine
The simplicity and exquisite balance of the lemon drop is part of what makes this cocktail such an enduring favorite. It's equal parts tart and sweet and so delicious it's like sunshine in a glass.