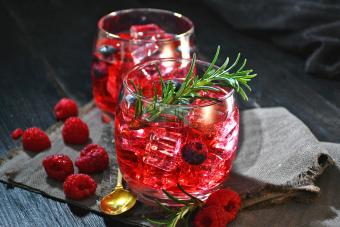 Ingredients
1¾ ounces tequila
1½ ounces tart cranberry juice
¾ ounce allspice dram
½ ounce raspberry liqueur
½ ounce agave
½ ounce freshly squeezed lime juice
Ice
Rosemary sprig for garnish
Instructions
In a cocktail shaker, add ice, tequila, tart cranberry juice, allspice dram, raspberry liqueur, agave, and lime juice.
Shake to chill.
Strain into rocks glass over fresh ice.
Variations and Substitutions
Like the classic margarita, the Christmas margarita can have flavors shuffled and varied without losing its spirit, a bit like Christmas itself.
Add a splash of club soda for added bubbles, or use flavored club soda such as lime, orange, or vanilla.
Include a splash of orange liqueur for citrus notes.
Use honey in place of agave. Flavored simple syrup such as cinnamon or vanilla can also be used.
Try mezcal instead of tequila for a smokier flavor.
Aged tequila adds oaky spiced notes.
Garnishes
It may seem unnecessary to include a garnish on such a stunning margarita, but any will add a touch of elegance as well as improve the overall experience of the cocktail.
Add a lime wedge or wheel for citrus notes.
Gently char the rosemary sprig for a richer garnish.
Pierce several fresh whole raspberries with a cocktail skewer.
Using a lime wedge, make a sugar rim.
About the Christmas Margarita
Sugar, spice, and berries add delicious holiday winter flavors to this riff on the traditional margarita, which is arguably the most popular tequila drink that's been around since the Prohibition era.
The Christmas margarita falls under the same but different umbrella as the classic. Where the classic is a simple recipe of tequila, orange liqueur, agave, and lime juice, this riff utilizes classic winter and Christmas flavors to bring a new twist on a favorite. The inclusion of allspice dram and cranberry spin dessert and savory tastes with an easy touch. Feliz Navidad!
Tequila and Christmas: An Understated Pair
The juicy flavors of a Christmas margarita make it an instant holiday favorite. With the cranberry juice as a buffer to a usually boozy cocktail, it's still an easy drink to sip and enjoy while sharing the merriment with everyone around you.