Best Way to Cook a Steak
How a steak is prepared can make or break the dinner, no matter the cut of meat. Whether it is a filet mignon, sirloin, rib eye, or any other cut of beef, these tips from top chefs can help you cook the ultimate steak.
Don't Fear the Seasoning
Bon Appetit Magazine encourages steak lovers to not fear seasoning a steak and even states to season "aggressively". However, the acclaimed food magazine cautions against the use of unique or bold seasonings and advises to stick to kosher salt and pepper. This is to provide flavor and bring out the natural taste of the steak.
Dry the Meat
The Food Network recommends drying off the beef before cooking to achieve that deep brown, tasty crusting. This can be done with a paper towel as the meat sits out to come to room temperature.
Room Temperature Steak
In an Insider interview, "Top Chef" finalist Chef Fabio Viviani revealed the key to cooking the best steak is allowing the steak to warm up to room temperature before cooking. This allows for the steak to be cooked all the way through. Simply pulling the steak out of the fridge and letting it sit for about ten minutes can bring it to room temperature.
Pick the Right Oil
Chef Tim Love states that when pan cooking steaks, choosing the correct oil is crucial. Using an oil that will burn quickly, such as olive oil, is an easy way to ruin a steak. Tim's cooking oil of choice is peanut oil for the flavor and high cooking temperature. However, Love also recommends canola and grapeseed oils as perfect oils to cook steak.
Use a Cast Iron Skillet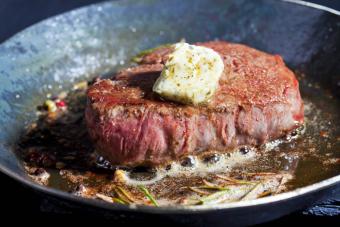 Texan celebrity chef John Tesar's top secret to cooking the best steak is using a cast iron skillet. The skillet is Tesar's preferred cooking method as it can cook any cut of meat and, unlike a grill, retains the cooking juices. For the best steak, he recommends cooking a plain steak on a piping hot, oil covered skillet after it has been dry-aged.
Flame Grilled Steak
Co-host of "The Chew" and Chef Michael Symon's favorite way to cook the best steak, shared in an Insider interview, is over an open fire. Cooking steak over an open flame is one of the easiest ways to cook a steak. Symon recommends using USDA prime rib eyes and cooking it over lump charcoal.
Cooked to Medium-Rare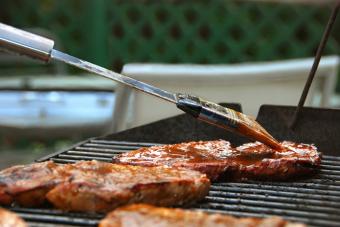 Top chef and managing partner of Porter House New York Michael Lomonaco prefers his steaks to be cooked to medium-rare. A medium-rare steak will be cooked to the center, but will also still provide the flavor of the beef. Additionally, Lomonaco states a medium-rare cook ensures the steak is tender and juicy.
Use a Thermometer
Although world class chefs can tell the doneness of a steak by touch, most household cooks cannot. Bon Appetit Magazine states the way to ensure a steak is cooked to perfection is by using a meat thermometer. A nice medium rare can be achieved at around 135 degrees Fahrenheit.
Care After Cooking
A chef's job isn't finished once the steak is cooked. The third step to celebrity chef Jamie Oliver's perfect steak is letting the steak rest once it has finished cooking. Additionally, before serving Oliver recommends rubbing the steak with a little olive oil or butter for a delicious, juicy finish.
Cooking the perfect steak is achievable when you follow these tips for success. Have leftovers? Try tasty recipes for leftover steak.