Plan for leftovers the next time you make hamburgers, and you'll have a head start on making a variety of tasty dishes. Use these genius hacks and delicious recipes to put leftover hamburger patties to good use any time you have them on hand.
Leftover Hamburger Cheesy Pasta
The only prep work for your leftover hamburger pasta dish? Boil some noodles and add some tasty stuff.
Ingredients
2-3 cups pasta (penne, cavatappi, etc.), cooked according to package instructions
2-4 leftover hamburger patties, warmed up and chopped
1½ cups shredded cheddar cheese
½ cup diced tomatoes
½ cup shredded lettuce
2-4 red onion slices, diced
Instructions
While the pasta is boiling, cut up a few leftover hamburgers into small chunks and warm them up in the microwave.
Drain pasta and add chopped burger to noodles before mixing in the cheese.
Top with your favorite cheeseburger toppings, like red onions, diced tomatoes, shredded lettuce, and serve with a dill pickle on the side.
Feel free to sprinkle a little shredded cheese on the top for even more rich flavor.
Quick Tip
Other cheeseburger toppings that'll be tasty include mushrooms, peppers, sauteed onions, bacon, or arugula.
Cottage Pie With Leftover Hamburger
Chop up leftover hamburgers to use as the meat in your favorite cottage pie recipe. This is also a great way to use up leftover mashed potatoes and veggies if you have them on hand.
Ingredients
½ cup butter, divided
1 onion, diced
1 cup carrots, diced
½ cup peas
½ cup corn
1½ pounds leftover hamburger patties (approximately four)
½ cup gravy
Salt and pepper to taste
1 teaspoon Worcestershire
1½ pounds mashed potatoes
Instructions
Preheat oven to 400°F.
Melt a quarter cup of butter in a large pan over medium-low heat.
Sauté the onion in the butter until tender.
Add the carrots and continue to sauté for another ten minutes.
Add the corn and peas.
Stir in chopped hamburger patties.
Cook until meat is heated through.
Stir in gravy and Worcestershire and season with salt and pepper. Cook until warmed through.
Pour the mixture into 9x13 baking dish.
Cover evenly with mashed potatoes.
Cover potatoes with remaining butter, cut into pats.
Bake for 30 minutes until heated through.
Meaty Grilled Cheese aka the Best Patty Melt Ever
Use extra burgers from your next cookout to create tasty patty melts to enjoy a few days later. When creating your patty melt, proceed with your favorite grilled cheese sandwich preparation routine, but add a burger patty prior to toasting the sandwich.
Don't forget to add grilled or sauteed onions, peppers, and mushrooms. Make it cheesy with a slice on the top and bottom of the patty.
Ingredients
1 tablespoon butter
2 slices white, wheat, or sourdough bread
Hamburger patty
1-2 slices cheese (swiss, cheddar, or American)
Instructions
Melt butter in skillet over medium-low heat.
Place bread in pan.
Top with cheese and patty, as well as additional toppings if desired.
Add second piece of bread.
Cook sandwich until browned and toasty.
Flip and toast the other side until the cheese is melted.
Helpful Hack
If your leftover burgers are too thick to use this way, simply slice them in half lengthwise before heating to put on your patty melt.
"Meatball" Sandwiches
Whip up a batch of homemade spaghetti sauce, or open a jar of your favorite brand of marinara to keep this recipe quick and easy.
Ingredients
1-2 leftover hamburger patties
1½-2 cups spaghetti sauce
One baguette, sliced in half
2-3 slices mozzarella or parmesan cheese
Instructions
Cut the burgers into quarters.
Cook on the stovetop in the red sauce until heated through.
Toast baguettes with cheese until melty.
Place warm burgers and sauce on toasted baguettes.
Helpful Hack
If desired, you can even cut the burger pieces into small round shapes and reserve the trimmed pieces for one of these other genius hacks!
Hamburger Steak With Gravy
A quick and easy meal made with leftovers that'll fill you up and warm you up.
Ingredients
1½ cups brown gravy
2 tablespoons olive oil
½ white onion, sliced
1½ cups sliced mushrooms
1-2 bell peppers, sliced
1-2 leftover hamburger patties
Instructions
In a small saucepan, add gravy over low heat, stirring often to warm through.
In a separate pan, heat the olive oil on medium-high until it shimmers. Add onions, bell peppers, and mushrooms.
Cook, stirring, until the veggies are soft, about 3 minutes.
Add the hamburger and gravy.
Stir to combine, flipping the burgers over so they are covered with gravy.
Heat through until hot.
Serve with mashed potatoes.
Stuffed Peppers
Crumble the burgers into small pieces, and your pepper recipe is already halfway done! Bonus: You can also use up that leftover rice.
Ingredients
3-4 bell peppers
2-3 hamburger patties, roughly chopped
1½-2 cups cooked rice
½ white onion, chopped
14-ounce can crushed tomatoes with sauce
2 cups shredded cheddar cheese
Salt and pepper
Instructions
Preheat oven to 400°F.
Cut tops off peppers, removing any seeds as well.
Add one cup of water to a 9x13" baking dish.
Place peppers open-side up in dish.
Stir together rice, hamburger, and one cup of the shredded cheese.
Season with salt and pepper.
Spoon mixture into peppers.
Cover peppers with foil.
Bake for approximately 30-40 minutes, until peppers are soft.
Remove from oven and sprinkle remaining cheese over stuffed peppers.
Bake for an additional ten minutes, uncovered.
Cheeseburger and Home Fries Omelet
Omelets are a great option for using up many kinds of leftovers, including hamburgers. Make a plain omelet and use frozen home fries from the supermarket, adding a variety of complementary items like diced tomatoes or sautéed onions, mushrooms, or bell peppers. Instead of salsa, maybe top with a bit of ketchup or serve some on the side for dipping.
Ingredients
1 tablespoon olive oil
½ green bell pepper, diced, optional
1 leftover hamburger patty, finely chopped
3 eggs
4 tablespoons whole milk
Salt and pepper to taste
¾ tablespoon butter
¼ cup shredded American or cheddar cheese
Instructions
In a small skillet, heat olive oil on medium-high until it shimmers. Add the bell pepper and hamburger and cook until veggies are soft, about three minutes.
Remove vegetables from the pan and set them aside.
In a small bowl, beat eggs with milk, salt, and pepper.
In a skillet over medium heat, melt the butter.
Pour milk and egg mixture into pan with the melted butter.
Sprinkle the egg mixture with the diced peppers and crumbled hamburger and then the cheese.
Cook until the egg mixture is set.
Fold the omelet.
Press the edges together lightly, cooking an additional minute.
From Leftover Hamburger to Mexican Meat
Give your leftover hamburger patty new life with taco seasoning. Perfect for a last-minute taco night or make it into a snazzy burrito bowl.
Ingredients
3-4 leftover hamburger patties, roughly chopped and crumbled
2 tablespoons taco seasoning
1 teaspoon water
Instructions
In a small saucepan over medium heat, add crumbled hamburger patties.
Stir in taco seasoning and water.
Stir well to combine until heated through.
Use the meat to assemble tacos, a taco salad, or add to your favorite taco casserole recipe. You can also use it as the meat filling for enchiladas, burritos, tamales, or quesadillas.
Bacon Cheeseburger Pizza
Purchase a cheese pizza or create your own using your favorite recipes for pizza dough and pizza sauce. Add plenty of cheese, using a combination of typical pizza cheeses plus shredded cheddar or American cheese. Top with crumbled burgers and sautéed chopped onions. Cook, and suddenly you have the best of both worlds: pizza and cheeseburger.
Ingredients
1 tablespoon olive oil
1 onion, chopped
Pre-made pizza dough
1 cup pizza sauce
1 cup shredded cheddar cheese
1 cup shredded American cheese
2-3 leftover hamburger patties, roughly chopped
1 tomato, diced
¼ cup pickles
½ cup shredded lettuce
Instructions
Preheat oven according to pizza dough package.
In a small pan over medium heat, saute onions with olive oil until fragrant.
On pizza dough, add sauce then cheese.
Sprinkle chopped leftover hamburgers, onions, tomatoes, and pickles.
Bake in oven until the cheese is bubbly and melty.
Sprinkle shredded lettuce over top just before serving.
Chili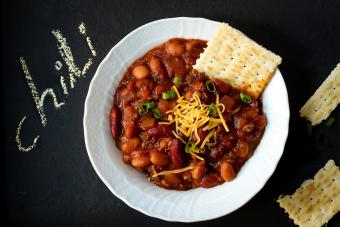 Whether you prefer to make chili in your slow cooker, pressure cooker, or on the stovetop, you can always use cut-up leftover hamburgers as the meat in the dish. Simply crumble or chop the burgers and prepare as usual. Serve by the bowlful or bring a smile to everyone's face with chili cheese fries.
Ingredients
3-4 leftover hamburgers, crumbled
1 tablespoon minced garlic
1 tablespoon cumin
¼ tablespoon chili powder
½ teaspoon salt
15-ounce can crushed tomatoes
15-ounces tomato sauce
½ of 15-ounce can dark kidney beans
¼ of 15-ounce can light kidney beans
1 cup beef stock
Salt and pepper to taste
Sour cream and shredded cheese for garnish
Instructions
In a large stock pot, sauté onions with crumbled beef until fragrant and tender.
Add garlic, cumin, chili powder, and salt. Stir to combine.
Add crushed tomatoes, sauce, beans, and stock.
Stir well to mix.
Add salt and pepper to taste.
Bring to a boil then reduce to a simmer for approximately 20 to 30 minutes.
Vegetable Pizza Casserole
Vegetables covered in cheese make everyone say "yum"! This version includes your leftover hamburger, which adds protein to bulk up the recipe. It serves approximately eight.
Ingredients
1 tablespoon of olive oil
2 cups of chopped veggies (your preference for pizza, such as bell peppers, mushrooms, onions, spinach)
2 cups of crumbled or chopped leftover hamburgers
1 14-ounce jar of pizza sauce (or equivalent amount of homemade)
3.5 ounce package of pepperoni slices
8 ounces of shredded mozzarella or a blend of Italian cheeses
Instructions
Preheat oven to 350°F.
Sauté your favorite pizza veggies in olive oil (peppers, mushrooms, onions, spinach, etc.).
Pour pizza sauce into a square casserole dish.
Add chopped or crumbled hamburger to the sauce with the veggies. Stir to combine.
Cover with shredded cheese.
Layer pepperoni slices across the top of the pizza.
Bake at 350 degrees for 30 minutes (or until bubbly and heated through).
Cheeseburger Salad With Leftover Hamburgers
Keep the burger whole if you don't want an extra step; otherwise, a crumbled leftover hamburger patty will get you some protein in every bite.
Ingredients
1-2 leftover hamburger patties, crumbled
2 cups lettuce
¼ cup diced tomatoes
¼ cup shredded cheese
¼ onion, sliced
1 tablespoon relish
Thousand island dressing, to taste
Instructions
In a large bowl, add lettuce, tomatoes, shredded cheese, onion, relish, and crumbled burger.
Stir to mix.
Add salad dressing to taste.
Leftover Hamburgers Mac and Cheese
Grab a box of macaroni and cheese from your cupboard. It can be shaped, or it can be something a little more adult. Whatever you have on hand is perfect for this recipe.
Ingredients
1 box macaroni and cheese
¼ cup sour cream
1 leftover hamburger, chopped
Instructions
Prepare macaroni and cheese according to instructions.
Warm chopped hamburger in a pan over medium heat.
Stir in macaroni and cheese and sour cream.
Stir well to mix.
Cheeseburger Rice Bowl With Leftover Hamburgers
Break out your cast iron pan or another casserole dish to whip together a cheesy and protein-filled rice bowl dinner.
Ingredients
3-4 leftover hamburgers, chopped
3-4 cups cooked rice, brown or white
2 tomatoes, diced
½ teaspoon basil
¼ teaspoon garlic powder
½ cup shredded cheese
Instructions
Preheat over to 350°F.
In pan, add rice.
Sprinkle hamburgers, tomatoes, basil, and garlic powder over top.
Add cheese, covering the mix completely.
Bake until the cheese is brown and bubbly.
Plenty of Options
Go ahead - throw a few extra burgers on the grill! There are plenty of creative ways to use up leftover hamburger patties. Whether you use one of these genius ideas, use them in your favorite ground beef or meat casserole recipe, or come up with something totally new, your family and friends are sure to enjoy your creative concoction!