There's no place like home. And by home, we mean Trader Joe's. It's a haven without an overwhelming number of decisions, it has an excellent selection of affordable items, and there are plenty of flowers to decorate your kitchen table. Why are you decorating your kitchen table? Because you brought home a few of the best Trader Joe's foods that'll save you time and money on busy weeknights or whenever you don't have time to cook.
Trader Joe's Steamed Pork & Ginger Soup Dumplings
More Details
Dumpling meets soup in a flavorful and protein-packed ready meal with these pork and ginger soup dumplings. And we mean ready. You can pop these tasty delights in the microwave or prepare them on the stovetop. They even come on a little tray you can use as a plate if you're not into doing dishes later.
Trader Joe's Gnocchi
More Details
You could write an endless love letter to Trader Joe's gnocchi options: cauliflower, outside-in stuffed, cacio e pepe, and gorgonzola to start. But, the true champions might be the cauliflower and outside-in stuffed.
Both cook in no time on the stovetop, and the stuffed gnocchi already comes filled with sauce, so they're ready to eat as soon as they're warm.
Trader Joe's Mandarin Orange Chicken
More Details
Three steps and your mandarin orange chicken is on a plate: pop the chicken on a baking sheet into a 400°F preheated oven until cooked. Warm up the sauce on the stovetop in a skillet, then toss it all together until the orange sauce hugs every nook of the chicken.
If you're feeling fancy, you can even enjoy it with some rice or cooked frozen veggies.
Trader Joe's Chicken Tikka Masala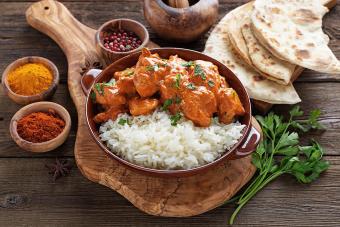 Okay, so this does require more than a quick minute in the microwave, but any meal that you can walk away from for eight-minutes while you ditch your jeans is a win. Oh, and it already comes with rice, so you have a full meal ready to go.
Trader Joe's Mac and Cheese
More Details
Trader Joe's Kettle Cooked Chicken Soup
Microwave this kettle cooked chicken soup that's packed with flavors, herbs, vegetables, and chicken, or heat it on the stovetop. Go ahead and toast some bread if you feel like going the extra mile. Or don't. This soup is incredible and easy either way.
Trader Joe's Kung Pao Cauliflower
It's hard to find a tempura cauliflower that doesn't taste like oil, and this kung pao cauliflower is packed with only good flavors. Bake the cauliflower for 20 minutes and warm the sauce on the stove or in the microwave. Before you know it, your dinner is ready.
Trader Joe's Cacio e Pepe Pasta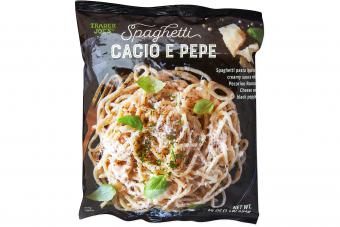 More Details
Whether you take a bite out of the cacio e pepe ravioli or spaghetti, you're minutes away from a flavorful meal. Neither requires sauce, as the cheese and pepper are all the flavoring you need. Okay, maybe a little extra cheese, but that's a personal preference.
Trader Joe's Cheese and Green Chile Tamales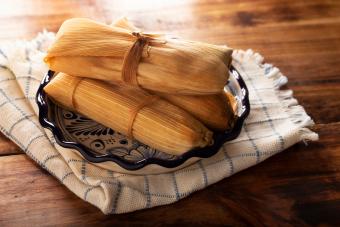 Grab a pack per person, and your balanced protein and vegetable cheese and green chile tamales will hit the table with success. They're exploding with flavor, cheese, and spice. Win, win, win.
Oh? Another win? You can enjoy this after a quick three minutes in the microwave or 20 minutes in the oven.
Trader Joe's Italian Style Meatloaf
More Details
Meatloaf has long been a family meal staple, but it takes some time to prepare and cook. Or you could buy it pre-made from Trader Joe's. This Italian-style turkey meatloaf is oven ready or even microwave ready. Warm it, slice it, and dinner is done.
Trader Joe's Lasagna
It doesn't matter if you opt for the meat or veggie lasagna, there's something about having a loaded and filling dinner that doesn't require anything more than preheating the oven.
Are you absolutely starving? Introduce this meal to your microwave.
Trader Joe's Butter Chicken With Basmati Rice
More Details
Protein, starch, and sauce, all in one tray. The butter chicken with basmati rice is a dream. Oh, you need a little more convincing? It's a buttery, creamy dish that'll stick to your ribs and keep you from scouring the kitchen for a snack once you finish.
Trader Joe's Japanese Fried Rice
So you're looking for some takeout that doesn't leave you hollow - either your stomach or your wallet. This is takeout - take it out of your freezer and whip it up on your stovetop in a matter of minutes.
Edamame and seaweed set this fried rice apart and into a league of its own.
Trader Joe's Seafood Paella
If you love paella but aren't interested in dropping $45 on a single dinner and certainly don't want to prep seafood endlessly just to cure yourself of the craving, welcome to the next step in your life.
Trader Joe's seafood paella isn't fishy, and it isn't chewy. It's a delectable paella that you can make at home and curl up with on your couch in maybe twenty minutes. Pants optional.
Trader Joe's Mini Chicken Tacos
More Details
Tuesday night taco night. You just need to cook the protein, chop the tomatoes, dice the onions, make sure you have sour cream, and you know what? Forget it. Turn to the mini chicken tacos or the mini beef tacos from Trader Joe's.
They're tasty AND gluten-free, and you can microwave these as lunch, for a snack, or as your Tuesday taco night dinner.
Trader Joe's Cheeseburger Burrito
More Details
Is it meal prepping if you buy the meals pre-made? Oh yeah. This cheeseburger burrito is brimming with cheese, tomatoes, onions, AND dill pickle relish to round out the flavors.
You can warm this delight up in the oven, a skillet, or the microwave. Really, you can't go wrong with any of the burritos or wraps from TJ's.
Trader Joe's Ricotta & Lemon Zest Ravioli
Unlike other pastas, ravioli is ready in all of three to four minutes once you add it to boiling water. And the ricotta and lemon zest ravioli is a winner over and over and over again, no matter how often you indulge. It's not always available, so keep your eyes open and snap it up when you find it.
It's fantastic with any sauce, but really all you need is a touch of melted butter to make this a one-pot meal.
The Best Trader Joe's Foods -- Seriously
Trader Joe's is proof that you don't have to be a chef to put delicious foods on your dinner table. Whether you're not much into cooking or are too busy to cook every night, do yourself a favor and turn to these Trader Joe's prepared foods. Your weeknight meals just got a whole lot more interesting.