You've perused the aisles of Trader Joe's, letting your stomach lead you on a journey. But don't forget about your heart before heading home: the wine section is calling your name. TJs stocks an impressive selection of wine. Allow this to guide you as you uncork new bottles.
Rough & Ready Petit Verdot vs. Petite Sirah
A well-balanced red wine, some rumors say that the Michael David Winery is behind the wine, although those remain just that: rumors.
Notes of raspberry jam, black pepper, and maraschino cherries dance across your palette. You'll want to be ready for this wine, it clocks in at 14% abv.
Kono Sauvignon Blanc
Save your pocket money for other things. This more than reasonably priced New Zealand sauvignon blanc is everything you expect. And isn't that a good thing when you don't know what tomorrow holds?
Crisp and fresh with a dry finish, its minerality is exactly what your heart yearns for.
Opaline Pinot Noir Brut Rosé
The bottle gives off "you can't afford this vibes," but really, it won't cost you more than a single Andrew Jackson.
Like the ornate bottles, these flavors don't hold back. A creamy, floral flavor with hints of strawberry and blackcurrant, it finishes with a touch of spiciness. Maybe buy two bottles.
Trader Joe's Grand Reserve Malbec
From the Trader himself, this is a product of Joe. Open the bottle and then start your dinner while this wine aerates. Once you give it that space, you'll dive in to find vanilla, spice, and dark fruit on the nose.
It makes for an excellent table wine, slightly dry, but still juicy with fruit notes lingering.
Bread & Butter California Chardonnay
If you're a La Crema chardonnay devotee, this Trader Joe's wine staple is a must on your shopping list whenever you run into the store.
While this Bread and Butter Chardonnay is a shade lighter on the creamy flavors you usually find in an oaky chardonnay, for around $12, it sure doesn't hurt to have a stand in.
If you are interested in throwing down some extra cash, grab yourself a bottle of the J. Lohr chardonnay for another out-of-this-world buttery chard.
Trader Joe's Charles Shaw Blend Merlot
Beware the stare of Charles Shaw -- oh wait, nope, wrong Shaw. You may better know Charles Shaw as Two Buck Chuck.
While Two Buck Chuck is more of a Four Dollar Frank these days, it's light, pretty smooth, and runs on the dry side. Soft on the nose and the palate, it is the most approachable wine you'll find regularly at Trade Joe's.
Honey Moon Viognier
A varietal wine, it's crisp, floral, and lush. Full body with notes that are fruit-forward with hints of guava and white peach, it stands next to just about anything you can put on a plate.
It looks great at a fancy dinner or on your coffee table when you decide you want a night in.
Hermann J. Wiemer Vineyard Dry Riesling
Don't count out the Finger Lakes. While the region absolutely produces a fair amount of sweeter wines, the dry wines that any winery from the Finger Lakes produces compare with any other.
Citrus and stone fruits are a highlight of this riesling, with the finish crisp with a balance of minerality.
Trader Joe's Grand Reserve Carneros Pinot Noir
Complex? Check. Full-bodied? Oh yeah. Fruit-forward? Sure as sip it is. All while still having a soft and velvety flavor.
A touch acidic with gorgeous flavors of blackberry and plum, your praises are going to very quickly be your new opening line in all conversations.
La Sonriente Garnacha
A wine with both depth and fruit-forward notes that aren't sweet, it's a medium-bodied red with a striking earthiness lurking just below the surface.
You'll find tobacco and cola among leather, cherry, and cranberry in each and every glass.
Cooper and Thief Red Blend
A bourbon barrel-aged wine, it's jammy with quiet notes of bourbon. Not so bold as to dominate anything you may be enjoying this wine with, it is full-bodied with a soft finish.
It's a complex blend that's as smooth as they come.
Cecilia Beretta Prosecco Rosé
Bubbly, crisp, and a touch of sweet fruit flavors, it's as wonderful on that first warm spring day as it is on New Year's Eve.
It has more body than most sparkling rosés; it's floral and crisp. You'll enjoy it while wearing your slippers or your favorite dress.
Porta 6 Vinho Tinto
If the label doesn't draw you in enough to give it a try, maybe knowing this dry red is both fruity and complex with a light finish will pique your curiosity.
Jammy but not cloying, it's a great pick for those who usually reach for a tempranillo.
The Delicious Monster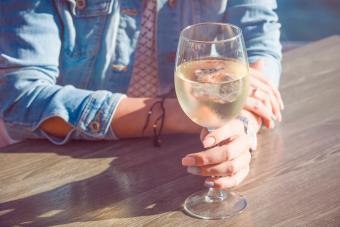 A blend of chenin blanc, muscat, and chardonnay, the label alone is worthy of a spot on your shelf if only to enjoy a touch of greenery in your home.
Lemon notes, with honeysuckle and tropical fruit supporting the citrus flavors, it's crisp and tangy.
Oyster Bay Sauvignon Blanc
As if you needed another reason to pour yourself a glass of New Zealand sauvignon blanc, Oyster Bay is here to steal your heart.
This crisp sauv blanc has zesty flavors with a nose that's just a few degrees shy of bold. And some people are guilty of buying a bottle anytime they see one just to make sure their home bar never runs dry.
Espiral Vinho Verde
Equally refreshing and crisp, this is the wine you want chilling in your fridge, ready for an afternoon of sunny day drinking.
Harvested early, the grapes are zippy with prominent notes of green apple and melon. Oh, and it's low in ABV. It is that perfect.
Laurent Dublanc Côtes du Rhône
This Côtes du Rhône is a blend of red wines, mainly grenache and syrah. Rich and intense, it's a balance of fine and fruity with a touch of spice.
Not too complex for those who don't usually drink wine, it's soft with hints of black cherry and a whisper of spice.
Campo Viejo Rioja
A fresh red wine, it has bold ripe red fruit notes that perfectly mingle with both soft vanilla and complex spices.
Aged briefly in oak, the fruity notes of strawberry and black cherry go down easy in this medium-bodied wine.
Mulderbosch Cabernet Sauvignon Rosé
If you're already a fan of Mulderbosch sauvignon blanc, you're going to be smitten with this rosé. A South African wine, this rosé has a crisp minerality with a subtle floral nose.
This rosé isn't subtle, it's all the best crisp flavors of rosé without the cloying, sweet flavors so many sneak in.
La Ferme Julien Rosé
You can't rosé all day if you don't start early. That's an easy job with this bright and incredibly popular Trader Joe's rosé wine.
Balanced and fresh, it's floral and citrusy with red fruits right at the front. A long finish reminds you why you always look forward to a glass of this blush rosé.
Hands Down, These Are Your Best Trader Joe's Wines
A bottle of red, a bottle of white, a bottle of rosé, a bottle of bubbles. No matter your wine preference, any of these Trader Joe's wines will check the box. Start alphabetically or work your way through this list from light to bold. There's no bad way to kick start the journey.