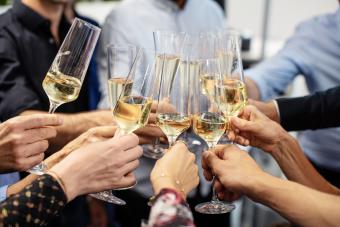 Every year for our anniversary, my husband and I pick a French Champagne we haven't tried yet and pop a bottle. It's a great way to explore one of our favorite types of wine — the fizzy stuff! We've been married for over 20 years, so we've sampled some of the best and most classic French Champagne brands over the years. Here are some that we absolutely love. 
Our Favorite French Champagne Brands
Whether you prefer a famous-name, negociant Champagne or want something a little more boutique (grower Champagne is amazing!), there are so many fabulous Champagne brands.
Many winemakers offer more than one Champagne brand. While they are made by the same vintner, the branding is different and meets different price points. For example, the popular premium vintage Champagne brand, Dom Pérignon, is produced by Moët et Chandon, which also produces White Star non-vintage Champagne and Domaine Chandon, an American sparkling wine. And within each of the Champagne brands, there may be a variety of offerings, such as vintage, non-vintage, blanc de blancs, blanc de noir, and rosé.
So, since it's so complicated (but totally worth the effort), I'm going to stick with a main brand and then recommend a Champagne from that brand that we particularly enjoyed. 
Krug
I'm going to tell it to you straight... Krug Champagne isn't cheap. But it's worth trying at least once in your life because it is unique in the Champagne world with toasty, biscuity flavors, lively bubbles, and bright acidity that keep you coming back sip after sip.
Krug is one of the most well-respected Champagne brands in France. You'll find a number of offerings from Krug, including NV, vintage and rosé. If you're feeling flush and want to celebrate, a Krug Vintage Grand Cuveé is a real treat.  It's perfect for a special occasion. 
Champagne Nicolas Feuillatte
I've had several bottles of Nicolas Feuilatte Champagne, and I've never had a bad sip. And better yet, it's easy to find in most wine shops, and it isn't going to break the bank. But there's still enough specialness to a bottle of their Reserve Exclusive Brut (sometimes called Blue Label) that it'll taste like you splurged. You can get a bottle of the Blue Label NV Champagne for under $50. It's a great way to make any weeknight feel like the best day of the week.
AR Lenoble
AR Lenoble makes moderately-priced, well-rated Champagnes. They make both vintage and non-vintage Champagnes in a variety of styles. I'm a big fan of the all-Chardonally blanc de blancs grand cru. It's a vintage Champagne that costs around $100 a bottle, but its fine bubbles and herbal notes are perfect for a special occasion meal. 
Moët et Chandon
I'm a Dom Pérignon gal, although I can count the bottles I've had of this expensive (and famous) Champagne on one hand. Moët et Chandon is best known for their expensive Dom Pérignon, which is a vintage Champagne made only during good to excellent years. But the company's Imperial Brut is a moderately-priced, consistently good NV Champagne, too. I can't count how many bottles I've had of that.
Champagne Salon
The best bottle of Champagne I've ever had came from Champagne Salon, a smaller producer making carefully crafted and delicious bubblies. They make only single-grape (chardonnay) single-vintage blanc de blancs that are focused and warmly effervescent. These bottles are going to set you back a lot of cash, but if you're looking for a once-in-a-lifetime Champagne, this extremely expensive wine is a choice you won't soon forget — I never have.
Veuve Clicquot
On the other hand, our go-to Champagne is the yellow label brut from Veuve Clicquot. It's everything you want a Champagne to be, with fine bubbles and warm toasty flavors, and it's affordable at under $75 per bottle. I've also had a bottle or two of premium Veuve — La Grande Dame. La Grande Dame is made only in good to excellent vintages, and for a premium Champagne, its $200ish price range won't take your breath away like some of the other premium offerings.
Louis Roederer
Best known for their premium vintage Champagne, Cristal, Louis Roederer also makes more budget-conscious wines like NV brut and NV rosé, which are both great go-to bubblies. The Louis Roederer Brut Rosé is a great way to get your feet wet with rosé Champagnes. If you've never tried a rosé Champagne, you're in for a treat. It's loaded with notes of flowers, caramel, and toast.
Perrier Jouët
Perrier Jouët is most well-known for their decorative, flowery bottle that contains the premium Belle Epoque Cuvée and their vintage Fleur de Champagne. These are great premium Champagnes that aren't hideously expensive (although they're not cheap, either). The company also makes rosé, NV Champagnes, and blanc de blancs. And while those Champagnes are delicious, I also really like the Perrier Jouët NV Grand Brut, and it won't leave your wallet a smoking pile of ashes. 
Bollinger
Bollinger is a rarity in France. In a time when Champagne brands are being swept under corporate umbrellas, Bollinger has remained independent and family-owned. They offer affordable NV Champagne, as well as premium vintage wines like their Vieille Vignes Françaises blanc de noirs. We love the Bollinger Champagne Special Cuvée, which tastes of baked apples and orange blossoms, and it won't set you back a car payment. 
About French Champagne
Most people use the term Champagne to describe any type of sparkling wine. But true Champagne is wine that comes from the Champagne wine region in France that's made using the traditional méthode champenoise. 
Blissful Bubbles
I've tasted sparkling wines from all over the world. And while I like most of it, something always brings me back to French Champagne. Its delicate, aromatic bubbles are an expression of a tradition that's hundreds of years old and famous worldwide.