A few ideas for decorating a fireplace using candles can transform a plain fireplace into an energized and dynamic focal point. You can use different candle holders and types of candles to ensure you create a powerful display.
1. Extreme Pillar Candles
Go tall! Go big! Go with color! This design plays on size and color. Choose an accent color that sharply contrasts with your existing décor to enhance this focal point. You can use solid colored candles, two-tone candles or multi-colored candles. Work in threes, such as three tall, three medium and three small candle heights. Add some pinecones, flowers or greenery to complete your design.
2. Country Hearthside
You can't get any more country than colonial style brass candlesticks and tapers. Move the wooden footstool that supported many aching feet angled just right. You can set a few pottery jugs to complete this classic look. and may use one to play along when the fiddler strikes up a tune.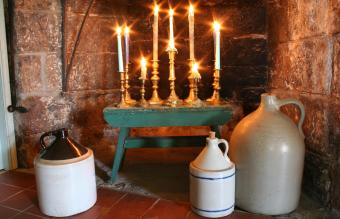 3. Fireplace Candelabra
You can use a unique firebox fireplace candelabra for an effective centerpiece. There are numerous designs and styles. Place it inside a cold fireplace behind a fireplace or fire screen. You have the added option of decorating with seasonal flowers and plants.
Design Options for Inside Fireplace Candelabra
Another option is to leave the candelabra inside the fireplace and create a new design centered around a monthly theme. You can change the candle colors, any floral embellishment and add a few art objects that convey your monthly theme. For example, an Easter theme could include pastel candles, an Easter bunny with a basket or several smaller Easter themed figurines arranged around the candelabra.
4. By the Sea
You can bring your love of the beach with a summer time arrangement of a box draped with a piece of burlap. Set different sizes of white pillar candle on top of the burlap and encircle with a marine rope. Add some large seashells with lots of smaller once and you can almost hear the ocean pounding the shore outside!
5. Add Height to Mantel Decorations
You can use candles as an opportunity to introduce height to a mantel display. You can match the candlestick color with that of any art objects you use in your mantel design. Downplay the candle effect by selecting short pillar candles, allowing the candlesticks to take command of the overall arrangement. You can add plain pillar candles to various art objects. Be sure to vary the candle heights.
Play Up Inside of Fireplace
The firebox is typically a high open space beneath the mantel. When you aren't using it for cold months, it can be little more than an unsightly gapping hole. Jazz it up with an unexpected arrangement of Different sizes of candles, such as all pillar candle groupings or a tall candelabra with different colored candles.
6. Introduce Art Objects
You can use candles to introduce or repeat design elements. For example, a candle affords you the opportunity to find the ideal candle holder to complete your mantel decorations. You can select two different patterns for the candle holders but select ones that have the same shape.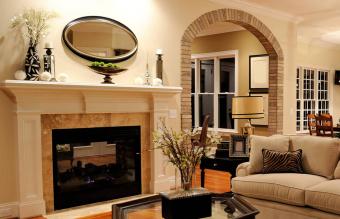 A Warm Vignette Inside a Cold Fireplace
You can use this same technique to create an attractive vignette design inside a cold fireplace. Choose tall and oversized objects to balance out taper candles. You can add different shapes of art objects, such as globes, cylindrical, square, and oblong to break up the design space with candles for additional design interest and depth.
7. Fireplace Library by Candlelight
Let the bookworm shine with this unique candle vignette inside a cold fireplace. Dust off those book volumes and slender candlesticks. Turn the hurricane candle holders free and watch the magic unfold. Add a little faux woodsy moss to complete this mystical knowledge corner.
8. Work in Odd Numbers
You can create a simple, but attractive grouping of candle holders. Select the candle holder design you like and purchase three in different heights.
Place the tallest candlestick on each end of the mantel against the wall.
Set the second tallest candlestick on the outside edge and the shortest candlestick on the inside. Repeat on the opposite end of the mantel. Set the pillar candles onto the candle holders.
You can use the center space of the mantel between the two candle groupings for seasonal centerpieces.
You can change the color of the candles depending on the season or change in the centerpiece colors.
Odd Number Technique for Firebox Arrangements
You can use this technique for decorating a cold fireplace. The firebox space is strictly defined, so you want to fill the empty space with a balanced arrangement use an odd number of candles. You can choose colored candles or choose a theme, such a forest cabin vacation and use green and beige candles with pine, wood and berries embedded in the wax for a fun summer time fireplace decoration.
9. Use Different Candle Colors Together
Candles are a great way to repeat colors within your overall color scheme and add depth to your room design. If you use two candles, you can change one color to repeat the prominent color or accent color used in your decor. This technique will draw the eye into the room and highlights the focal point of the room, your fireplace.
Refocus Attention on Firebox
In the months where the firebox sits dark, cold and neglected, you can redirect the focus from the mantel to the firebox. Choose the right color combination of candles to enliven the inside of the fireplace. Light the candles to restore the wintry warmth to your fireplace and room.
10. Valentine's Day Fireplace Candle Decorations
Dress up your fireplace in time for a romantic evening with large, medium and small hurricane lanterns set inside the firebox and long the hearth. Suspend gold and red hearts from ribbons along the mantle and all that's left is to uncork the champagne and start the playlist.
11. Add Texture With Candles
Candles can be used to add texture to your room design. For example, using mottled candles or candles with embedded objects, such as seashells or flowers, can add a layer of texture to your room design. This is especially true when using to repeat decor colors and/or motifs.
Texture for Interesting Firebox Designs
The firebox is an ideal decorating opportunity for using textured candles. You can play up this type of candle design with various floral textures, such as twigs, feathers and dried herbs.
12. A Touch of Glamour
Nothing is more glamorous than crystal chandeliers and crystal candleholders. You can use candelabra with crystal prisms and tear drops.
Place a candelabra on each end of your mantel with tapers to match your decor.
You may decide one candelabra in the center is all you need with a pair of glass taper candlesticks, one on either side of the candelabra.
Set an apothecary jar on one end of the mantel and a hurricane candle holder and pillar candle on the other end.
Don't stop your candle decorating at the mantel. Select tall candlesticks for the hearth and arrange in groups of three.
Add a Mirror to the Firebox
You can double the sparkle when you add a mirror to the back of the firebox and arrange crystal candle holders and candelabra inside this fireplace space. For a truly awe-inspiring effect, in addition to the back mirror, consider adding mirrors on each side of the firebox.
13. Hydrangea and Fabric Wrapped Candles
Celebrate spring with a white hydrangea and different sizes of pillar candles wrapped with fabric, twine and cords. Don't forget to carry the hydrangea theme to the mantel with colorful hydrangeas. If you have a different favorite flower, you can use it in place of the hydrangeas. Another choice is to use wildflowers to bring a less formal look to your fireplace.
14. Highlight Unique Candle Holders
It doesn't need to be Christmas for you to display a series of unique and beautiful candleholders in a grouping. For example, you may have a collection of hand-blown candlesticks that are ideal for showcasing candles on a fireplace mantel. Leave your candlestick collection year-round.
Showoff With Lights
You can create this type of candle holder arrangement inside the firebox and highlight it with miniature lights. suspend sprigs of fairy lights above the candles for a magical effect.
15. Black and White
You can use contrasting candle holders and candles for a great mantel design. A solid black candlestick with a shorter white candlestick provides contrast and design interest.
Take this design a step further by placing a white candle on a black candlestick and vice versa.
You can add more than just two. Work with an odd number of candle sticks in two groupings for each end of the mantel or oversize the candlestick for a hearth display.
You may choose to fill the mantel with various sizes of candlesticks mismatching white and black.
Black and White Checkerboard Backdrop
You can use this same black and white idea and take it a step further inside the fireplace. Create a black and white checkerboard backing to line the inside walls of the fireplace to showcase your black and white candles and candlesticks.
16. Riverbed and Birch Trees
This decorated firebox is easy to recreate. All you need are some smooth river rocks. Give your design a wet look with gold florist stones that glisten in the candlelight. Faux birch log candle holders support tealights to complete this river scene. If you can't find similar candle holders, create your own by sawing a birch limb or log into various sizes and top with tealights.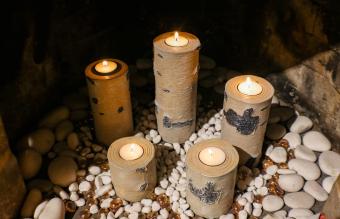 17. Romantic Candlelight Ambiance
You can create a symmetrical design on your fireplace mantel by using the same candles, holders and arrangement. You will need to create the same look for each end of the mantel. Select two of each:
Tall taper holder and taper candle
Medium candle holder same design as tall one and taper candle
Large hurricane holder and tall pillar candle
Small decorative candle holder and small pillar candle
Assemble Your Candle Arrangement
Put it together in an arrangement. Duplicate the same grouping on each end of the mantel.
Place the tall taper candle holder and candle beside the mantel mirror or picture, leaving 3"-4" space between them.
Place shorter matching taper candle holder and candle beside the taller one.
Set the tall hurricane candle holder and pillar candle beside the shorter taper candle holder.
Place the decorative smaller pillar candle holder and candle in front of the shorter taper candle. You now have an arrangement of candle heights in a descending order away from the mirror or picture.
Repeat the same placement on the other end of the mantel.
You can now add a centerpiece in the middle of the mantel, or you can add three more candles.
If you opt for additional candles, select three small pillar candles that match the ones on the end of the mantel. Chose two dish-like glass candle holders one hurricane with a pedestal holder.
Place the pedestal candle holder and pillar in the center and flank each side with the dish candle holder and pillar candle.
If you opted to add candles in the center, you can fill the space between the end candle arrangement and center grouping with matching vases and floral arrangements. Be careful of the flowers if you choose to light the candles. You may prefer to use flameless candles to avoid any first hazard.
Candle Romance for Inside Fireplace
You can transform a cold dark fireplace ideal for that summer time romantic evening with three or five hurricane candle holders and varying sizes of pillar candles. Add fresh-cut flowers in small bud vases or a flower bouquet in the center of the firebox flanked by pillar candles in a descending order of sizes. Sprinkle red rose petals around the candle holders for a final dramatic touch.
Exploring Ideas for Decorating a Fireplace With Candles
When you start exploring various ideas for decorating a fireplace with candles, you quickly realize there are many possibilities. Be sure to take advantage of unique and beautiful candle holders to give a great look for your fireplace candle.