You've seen the folded book art and the book page flowers all over the internet, but there are lots of super fun things to do with old books that feel totally new. From decorating your Christmas tree to creating awesome accessories to wear to your next coffee date or poetry slam, old books offer tons of cool and creative possibilities.
Don't stress if you aren't a crafter, either. These projects range from super simple to a little more complex. There's something here for every book lover.
Create a Funky Art Print for Your Wall
More Details
Grab your favorite image, whether it's something you drew and scanned or a file you already have, and print it on an old book page. This is pretty much perfect if you're wondering what to do with an old encyclopedia, since they are larger pages and have a lot of words. Pick a page without illustrations and print your funkiest favorite artwork over the top.
Quick Tip
You can print a bunch of these to decorate the walls of a nursery or library nook. The images you choose to print don't even have to be related, since the book page background will tie everything together.
Make a Secret Storage Spot
More Details
Keep your valuables in plain sight by hollowing out the inside of an old book to make a storage box. Don't worry about hassling with cutting out a hole in the same spot on lots of pages. You can remove some pages and then build up around them with foam core board from the craft store. Add your treasures, close the cover, and stash your secret book on the shelf with lots of normal decoys.
Have a Party With Homemade Book Confetti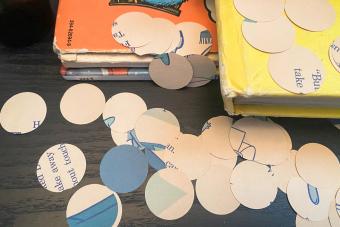 More Details
Old books, like encyclopedias or outdated dictionaries, can lose their usefulness, but they can take on a new purpose as the life of the party! Grab a circular hole punch (even better if you can find punches in different sizes) and de-stress by punching a ton of circles out of old book pages. Stash them for your next party. They'll be the perfect creative confetti.
Light Up the Library With a Book Lamp
More Details
Handy with a drill? Grab a stack of books, a DIY lamp kit, and your tools and make a stacked book lamp that's perfect for showing off in the living room, a kid's bedroom, a home library, or anywhere else. To make the lamp, glue the books together in a stack (regular Elmer's glue works here). Then drill a hole that's larger than the hardware in the lamp kit you're using and follow the kit instructions to put it together.
Put Your Collectibles on a (Book) Pedestal
More Details
We all know books can elevate your mind, but they can elevate your stuff too. If you have small figurines or collectibles you want to display in an eye-catching way, old books make the perfect perch. For a permanent pedestal, glue the books together. If you don't want to damage the books, use a piece of twine or ribbon to tie the stack instead.
DIY an Old Book Art Journal
More Details
Making an art journal is super fun, and it's one of the coolest things you can do with old books. You can unleash your creativity or keep it simple; the choice is up to you. Basically, you just cut the cover off an old book and insert blank pages instead. Then decorate to your heart's content, adding lace, ribbons, paint, or whatever you like to the cover.
Quick Tip
If you need a super meaningful and special gift, making an art journal out of an old book is a perfect present. This is a fun DIY gift for older kids and teenagers.
Create Some Upcycled Book Coasters
More Details
Save your end tables and show off your love of literature at the same time by turning old books into coasters. This is a super fun project that doesn't require a ton of crafting skill. Just pick up some cork coasters at the home store or craft store. Trace the shapes on book pages and cut them out. Use Mod Podge to decoupage the page onto the cork and protect the book page from moisture.
Make Rolled Paper Bead Jewelry
More Details
Making paper beads is super easy, and it's the perfect use for old book pages. ModPodge Rocks has a great tutorial, but basically, you just cut a triangle out of paper, cover it in Mod Podge, and roll it around a drinking straw. When it dries, you have a bead! String them together to make jewelry.
Decoupage a Christmas Ornament
More Details
Speaking of Mod Podge, you can also use it to decoupage an ornament for your Christmas tree. Start by picking a simple ball ornament and painting it with Mod Podge. Then cover it in scraps of book pages and layer on more Mod Podge. Add flowers and ribbons to bring in some festive color.
Cut a Book Page Garland
More Details
Don't worry if you aren't the crafty type. This book page project is about as easy as it gets. Choose a shape like stars or hearts and cut lots of them out of old book pages. Lay several out face-down and add some glue to the backs. Lay a string across them and glue matching shapes to the other side, sandwiching the string in between. When it's dry, you'll have a decoration for your room or Christmas tree.
Upcycle Old Books to Decorate a Gift
More Details
Make an adorable bow out of old book pages by using a simple template, such as the one at Gathering Beauty. It's an easy project, even if you don't craft, and it makes a super cool and unique gift decoration for any holiday.
Make a Succulent Garden With Old Books
More Details
Hollow out a spot in a stack of old books to hold a succulent garden. All you have to do is trace the pot you'll be using and use a craft knife to cut the cover and a few pages at a time. When you've cut away enough to nestle the pot inside the stack of books, you're ready to show off your succulents.
Explore All the Things to Do With Old Books
Don't settle for making one project with your old encyclopedias; try a bunch. There are so many fun things to do with old books that it's worth experimenting with lots. You can fill your home with your love of literature!