Let's face it - fashion trends can change pretty dramatically, and it's hard to know what to do with old jewelry that doesn't really work with your vibe. That rhinestone brooch of your grandma's may not be your style, but you can still find a meaningful (and super pretty) way to work it into your life. There are lots of great ideas for repurposing these pieces into creative home decor projects and fun accessories.
Eight Creative Ideas for What to Do With Old Jewelry
With a little extra time and a few supplies, you can transform those dusty old baubles from meh to marvelous. Try one of these fun and simple projects.
Add Bling to Boring Shoes
Glitzy old earrings and sparkly rhinestones might not be super wearable in their original state, but they actually make gorgeous shoe decorations for special occasions. You can hot glue the jewelry to the backs of your shoes or on the toes to add a ton of sparkle and style. This is an especially great option for your wedding shoes or the heels you're wearing to a special ceremony or event.
Make a Jewelry Magnet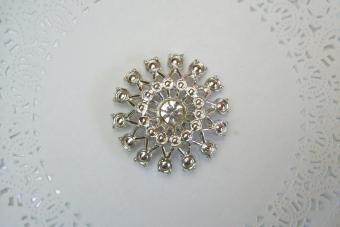 Just because you don't want to wear it doesn't mean your fridge can't. Old brooches and earrings make amazing magnets, and creating them is super easy. You can pick up plain circular magnets at the craft or hardware store. Then use hot glue on the back of the jewelry to attach it to the magnet. When it's cooled and dry, you'll have the most stylish fridge on the block.
Create a Glittering Picture Frame
Once again, hot glue is your friend here. Display a favorite photo in a picture frame decorated with old jewelry. This is a touching way to remember a relative who owned the jewelry, and it also makes a special gift. Just pick up a simple frame at the thrift store and use hot glue to add pieces one at a time. This works best if you pick a color scheme, such as all black or clear.
Build a Unique Charm Bracelet
If you don't want to wear those brooches, earrings, and pendants every day or in the standard way, you can make them into a charm bracelet to wear for special occasions or give as a gift to a family member or friend. Choose a blank charm bracelet with large links and pick up some jump rings at your local craft store. To open the rings, use two pairs of pliers to twist them open. Then you can add the piece of old jewelry and twist the jump ring closed to connect it to the bracelet.
Grow a Jeweled Topiary Art Piece
Growing a real topiary might take a green thumb, but this fun art project for old jewelry really just takes hot glue, a picture frame, a piece of cardboard, and some sparklies. To make it, cut the cardboard to fit in the frame (you can make it pretty by gluing some patterned or colored paper to it too). Lightly sketch the shape of a tree on the cardboard and then use hot glue to attach the brooches, earrings, and other old pieces in the shape you designed.
Make a Watch Necklace
Old watches can be really pretty, but people just don't use them that much anymore (your phone can tell you the time and entertain you, after all). Remove the straps from the watch faces and string them together to create a fun and funky necklace. This is another situation where jump rings come in handy. Pick some up at the craft store and use two pairs of pliers to twist them open. Add two watch faces and twist them closed again, moving on to the next. When the necklace is the desired length, use a clasp (also from the craft store) to give it a closure.
Welcome Guests With a Jeweled Sign
If you have some pretty old necklaces and bracelets you don't know what to do with, you can use a little hot glue and a picture frame to turn them into a glittering welcome sign for your home. Look for a long picture frame at the thrift store and add a piece of cardboard in a neutral color. Then lightly sketch the word "welcome" and use hot glue to cover your sketch with jewelry.
Create Beaded Napkin Rings for Your Holiday Table
Hosting a holiday meal? Turn old jewelry into fancy napkin rings for your feast. All you need to do is cut apart old strands of beads and restring them on elastic cord from the craft store. Tie the ends together to make a napkin ring and hide the knot inside one of the beads. This is a great way to use old costume jewelry from relatives in a meaningful way.
Quick Tip
Knowing what to do with old jewelry you don't want to upcycle is another challenge. If you really don't like it and don't have any sentimental attachment to it, donate it to charity shops or offer it for free on a classified site. Other people might want to create something with it (or even wear it).
When Not to Upcycle Old Jewelry
Not all old jewelry works for upcycling, especially if what you're doing to it involves permanent modifications. Keep these tips in mind as you're considering the options at the thrift store or eyeing up that box of your grandma's costume jewelry:
Don't upcycle anything made of precious metals or gems. Check for stamps and jewelry markings that will tell you the metal content.
Also skip repurposing anything that might be a coveted piece. Certain brands of costume jewelry are highly collectible.
If it's an item that's meaningful to you, consider using a temporary method to create something with it. Sew or pin it instead of gluing it, for instance.
Think Outside the Jewelry Box
There are so many ways to use old jewelry to make meaningful decorations or accessories, so it's fun to think outside that dusty old jewelry box. Take some time to consider all the possibilities before you start a project and decide what will be the most fun and functional for you.