Make your environmental message memorable by picking a slogan that focuses on the issue you care about the most. Some slogans focus on water pollution, while others focus on forest conservation or recycling. No matter what your cause is, a great slogan will be a helpful tool in getting your message to stick in the minds of passers-by. Learn what makes a good slogan, and how to create your own to help get your message across.
Original Environmental Catchphrases
These original slogans are a great way to get your message out to people in a catchy and inspiring way.
Fossil Fuels
Encourage the use of more renewable resources with these fossil fuel phrases.
Ditch the Past - Move Forward With Renewables
Forward for a Fossil-Free Future
Forget Fossil Fuels Forever
There's No Such Thing as Peak Sun
No Future in Limited Resources
When They Don't Renew, Neither Can You
Centuries to Form, Only Seconds to Use
Slippery Oil Makes Humanity Spoil
Pass on Gas
When They Run Out, You'll Be Without
You Can Never Pass Greenhouse Gas
Cheap and Easy Fuel Makes You Look Like a Fool
Fossil Fuels - Leaving Lifelong Impressions on the Earth
Kick the Fossil Fuel Habit
They're Not Alright, They Are Finite
Water Conservation
Raise awareness about the need to conserve water supplies with a short and memorable saving water slogan.
No Water, No Life
Our Bodies Need Clean Bodies of Water
We're All Equal in Our Need for Water
Without Water, Everything Withers
When You Save Water, It Saves You Back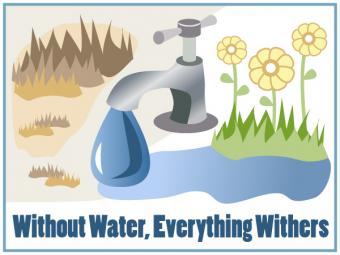 General Conservation Messages
With so many individual conservation efforts to choose from, sometimes a general approach works best.
Save the Earth, Save Ourselves
The Solution Is Less Pollution
Get the Hint, Don't Leave Your Footprint
Do Your Share for Cleaner Air
The Simple Life Causes Less Strife
Show Its Worth, Save the Earth
Feed the Planet and It Will Nourish You
Conserve What Our Children Deserve
Let It Be Wild, Not Defiled
Save the Trees, Save You and Me
Procrastination Won't Help the Next Generation
Resources Aren't Free, They Charge All a Fee
Treat the Earth With Heart So the World Doesn't Fall Apart
We Don't Make the World Go Round, But Humans Could Break It Down
Funny Environmental Slogans
Environmental slogans don't have to be serious. They can get punny too.
Get Blown Away by Wind Energy!
Pass on Gas, Not the Other Way Around
Become a Tree Hugger - They Can't Run
Because Snowmen Need Love Too - Recycle
You Think It's Hot In Here? This Planet Is Hot, Hot, Hot!
I Pity the Fool That Doesn't Use Alternative Fuel
Recycle. No One Wants to Be Trashy!
When Getting Close Matters - Think Compact Car
Because Size Matters - The Size of Your Carbon Footprint
It's Time to Kick the Habit - The CO2 Habit
Go Green - It Looks Great With Every Season
Mother Earth Is Going to Get Mean If You Don't Go Green
Using Slogans and Sayings
Some of the key ways that slogans can be used include:
T-shirts: Slogans can look dramatic when featured on a t-shirt. These can often be a talking point and are suitable for people of all ages and backgrounds.
Fabric shopping bags: There's no better way to share the recycle message than using a reusable grocery bag that features a suitable slogan.
Pens and pencils: A pen or pencil has plenty of space for a short slogan, and they are easily passed along to others.
Badges and buttons: Make a fashion statement with an environmental slogan. Badges and buttons make great gifts, as well as being a talking point.
Images with Slogans
On their own, slogans can lack the visual impact of images. Therefore, one of the best ways to present slogans is with a strong image to illustrate the message. This makes an attractive feature for postcards and greeting cards, and is another way to spread the word.
Use free images whenever possible. These can be found on free stock photo websites, and Wikimedia Commons maintains a large amount of public domain images. Make sure you understand the terms of use, and whether you're limited to making items for yourself or if you can make mass items using the images.
Use the images in conjunction with dramatic text. Poems are a great example of short, simple, direct, and poignant text that can look great with an image while also contributing to your message.
Write Your Own Slogans
Creating your own unique slogan is a great way to spread the word about a great cause. Make your slogan short and to the point, with a few powerful keywords for emphasis. Make a note of the key environmental issues that you want to raise awareness of and then highlight the ones that make a real statement. When you have created your slogans, ask for feedback and continue to fine tune the slogans until you are happy with how they sound. When finished, your slogan can be used to create your own unique t-shirts and other items.