Father's death anniversary quotes can be a powerful way to honor your dad's memory. A father's passing can leave a big hole in your heart, but taking the time to acknowledge his impact and to celebrate his life can be healing. If you're looking for some inspiration on what to say about the amazing man who left you too soon, here are some meaningful quotes for your dad's death anniversary.
Unless otherwise noted, all quotes are original and written by LoveToKnow Staff.
Heartfelt Quotes to Remember a Father and His Love
On your father's death anniversary, one of the best ways to honor his memory is to talk about his immense love for life and the people he cherished most. These emotional sayings might fit what you're feeling.
Dad, thank you for being such an amazing representation of what a father should be and how a father should interact with his kids. Your compassion, love, and support have shaped me into the man I am today.
For a man of very little words, it was pretty clear how you felt about us. Missing your big bear hugs, dad.
I remember my dad's kisses and hugs more than anything else. I really miss them.
The unconditional love of a father empowers his children. Thanks for always letting me be me, dad.
To the man who always listened and never judged. You were my mentor, confidante, and best friend. I miss you so much, dad.
My dad was a natural teacher. His most important lesson - how to live and how to die in faith.
I miss my dad's loving smiles every day.
A father's love offers comfort even from the realm of the afterlife.
I recall how my dad came home each night and kissed my mom as though he hadn't seen her in a year. That was a man who was truly in love.
My father raised his kids to be honest, fair, hard-working and devoted, just like him.
My father understood the importance of family and gave us lots of love and attention. Hoping that I can live up to his legacy and be the devoted dad I grew up with.
A father is the first man a child has as a role model, and my dad was an amazing one.
Never have I seen a love like the one you and mom had. Thank you for being the best dad. We all miss you every day.
Quotes That Pay Tribute to Dad on the Anniversary of His Death
What memories of your dad do you look back on the most? Another wonderful way to remember dad on his death anniversary is to talk about these cherished moments.
My dad was the smartest person I've ever known. He had an insatiable thirst for knowledge and seemed to always have an astounding fact in his back pocket. Missing those little lessons.
On summer nights when I was a child, my dad would rock me on the porch at night while playing his harmonica. I can still feel his presence when I hear that little instrument play.
The thing I miss the most about my dad is lying in bed at night and hearing him snore from down the hall. It was a weirdly comforting sound that made me feel safe.
My dad was the greatest storyteller. You always felt as if you were right there beside him in his grand old tales. Wishing I could hear just one more.
I've never known anyone so sure of what was right and what was wrong as my dad. He lived by a high moral code. It was inspiring.
My dad was a pragmatist in some things and an idealist in others. What a beautiful combination he was.
Sometimes I feel as though my father is still sitting in the den with me watching a football game. I can even hear him shouting, "Come on, ump, that was a foul."
Dad wasn't a man to stand on ceremony. If you weren't doing what you should be doing, he'd let you know in no uncertain terms and you better straighten up and fly right.
My Pop wanted to live long enough to see his first grandchild be born. I am so glad that he got to witness her birth, and I know he's smiling and looking down from heaven as she starts college this year. Still missing you dad.
My siblings and I loved snuggling up with Dad on the couch to listen to him read the latest story he'd written for us. It was the best of times.
Determination and kindness are the two strongest qualities my dad had. There wasn't a person he wouldn't help or an obstacle that he couldn't overcome.
Balance in life was my father's main goal. He lived the ideals he taught us, and now I hope to teach them to my children.
Short Quotes About Missing Your Dad
A father can be one of the most influential figures in a person's life. Sometimes all we really want is to say 'I miss you'. Here are some different ways to express your sadness surrounding your dad's absence.
I know my dad is having fun in heaven. He always enjoyed new adventures!
There is never a day that goes by that I don't think of you, dad.
Dad, I miss you every day. I will love you forever!
My father's death was sudden. I wish I could have been there to tell him goodbye. Missing him today and every day.
Dad, I look forward to the day I see you again and we can swap stories about our adventures.
I talk to you all the time, Dad. I hope you hear me.
My father was a man's man, but he was a big teddy bear to us kids. Missing the hugs and snuggles.
I miss you, Dad. I miss your laugh. I miss how you sang to me as a child. I miss those bedtime stories and Sunday afternoon hikes. You were taken from us too soon.
I love you with all my heart, Dad, and I always will!
My father was an amazing man that everyone looked up to. It's impossible to overstate how important he was to me and my siblings.
I can't believe that it has been ____ years since we lost you. I hope that you are having fun in heaven with _____.
Life threw us a curve ball when you died, Dad, but we have managed to come back stronger. I'd like to say that you played a part in that. Thank you for teaching us how to overcome life's hurdles.
Inspirational Father's Death Anniversary Quotes to Highlight Your Greatest Hero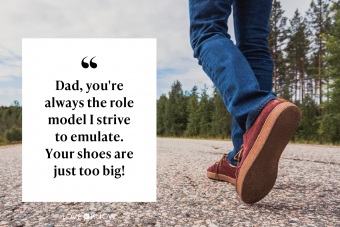 Maybe he was the first man that you ever looked up to and the one you always turned to when a problem arose. These quotes help to caption the monumental role that dads often have in their kid's lives.
When I was a child, my father was my hero. When I became an adult, nothing changed. Here's to my Superman. I hope you are flying high, up, up, and away in heaven.
Dad, you always encouraged me to live up to my potential. I'm still a work in progress, but I hope you are proud of the man/woman I have become.
Dad, you're always the role model I strive to emulate. Your shoes are just too big!
My father was a pillar of strength. He taught me how to face life's challenges with a smile. I don't know how I would have gotten through his passing without his wisdom and guidance.
My father's influence can be seen wherever you go in town. He served the public in ways few people can.
To the man who still serves as my moral compass and guide. Dad, I think I will always ponder 'what would dad do?' before making any big decision. You always knew what was best.
A father knows his children's strengths and weaknesses and guides them accordingly. Thanks for always making sure I was on the right path, dad.
A good father can be seen in the lives his children carve out for themselves. Thank you for being the best example, daddy.
Famous Quotes About Remembering Dad After Death
Unfortunately, losing a father is an experience that most people have to go through at some point in their lives. These famous words can help to remind you that even though he is gone, his impact on your life will remain forever.
Quotes to Honor Your Father's Death Anniversary
Using father's death anniversary quotes in a toast or social media post is an ideal way to celebrate the life of your dad. Choose as many quotes as you want to use on that day of special remembrance of an important person in your life. You can also pair these with a meaningful poem in memory of dad. Remember him and honor him in whatever way feels right to you.