Like many other things in life, it's important to know proper funeral etiquette. There is a certain protocol to follow before, during and after the funeral and burial, especially if the deceased person was of a specific culture or religion.
Etiquette Before the Funeral
After receiving the news that a loved one has died, take a few moments to send condolences to the family. If the deceased person was a close family member or friend, a quick phone call expressing your sympathy is OK to do. Express to the surviving family members how sorry you are for their loss and offer your assistance in planning the funeral or memorial service. If you do plan to visit in person, make sure you don't stay for very long -- maybe 15 minutes at most -- long enough to express your sympathy.
Proper Pre-Funeral Etiquette
Other proper pre-funeral etiquette includes:
Sending a sympathy card or note.
Sending a small sympathy gift or flower arrangement to surviving family member's home.
Preparing a few oven-ready dinners.
Offering to care for any children or pets in the home.
Offering to help clean the home or tend to any shopping or gardening that may need to be done.
Etiquette at the Funeral Home, Church, or Cemetery
Attending a wake, funeral or burial is never easy to do. There are many things to take into consideration before you go.
Children at Funerals
Unless the deceased person was an immediate family member or extremely close friend, young children, mainly babies, and toddlers, should not attend as it is very hard for them to be quiet and be kept busy during the service or wake. Older children should be encouraged to attend as it is important for them to understand death and what funeral etiquette is expected. It is ultimately up to the parents to decide if their children should attend a funeral or not. However, if you decide to bring a child to a service, be sure to leave the room if he or she becomes loud or disruptive.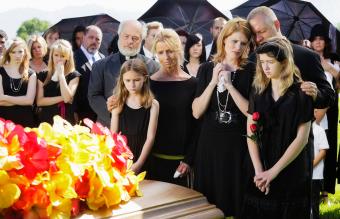 Proper Funeral Attire
While black formal attire is not always required during funeral services, dressy casual wear is acceptable. You should dress in attire that shows respect for the family and that includes:
Dressy jeans
Dress shoes
Collared shirt for men
Dress, skirt or dress pants for women
You should not wear:
Shorts
Flip-flops or ripped, worn-out tennis shoes
Bathing suits or halter-style tops
Mini skirts that are too short
T-shirts
Sheer, ripped or revealing clothing
Clothing with vulgar or inappropriate logos, words or images
Etiquette for Wearing Sunglasses to a Funeral
When it comes to wearing sunglasses to a funeral, there are no set rules of etiquette. Decades ago, women would wear veils to a funeral to hide their face and their emotions. Since veils have gone out of fashion, women now use sunglasses for the same purpose. It is acceptable to wear sunglasses to a funeral but keep in mind:
The sunglasses should be a classic style with no embellishments. The plainer the better.
Sunglasses are completely appropriate for outdoor funerals.
It is totally acceptable for a man to wear sunglasses to a funeral as well.
Since eyes are teary, swollen and red, people will understand if you leave your sunglasses on indoors.
If possible, remove your sunglasses when having a conversation with someone. Eye contact is so important when communicating.
If it is dark inside the church or becomes dark outside, it may be best to remove your sunglasses so you don't trip or fall.
Funeral Seating
Funeral etiquette includes where people sit at the wake, funeral, or burial. For the most part, any seat is acceptable, except for the first few rows of pews or chairs, which are usually reserved for immediate family members. If you aren't sure of the proper seating arrangement, contact the funeral director for information.
Funeral Donations or Gifts
In cases such as this, simple is usually best. Simple flower arrangements or plants are OK to give or be sent to the funeral home. Many times, families will request monetary donations to a favorite charity in lieu of flowers or other sympathy gifts. It would not be proper funeral etiquette if you go against these wishes.
Etiquette Following the Funeral
Depending on the culture and religion of the deceased person and his or her family, most funerals end with a customary breakfast or lunch at either a restaurant, hall/lodge or the family's home. It is proper funeral etiquette to attend this gathering; however, pay close attention to the clock and don't overstay your welcome. This gathering is usually more light-hearted and casual, and in most instances, children of all ages are welcome.
Funeral Etiquette Goes Beyond the Funeral
Even though the funeral and burial are over, the family's grieving will continue for an uncertain amount of time. Funeral etiquette afterward includes:
Checking in with the family periodically to see how things are going.
Sending a card or short note expressing your concern for how they are doing.
Mentioning the deceased person's name when visiting with the family.
Establishing a memorial in the deceased person's name.
Remembering the family during the holidays, anniversaries and birthdays.
Funeral Etiquette Offers Guidelines
These pointers about funeral etiquette are just guidelines as to what is acceptable. Each funeral is different, so the standards may be altered as well. If you aren't sure as to what funeral etiquette is recommended, check with the funeral director or those associated with planning the funeral.