Memorial service etiquette is based on the accepted manners for attending a memorial ceremony. The memorial is arranged by the family or a close friend of the deceased in lieu of a funeral service to honor the deceased individual, but the etiquette is similar.
Following Memorial Service Etiquette
The memorial service will either be held in a funeral home chapel, church, synagogue, or a specially-designated place that had a meaning to the deceased. For example, if the deceased was a jazz musician, the memorial service might be held at their favorite jazz club, or a memorial for a nature lover might be held at a park or garden.
What to Wear to a Memorial Service
If you're attending a traditional memorial, then you will need to dress the same way you would for a business meeting or, at the least, in traditional church attire. Don't show up in casual clothes since most people will take this as a sign of disrespect.
Exceptions to Traditional Attire
There are exceptions based on the beliefs of the family or individuals hosting the memorial, or even the venue where different attire is acceptable. However, if the attire is non-traditional, conservative subdued colors, the memorial invitation/notification should state the type of attire guests should wear. If in doubt, contact someone in the family to clarify.
Etiquette for Your Arrival Time vs Starting Time
The etiquette for arriving at the memorial service is to be early. Fifteen minutes early will ensure you find a good seat and won't be stressed from trying to make the service in time. This arrival time gives you a small buffer that can allow for traffic congestion and possible parking issues.
Candlelight Memorial Services
Some families opt for a candlelight memorial service. Candles are provided and are lit during the service. This type of memorial service is often held outdoors.
Flowers for Memorial Service Etiquette
You can certainly send flowers to the family prior to the memorial so the flowers can be moved to the memorial site. It's safer to send to the family than directly to the memorial venue, since there may not be someone present to accept the delivery.
Plants in Lieu of Flowers
You may prefer to send a houseplant or a plant that can be transplanted after the service as a remembrance planting. Common houseplants sent include prayer plants, lilies, orchids, and for transplanting, azaleas, or hydrangeas.
Should I Bring a Gift to a Memorial Service?
Some people bring a gifts to the memorial service. Gifting is often a local tradition or tied to a religious practice.
Memorial Service Etiquette Gifts
The type of gift you choose to take to a memorial service should be similar to what you'd take to a funeral. A few ideas can help you decide.
Sympathy Card and Gift Certificate
A sympathy card hand delivered to the family is a nice gesture. Write a personal note inside the card to express your feelings/sentiment about the deceased. You may also desire to include a gift certificate, such as the deceased's favorite restaurant or tickets to see their favorite sports team play.
Charity Donation Memorial
You may decide to spend your money by making a donation to the deceased's favorite charity. If the family has requested donations to a specific organization in lieu of flowers, you can present them with a note that you've made the donation. Organizations send acknowledgements of donations to the deceased's family, but this can take several weeks. You can present the family with a sympathy card and hand-written note that a donation has been made in their loved one's name.
Flower Gift
Hand-deliver a floral arrangement at the time of the memorial. A single flower, such as a rose tied with a flowing ribbon, makes a nice gesture for a memorial gift. You may prefer to gift a houseplant or one that can be transplanted in the backyard in honor of the deceased. You should then make arrangements to assist in the transplanting of your gift.
Food Gift
You may wish to gift the family with food. You can either make a casserole or dessert. If there is a reception following the service, you may prearrange with the family to bring something to serve.
What to Expect During a Memorial Service
The memorial service takes place after the funeral. This can be as soon as a few days, weeks, and even months. When the service takes place depends on the family's circumstances such as if family or friends must travel long distances. The deceased has already been buried or cremated.
Cremation Urn or Framed Photo
In the case of cremation, the family may decide to have the cremation urn on display. In lieu of the urn, a framed photo of the deceased is often placed on an easel or on a table decorated with flowers, candles, and/or mementos of the deceased.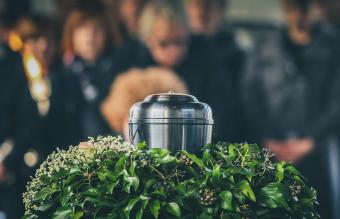 How Long Should a Memorial Service Be
Traditional memorial services are short, ranging from 20 to 30 minutes. The service could be longer if those planning the service decide to include several speakers and various musical or choral songs/hymns. If the memorial follows a religious format, the time factor can be affected by specific religious practices being observed.
Other Etiquette to Observe During a Memorial Service
There are a few other forms of etiquette you should observe during a memorial service. These are simple, common courtesy manners that you should practice.
Be polite and respectful by speaking in a soft voice.
Do not engage in laughter, telling jokes, or being loud. Act as though you're in church.
Turn off your cellphone and any other electronic devices you have with you.
Do not be late and interrupt the service.
If you are late to the service, stand outside the chapel, church, or synagogue and wait for the right moment to enter. Choose a seat at the very back of the room.
Sign the guest book when you arrive. This is an important keepsake for the family, so write your name so it is legible.
Offering Condolences
You should offer condolences to the family of the deceased with words of comfort. Keep it simple, such as how you miss their beloved, how kind the person was to you, or you are sorry for their loss. You should offer a handshake to family members unless you are close. If hugging is the family's way of greeting friends, wait for them to make the first move.
Expectations and Observing Proper Memorial Service Etiquette
You want to observe the proper etiquette when attending a memorial service. By paying close attention to the family and following their lead, you can easily maneuver through the service.