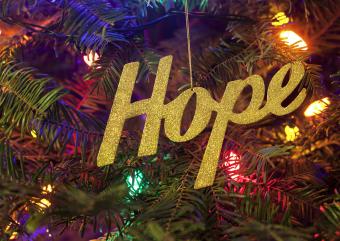 Charities and nonprofit organizations often use the slogan "Hope for the Holidays" for fundraising and donation campaigns or charity Christmas assistance in November, December, and January. These programs bring awareness to the needs of the community and provide hope during the holiday season for families and individuals in need.
Nationwide Holiday Hope Programs
"Hope for the Holidays" is a great program name because it describes the goal of the program and is inclusive of all belief systems. Whether they're bringing hope to families in the form of extra food for holiday feasts or through Christmas presents for needy kids, holiday hope programs help all kinds of people.
Family Reach
Family Reach is a national nonprofit who gives financial grants to families dealing with pediatric cancers. The Hope for the Holidays annual program donates money to children with cancer and their families so they can find some joy in the holiday season, even while spending it in a hospital. You can help by:
Starting a crowdfunding page to raise money
Donating any dollar amount
Sponsoring a family of 5 or more for $1,000
Sponsoring a family of 2 to 4 for $500
Volunteers of America
Volunteers of America is a nonprofit organization that has various chapters throughout its nationwide coverage. Different chapters in different regions host various Hope for the Holidays programs. The Michigan chapter hosts a Hope for the Holidays Gala helps raise money for homeless veterans. The Mid-States chapter hosts a donation drive for gift cards, entertainment items, personal care items, diapers, and baby wipes to be donated to families in need.
Jewelers for Children
Jewelers for Children is a charity organization aimed at providing services to children partly through the Children Hope Program. Corporate giving options allow your business to send holiday cards or make donations in your employees names in lieu of gifts. The funds raised from this Hope for the Holidays program are then used to fulfill the organizations's mission of helping kids affected by illness, abuse, or neglect.
Lutheran Immigration and Refugee Service
Helping migrants in U.S. detention centers find some joy and hope in the holiday season is the main goal of the Lutheran Immigration and Refugee Service (LIRS) Hope for the Holidays program. You can contribute by:
Making a monetary donation
Buying holiday cards, writing hopeful messages in them, and donating them
Donating blank cards or gifts for children
Hope for the Warriors
U.S. military families in need benefit from the Hope for the Warriors' Hope for the Holidays program. This holiday giving initiative asks companies to be matched up with a family in need and donate the funds to support that family's holiday needs.
Hospice and Palliative Care
If you have recently lost a loved one, Hospice and Palliative Care organizations want to help you deal with this grief in their Hope for the Holidays programs. Individual chapters of these organizations host different types of holiday hope events for grieving families. Look for your local or regional group to see if there's a holiday hope event near you.
United States Strongman
If you're a trained strongman or strongwoman, you can participate in the United States Strongman (USS) sanctioned Hope for the Holidays event. Professional strongmen and strongwomen compete in different weight classes in this athletic event. As part of the registration fee, entrants are asked to bring an unwrapped gift to be donated to a child in need. The qualifier round in 2019 took place in mid-November in Arizona while the finale takes place in mid-December in Missouri.
Regional Holiday Hope Programs
Regional chapters of larger nonprofit organizations, hospitals, churches, senior centers, schools, and other individual groups capitalize on the joy of giving back to your community during the holiday season. Local holiday hope programs take on many forms and their impact can be seen right where you live.
The CAP Agency in Minnesota
The CAP Agency is a nonprofit organization dedicated to providing services to 38,000 families and children in the Tri-county area of Scott, Carver and Dakota Counties in Minnesota. The organization sponsors an adopt-a-family style charity with this slogan during the holiday season. The program allows families who would otherwise be unable to provide gifts to their children with the ability to do so.
United Way of Tri-County Massachusetts
If you live in Middlesex, Norfolk, or Worcester county in Massachusetts, you can participate in their United Way Hope for the Holidays program. The program provides Christmas gifts to children, teens, and adults with special needs. You can get involved by:
Making any monetary donation
Adopting a family to purchase gifts for
Hosting a toy drive
Volunteering to sort and deliver donations
Totally Buffalo in New York
Totally Buffalo Hope for the Holidays out of Buffalo, NY seeks to help families and kids in need throughout all the holidays from Thanksgiving to Easter. They collect monetary donations and host drives for specific items such as snacks to stock the parent pantries at the local children's hospital or pillowcases full of fun stuff for kids. You can volunteer your time as a delivery driver, donate money, or donate goods.
The Idaho Food Bank
Running from November 1 to December 31 each year, the Idaho Food Bank's Hope for the Holidays program helps bring festive foods to families in need. From food drives donations to monetary donations, your gifts can help feed local families during the holiday season. Events include frozen turkey drop-offs, a fill-the-food-box race, and donations made by restaurants if you eat at their locations on a specific day.
Children's Home Society of North Carolina
Those in the Charlotte, Greensboro, and Raleigh areas can help give kids living in foster care a magical Christmas by partnering with the Children's Home Society of North Carolina. Ways to help include:
Choosing one child and fulfilling their Christmas gift wishlist
Donating Visa, Target, and Walmart gift cards
Making a cash donation
Texas Advocacy Project
Help women who have escaped abusive relationships and their children have a great Christmas through Texas Advocacy Project's Hope for the holidays program. You can adopt a family to help, shop for charitable items online, or make a monetary donation to the program.
Tips for Finding a Hope for the Holidays Program
If you want to support or need support from a "Hope for the Holidays" program, there are several ways you can start your search. Many of these programs won't be advertised or running until late October or early November, so that's the best time to start looking.
Check out the website for your favorite nonprofit organization to see if they offer a holiday hope program.
Do a quick Google search for "Hope for the Holidays program near (insert town/city/county/state)."
Take a look at your local community calendar or newspaper.
Research national organizations dedicated to a cause you're passionate about and contact them to see if they have a holiday hope program.
Give Everyone Hope for the Holidays
Every person can contribute to providing hope for a happy holiday to those less fortunate by donating goods, money, or time during the winter months. Look for large and small organizations near you and ask how you can help bring the magic of the holiday season to everyone in your community.