Learn about found object jewelry from jewelry artist and sculptor Lynette Andreasen. Lynette takes a found object or an heirloom piece and makes a new piece of art jewelry that honors its history. Explore the different types of found object jewelry available.
What Is Found Object Jewelry?
In a world where recycling is important, it just makes sense to turn your cherished or interesting items into jewelry pieces. This is the inspiration behind found object jewelry. It's like upcycling. You turn objects in the world around you into a unique conversational piece you wear on your body. Found object jewelry could be a bracelet made of keys or a necklace of a small hammerhead.
Inspiration for Found Object Jewelry
To understand the inspiration for found object jewelry, it's important to look at the artists themselves. Found object jewelry artist and sculptor Lynette Andreasen states, "Viewers can relate to the objects used in my jewelry and think back on their own memories revolving around those objects. Perhaps they have fond memories of visiting grandma's house and helping her polish the silver. Perhaps there was an old dresser in their home as a child and seeing the antique drawer pulls in my jewelry helps them look back on childhood memories." Therefore, using those objects connected to the past in a piece makes a necklace more special and unique.
How to Create Found Object Jewelry
Since found object jewelry is created from objects that are found around you, jewelry artists need to take a unique approach.
Finding Materials
According to Andreasen, "What I do is go to junk stores, secondhand stores, and antique shops to find objects that have lost their sentimental value associated with their owners. For whatever reason, these objects once loved and cherished in a home have been cast away and forgotten. I take these objects and try to give them a second life, try to make them important again."
In addition to going to jewelry stores, you can also find found objects around your home or even on the street. It all depends on the type of piece you are creating.
Hand Created
What makes found object jewelry truly unique is the hand craftsmanship. Since you are starting with found objects, each piece is molded by hand. To get an idea of the process, Andreason clarified, "I hand fabricate everything, starting with sheet metal and wire. I usually start with a found object I want to incorporate and work from that object. I let the object dictate the design of the piece, and I build around it. Techniques I often use are piercing, soldering, acid etching, hydraulic forming, and oxidizing."
Types of Found Object Jewelry
Found object jewelry can come in different types. Depending on the materials you have on hand, they are metal, paper, random, and resin.
Recycled Metal
From pop cans to old jewelry, you can find different metal pieces in the trash and at shops to mix together to create a unique jewelry piece. For example, bottle caps can be made into earrings. Additionally, an old spoon can be molded into a bracelet. According to Andreason, "Working with metal was challenging but also incredibly rewarding. Still today, I am totally seduced by materials. The metal itself, found objects, pearls, stones - I just get the materials in my hands, and in those materials, I see things start to take shape. I feel like I have to make them come to life."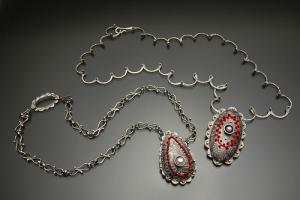 Paper
Paper might seem like a strange medium for jewelry, but paper mache jewelry is a thing. Using old recycled paper, you can pretty much make any design or shape you could think of from beads to flat pieces. The paper is then coated with a harder to make it stand the test of time.
Mixed Media
For old kitchen trinkets to mementos, any type of metal, plastic, and paper can be worked together to create a unique jewelry object. For example, loose gems, old camos, metal, and plastic beads can be created into a necklace. Beach glass could be connected with metal lopes to create a unique bracelet.
Resin
Resin is a unique clear hardener that can work to mold several found objects into a pendant or bead. For example, you can seal loose stones, small springs, and metal together to create a pendant. With a little resin and imagination, the world is your canvas.
Why Found Object Jewelry Is Important
Found object jewelry might seem like a strange concept for some since it's easy enough to go to the store and buy a necklace. However, Andreasen points out, "All of us have these things in our lives. We keep old clothes, old books, old trinkets that remind us of someone or something special to us. It may be a specific memory associated with the object, or it may be a lifetime of memories associated with a specific individual. This idea is built into our society."
"When we pass an important milestone in our lives, we are given a small trinket as a reminder. Often it is hard to part with these objects, not because of any value they hold, but because of their sentimental value. We keep them near us to remind us of things we don't want to forget."
How to Incorporate Found Object Jewelry
Incorporating found object jewelry into your everyday look is easy. You follow the same rules as you would for other types of jewelry like color matching. However, it can also make found object jewelry stand out to wear it with other more traditional pieces like wearing a beach sand bracelet with a gold bangle.
About Jewelry Artist Lynette Andreasen
Based in Mesa, Arizona, Lynette Andreasen is a jewelry artist, sculptor, and Artist Resident at the Mesa Art Center. She has also taught metalsmithing classes at Arizona State University and Phoenix Center for the Arts. She received her Bachelor of Fine Arts and Masters of Fine Arts in Metal and Jewelry from Arizona State University. Her art has been shown at art galleries throughout the United States and published in publications, such as Lark Publications' 500 Necklaces book. She also has an Etsy shop featuring her jewelry.
Found Object Jewelry Creations
Jewelry can take on a specialized meaning of a person or your life. However, when incorporating found objects, it can be even more meaningful. Explore the unique creations you can create just from the world around you.