The It bag status means the bag is not just a luxury purse, it is seen as a symbol of social status and sophisticated style. Although the craze for It Bags seems to be a fairly recent phenomenon, the popularity of bag styles and designs has existed for centuries.
Designer It Bag History
Since around 1500 AD handbags have been an essential part of everyday life for both men and women. It wasn't until the post-war economic period of the 1950s that handbags were propelled into a cult status. Luxury fashion house designers such as Chanel, Vuitton, and Hermes became an influential part of culture. As more women became employed and established an active lifestyle outside the home, the need for practical handbags grew. Designers took note and developed all sorts of bags for specific occasions.
History of 15 Popular It Bags
Ever since, popular bag styles have come and gone. However, every It bag has a major moment and some of the most popular bags in recent years have become iconic social status symbols.
1. Louis Vuitton Coussin
The Spring 2021 hit, Louis Vuitton Coussin quickly was out-of-stock on the famous website after a couple of celebrities showed off the bright neon green, red, and black versions. The puffy, monogram-embossed, lambskin leather purse quickly became the latest It bag. The bag has a unique versatility that means it can be carried for a casual affair as well as fancy gala. The Coussin's size is just the right size for a popular style bag.
2. Bottega Veneta Padded Cassette Bag
The Bottega Veneta Padded Cassette Bag is a crossbody maxi weave bag has quickly become an It bag. The wide nappa leather strips are styled double-faced to create an orthogonal weave. The bag sells for around $3,000 and is available in 10 colors.
3. Chanel Boy Bag
The Chanel Boy Bag was first introduced in 2011 and remains one of the It bags. With its staying power, the bag sells for around $5,500. This iconic It bag is available in seven colors.
4. Givenchy Antigona Lock Bag In Box
Givenchy Antigona Lock Bag In Box Leather still reigns as a dynamic It bag. This bag has maintained popularity since 2012. In 2021, this iconic bag has been reinterpreted with Direction Matthew M. Williams's vision for a new era, taking the industrial side of things to blend with specific hardware for a contrast in creativity and industry.
5. Gucci Marmont Matelassé Shoulder Bag
Gucci Marmont Matelassé Shoulder Bag is one of the most popular It bags, and the bag is still in high demand. Gucci creative director Alessandro Michele's creation continues to evolve with its iconic GG, double G logo, the diagonal matelessé design is found in mini shoulder bags as well as the emblematic style.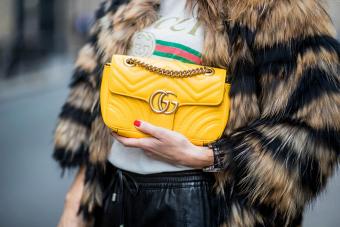 6. Louis Vuitton Capucines Bag
The 2013 introduction of the Louis Vuittos Capucines Bag generated a firestorm of frenzied shoppers trying to grab the purses before they were gone. Since then, the Capucines bag has demonstrated staying power. The design has morphed to include mini purses and variations to accommodate the demand and creative growth.
7. Luis Vuitton Speedy
A luxury carryall for a woman's most prized daily essentials is fitting, especially when it's the right size bag. The Louis Vuitton Speedy bag is a carryall that is similar in style to a piece of essential luggage. If you wonder why, it's because in 1932, Louis Vuitton was expanding beyond a luxury luggage brand into a fashion house. Following the development of the Keepall travel bag, Georges Vuitton designed the Speedy as a smaller bag to carry for short trips. It was further popularized by Audrey Hepburn, who requested the brand to design a smaller bag (the Speedy 25) for her.
Fast forward to the 90s when designer Marc Jacobs pumped new life into the classic bag, making it a phenomenon with funky graphics. Prices for Speedy bags start at around $1,000 and go up depending on size and style.
8. Chanel Flap Bag
During the 1950s when the iconic fashion designer Coco Chanel made a chic transformation of a clutch with a chain strap, a timeless It bag was born. As an avid fan of horses, Chanel was inspired by the quilted padded jackets worn by jockeys. To this day, the quilted, chain strap handbags are the posh choice of celebrities and everyday fashion consumers. A classic Chanel flap bag starts at about $3,800.
9. Bottega Veneta Hobo
One It bag that is just as distinctive to the touch than it is to the eye is the Bottega Veneta hobo. The plaited woven design technique called Intrecciato is unique to the brand and was established during the 1960s to make the brand's leather accessories more durable. The simplistic bag design is one that makes this it bag a popular, timeless luxury. Bottega Veneta Hobo styles are available for about $2,500 and up.
10. Fendi Baguette
In 1997, Silvia Venturini Fendi created a bag that fashionistas everywhere craved and wanted a style bite of, called the Fendi Baguette. Its style is defined by the following:
Each bag has a small rectangular shape designed with a strap long enough to allow the bag to sit under the arm like a loaf of bread.
Every Baguette bag is the same shape, with an interlocking double F-logo mold as the front clasp.
Although the shape and logo are the main design concept of the Fendi Baguette, many of the bags are adorned with different details, prints and textures.
What was it exactly about the Baguette that women loved? As reported in a story by UK's Independent, Silvia Venturini Fendi attributed its success not only to its new, short shoulder strap style but also that it was ergonomic, soft, and "gave you a new attitude. Your hands were free, you could really move. It was really practical… you could put really all your life in such a soft small bag." The Baguette also gained popularity when it was spotted on Sex In The City.
The cost of Fendi Baguette can start upwards from $5,000. In case you're longing for an It bag that can only come to fruition on a lower budget, consider a micro baguette which ranges in price from about $1,000 to $3,000 and up depending on the style.
11. Dior Saddle Bag
What's an It bag without bringing attention to the design brand's initials? The Dior fashion house certainly brought recognition to its name when designer John Galliano launched the Dior Saddle Bag in 1999. He literally took the concept of a logo bag to a new height. The bag was shaped like a jockey's seat with a 'C' and 'D' on the handle and an 'D' charm hanging on the bag. When the bag was spotted on the television: It girl Carrie Bradshaw of Sex In The City, the popularity of the design went through the roof.
The bag style experienced a resurgence in popularity when Beyonce was spotted carrying one in 2014. These bags are primarily available pre-owned from consignment and auction sites and range in price from several hundred to several thousand dollars.
12. Balenciaga City
Every bag has a story, and when it comes to the Balenciaga City bag, the plot twist occurred on the runway. Former Balenciaga designer Nicolas Ghesquiere introduced the creation of the Balenciaga City bag prototype, and it was not approved for a mass production due to its soft structure. However, when Ghesquiere requested that the bag be designed for a 2001 runway show, supermodel and style icon Kate Moss quickly became fond of the bag, as he explained in a story for WWD.
The Balenciaga City handbag line was designed with tasseled fringe on the zippers and thimble hardware. Today, the distinctive bag design is available in various colors, textures, shapes and sizes. It is available for around $2,000.
13. Chloé Paddington
In 2002, French design house Chloé launched the Paddington Satchel, which was an instant hit with fashionistas. When the bag line was introduced, it was pre-ordered in advance and sold out of its first run of 8,000 bags before making it into the boutiques as claimed by Vogue. The Chloé Paddington Satchel is an unstructured design made of leather with a large lock placed in the front and key attached. Prices vary, but many styles can be purchased from auction and resale sites for under $1,000.
14. Celine Luggage Tote
If a design house wants an It bag, the thing to do is to hire a designer who has the Midas touch. Phoebe Philo is the It bag woman, and she contributed largely to Céline's success. After creating the infamous Chloé Paddington bag, Philo was appointed as Creative Director of Céline. For the fashion house, she designed the Céline Luggage Tote in 2010, which also grew in popularity as an It bag. The large roomy square shaped bag widens at the top and has double handles. Other details include:
A zip top opening
Sleek suede lining
Detachable strap to transform the tote into a shoulder bag
Céline Luggage Totes originally came in five sizes, but two have been discontinued. Prices range from about $2,000 to over $5,000.
Get Your Hands On an It Bag
You can find some of the older It Bags for a big price tag. Other It bags are still being manufactured and are available at a more reasonable price. The new designs are still available at major department stores. From online consignment shops to eBay and fashionista resellers, you can invest in an It bag and fall in love.