Ideas for Highlighting Dark Hair
Highlights on dark hair can be soft and subtle, or they can be bold and create a stunning contrast. Whether you're looking for a high contrast, edgy style or natural sun-kissed highlights, there are many options available for highlighting dark hair. Pictures can spark ideas and help you define your style.
Chunky highlights in blonde and light brown create a fresh, modern appearance on dark hair.
Frosted Dark Hair
Frosted highlights add brightness that is well-blended with dark hair for a touch of sexy glamour. Frosting can add texture and distinction to wavy hair, or it can be subtle and provide a sun-kissed look.
Warm and Subtle
Red-toned and rich brown highlights in dark hair look soft and understated. This can add warmth and life to brighten up a one-dimensional color.
Honey Highlights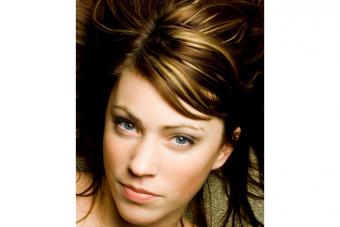 Warm honey-colored highlights can also be quite flattering on brown hair. This is particularly true when the highlights begin at the crown of the head and then taper gently down.
Multi-Tone Highlights
Medium-thick highlights in warm shades, like a combination of cinnamon and warm blonde, offer a stunning aesthetic for women with dark hair. The effect is one that is noticeable, but not overly dramatic, making it wearable for women in a wide range of age groups. Multi-toned highlights add richness and depth.
Red Highlights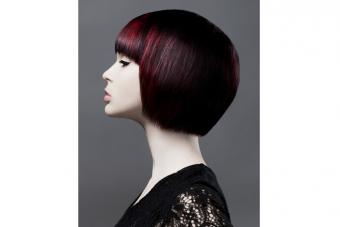 Subtle red highlights are a great choice for dark hair. This hue looks more natural than blonde shades when matched with your dark color, and the process is usually kinder to your tresses.
Copper Highlights
Copper is a shade that blends well with warm skin tones. It illuminates particularly brightly in the sun to create a natural, eye-catching look.
Dirty Blond Highlights
Dirty blond highlights are fantastic on darker hair because brunette hair can typically take to this color with a minimum amount of damage. As you can see, the overall effect can be quite pretty and minimalistic.
Caramel Highlights
Caramel highlights produce a naturally beautiful and elegant aesthetic. The traditional style consists of highlights that are evenly spaced throughout the hair. However, you can vary the thickness for a more modern feel.
Ribbon Technique
If you're looking for a unique, contemporary highlighted look, consider opting for the ribbon technique. This is where cascading ribbons of hair are highlighted in a lighter hue than the base color. It creates a brilliant, bold and stylish contrast.
Highlighted Ends
Apply highlights just to the ends of your hair for a subtle, chin-framing style. This darker on the top, lighter on the bottom effect is a great option for those with shoulder-length, tapered cuts that flip inwards toward the face.
Face-Framing Golden Highlights
Golden hair highlights that frame the face can draw attention to your eyes and facial features. These types of contrasting highlights are especially popular with teens, but women of any age can wear them.
Dramatic Blonde Chunky Highlights
Pale blonde highlights work well for dark-haired ladies with cool skin tones, but they can be difficult to achieve at home. Visit a salon to keep from ending up with brassy or orange-colored highlights.
Alternatively, bold chunks of highlights near the face offer a dramatic, edgy look, but they'll need to be touched up often to maintain the style.
Peek-a-Boo Highlights
To solve the problem of roots, women often opt for peek-a-boo highlights where the highlights are placed under a layer of the dark hair, making the growth less noticeable. Peek-a-boo style highlights can be done all over the hair for a consistent aesthetic, or just through a portion for an edgier style.
Curl Emphasizing Highlights
Emphasize your styling efforts with golden highlights that frame your curls and waves. This look is both romantic and classy, and it adds a warm glow to dark hair.
Vibrant Highlights
Intense shades of red, pink, blue, purple, or green can look wonderful on brunette hair as an alternative, quirky look. The key to getting this striking aesthetic lies in reaching for a bold color of highlights rather than a subtler shade.
Streaks of Pink
Surprising colors can look just as good on short hair as they do on longer locks, and they don't always have to have a punk vibe. The bright pink highlights here could definitely work in the alternative music scene, but they'd also look vibrantly romantic paired with a flowing, lacy dress.
Spiked Look
Highlights can be used on any style, including the most eccentric looks. Here, white, purple and platinum highlights are used to accentuate a short haircut styled into head-topping spikes.
Babylights
Babylights are created using a very fine coloring technique. They mimic the subtle, dimensional highlights that are fresh, natural, and often seen on children's hair. Even though babylights themselves are subtle, they certainly make a serious style statement.
Slicing Technique
Slicing is a hair coloring technique where slices of your hair are highlighted in a hue lighter than the rest of your hair. They are generally 1/8 of an inch thick to create a standout modern aesthetic.
Ombre Look
Ombre hair produces a color-blocking effect. It's the transition of a lighter shade from a darker shade, for instance, dark brown to light blonde. This color technique can be less gradual so it's more noticeable and impactful, or it can be more subtle for less daring individuals.
Balayage Effect
"Balayage" comes from a French word and means "to sweep." It's similar to ombre in the sense that this color technique acts as a gradient from a darker shade to a lighter shade; however, some dark pieces are left at the bottom with the balayage effect. This means that your locks look more natural, like they've just been authentically sun-kissed, and aren't as high maintenance as the ombre technique.
Choose Your Look
There is a broad range of looks for dark hair with highlights, including numerous color and placement options. Whether you want a touch of sun-kissed color or a dramatic alternative look, highlights can break up a monotone hair color and add interest to your style.
You can get more great ideas by discussing your needs and preferences with a professional stylist.