What color handbag goes with everything? This is a question often asked when trying to decide on the best fashion color combinations.
What Color Handbag Goes With Everything?
You don't have to stand staring at your open closet, wondering which purse to carry. There are a few colors that go with everything and can make your choice easy.
Black
Black is the all-time favorite classic choice of color that will go with anything. You can choose a black bag style that can be used for causal or business attire. This is one bag you must have in your wardrobe. You can select black for a versatile handbag that can be worn on the shoulder, crossbody, or carried as a clutch to get the most out of your dollar for dollar value.
White
A white handbag can be casual, business, or formal depending on the style of the purse. This color can be pure white, or it can fall into a wide range of off-white colors. White for a purse color will go with everything if you want to create a sharp contrast. Common matchups are white and navy for a nautical ambiance. If you're wearing a print dress or blouse and the background is white, choosing to carry a white handbag will highlight the colors.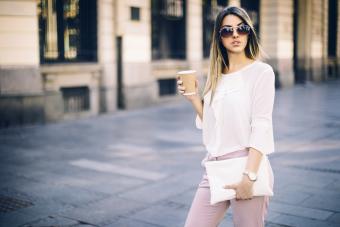 What Is the Most Versatile Handbag C,olor?
After black and white, gray is one of the most versatile handbag colors. You can choose a deep charcoal gray or go to the opposite end of the gray spectrum and select a light gray purse. You want to match your gray purse with the color value of the outfit you wish to wear.
Charcoal
The charcoal color is like black when it comes to going with almost any color. This is a value lighter than black but darker than a light gray. The best colors to use with charcoal range from pairing it with blue, red, pink, yellow, and white. If you want a neutral color other than black, then you may find this a good color choice.
Light Gray
Light gray is like all grays since it can either be part of a causal or business ensemble. It makes a good purse color choice for a more formal outing. You can carry a light gray purse to create contrast in your overall look. Just be sure to repeat light gray in other parts of your outfit, such as jewelry, scarf, gloves, and hat.
Brown
Browns are an earthy color that can go with almost any color. You want to consider the color of your outfit and whether it is a warm or cool color. This will help you select the right brown color.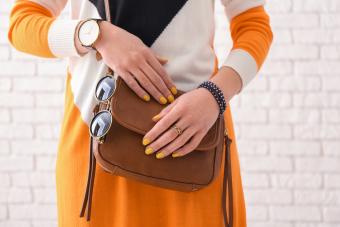 Ecru/Cream/Beige/Tan
In nature, browns vary in values and hues. Ecru is a like unbleached linen or a cream color. It can take on undertones of warm colors. You want to have at least one ecru colored purse in your wardrobe when crisp bright white it just too much for your outfit. Beige is a few color values darker than cream. You can mix these colors with almost any color for a stunning contrast.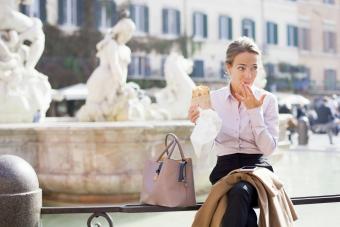 Saddle Tan
Saddle tan can range from light to dark. The brown in a saddle tan is rich and creamy. This color is often associated with casual wear, but you can use a saddle tan purse with a business outfit, such as chestnut colored. If you want to create contrast, blue jean blue is a good match for a saddle tan purse.
Espresso Brown
The warm dark brown of espresso is a rich and sultry color for a purse. You can use an espresso brown purse with any warm colored clothing. You can pair it with burgundy, russet, warm tans, gold, and medium blue.
Metallic
The metallic colors of gold, silver, copper, pewter, and brass can be used as accent colors for your wardrobe. Pair a metallic color with black for a stunning contrast. Burgundy, purple, and dark green are enriched when you carry a metallic colored purse.
Green
Green is considered a neutral color since, like the green found in nature, it goes with almost everything. Blue, red, yellow, white, black, and gray all go with green. The key to using green as a neutral color is to make sure you are matching cool colored greens with cool colors and warm colored greens with warm colors.
Olive Green
Olive green is a green value that goes well with muted colors and medium colors. You can use olive green with pale turquoise, coral, cream white, navy, and black. You can use olive green as an accent color with your wardrobe the same way you would in a home décor. Repeat the color of your purse with two other accessories, such as a scarf and a belt.
Multi-Colored
A multi-colored purse can often go with everything in your wardrobe when it comes to matching colors. Whatever solid color you wear, that color will stand out in your multi-colored purse. If you go shopping for a multi-colored purse, think about the various colors in your wardrobe and then choose a purse that has the most colors represented in your wardrobe.
What Color Purse Goes With Everything?
Most of these colors will go with everything. To make a good match between the colors of your outfit and your purse, make sure you consider the hue intensity and if the color(s) are warm or cool.