Tanya Sharma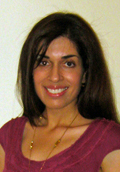 Long before she had memorized the functions of skincare ingredients and moisturized her way to glowing skin, Tanya Sharma was digging through her mother's vast beauty collection and helping herself to bottles of Oil of Olay and jars of Nivea. Of course, it all started with a bottle of clear Tinkerbell nail polish in 1985.
Though she may not have known it then, her childhood curiosity for all things beauty evolved into a future as a licensed cosmetologist. She has spent her career focused on the entertainment and beauty industries. A former editor-in-chief of an online woman's magazine, she is a regular contributor to several print and online publications.
In addition to keeping a keen eye on what's hot and what's not, Tanya enjoys doing "research" at the mall.
Most Recent Contributions by Tanya Sharma
All Contributions by Tanya Sharma