Browsing over 100 unique and common Korean girl names provides you with excellent choices for your daughter. Consider the meaning of each name to help you narrow your many choices.
Popular and Common Korean Girl Names
The most trendy and popular names in a region change over time. Some names fall out of favor while others usurp the top spots. These Korean female names are hitting the mark with parents and proving to be popular choices for little girls.
Eun Ae (grace with love)
Eun-Hye (grace)
Hana (my favorite)
Ha-Yoon (talented or allow)
Hee-Young (joy and prosperity)
Hyun-Ok (wise and beautiful pearl)
Iseul (morning dew)
Ji-ah (refined wisdom)
Kyung-Soon (honored and mild)
Seo-ah (auspicious and beautiful)
Seo-yoon (omen, auspicious, felicitous, and soft, sleek)
Unisex Names With Multiple Meanings
Many Korean names given to girls are unisex in nature and have multiple meanings. Hanja, Chinese characters used to write the syllables, determine the Korean name's meaning. This creates a variety of meanings for each word; examples are given, but those with more than a few meanings are noted as having more.
Ae-Cha (love and laughter)
Chaewon (origin or beginning and more meanings)
Dea (great one)
Eunji (kindness, intellect, mercy, and more meanings)
Eunjoo (little flower, summer grace, and more meanings)
Gyunghui (beautiful, honor, respect, and more meanings)
Hyejin (intelligent and bright, precious and rare)
Jieun (hidden)
Jimin (quick, clever intellect)
Jin-Ae (truth, love, treasure)
Jiwoo (branch, perceive, mercy, and more meanings)
Jiyoung (winsome, perception, flower, and more meanings)
Kwan (strong girl)
Migyung (beautiful, scenery, and more meanings)
Minji (sharp intellect)
Minjung (the people)
Minsuh (dignified people)
Mun-Hee (educated literate)
Seohyun (auspicious, virtuous, and more meanings)
Soomin (clever, excellence, and more meanings)
Sun Jung (goodness and noble)
Yeona (heart of gold)
Yoonah (light of god)
Yoon-suh (eternal youth, thank you, and more meanings)
Young-hee (courage, beauty, flowers, and more meanings)
Young-mi (eternal, beauty, and more meanings)
Beautiful Korean Girl Names With Lovely Meanings
What parent doesn't want a beautiful name for their daughter? Consider one of these pretty Korean girl names that sound beautiful, or names that mean beautiful to express your love for your daughter.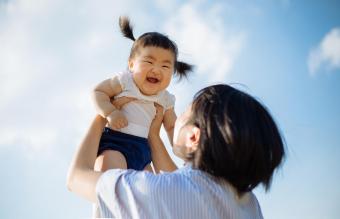 Ahnjong (tranquil)
Ara (beautiful)
Areum (beautiful)
A-Yeong (refined)
Bong-Cha (superior daughter)
Cho (beautiful)
Cho-Hee (beautiful joy)
Eun-Kyung (graceful gem)
Hea (graceful girl)
Hiah (glad)
Jia (beautiful, good)
Jung hwan (righteous beauty)
Kyong (brightness)
Kyung Mi (honored and beauty)
Mee (beautiful)
Mi-Cha (beautiful girl)
Mi-hi (beautiful joy)
Mi-Kyong (beauty and brightness)
Mi-Ok (beautiful pearl)
Mi-Sun (beauty and goodness)
Mi-Young (everlasting beauty)
Moon (smart one)
Myung-Hee (cheerful joy)
Sang-Hee (pleasant one)
Sena (world's beauty)
Sun-Hee (goodness, pleasure)
Pretty Korean Flower Names
Your little one is as pretty as a flower, as delicate as a petal, and she deserves a darling Korean flower name to carry with her throughout her life. There are so many lovely flower name options in the Korean language. Which one suits your child best?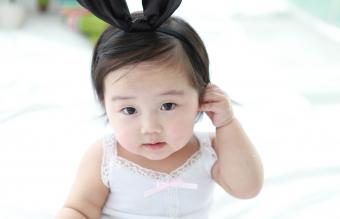 Ailiseu (iris)
Baeg-Ilcho (zinnia)
Bongseon (impatiens)
Chija (gardenia)
Dallia (dalia)
Deiji (daisy)
Haebaragi (sunflower)
Haw (young beautiful flower)
Hei-Ran (graceful orchid)
Hwa-Young (beautiful flower)
Jang-Mi (rose)
Jelanyum (geranium)
Jindallae (azalea)
Kaneisyeon (carnation)
Mindeulle (dandelion)
Molan (peony)
Nari (lily flower)
Paenji (pansy)
Soo- A (perfect lotus flower)
Soo-Gook (hydrangea)
Soo-Yun (perfect lotus flower)
Suseonhwa (daffodil)
Tyullib (tulip)
Yang-gwibi (poppy)
Yon (lotus blossom)
Cute Korean Girl Names That Reflect Nature
Nature lovers might wish to name their baby girl something related to nature. Choose a celestial element, adorable animal, or other natural earthy objects to inspire your naming adventure. Some names have two meanings that add a romantic touch and, in some cases, a mystical feeling to the selection.
Bada (ocean)
Baram (wind)
Bong (mythical bird)
Bon-Hwa (glorious)
Byeol (star)
Eun Jung (grace and affection)
Eun-Kyung (graceful gem)
Hae (ocean like daughter)
Hae-Won (graceful and beautiful garden)
Heejin (precious pearl)
Ho (goodness lake)
Joo (jewel)
Myung-Ok (bright pearl)
Sook (she of pure nature)
Haneul (heaven or sky)
Haru (day)
Yuri (glass/crystal)
Taeyang (sun)
Finding the Perfect Name
Korean language and culture offer parents tons of meaningful baby names to choose from. When deciding on a Korean female name, be sure to dive into the culture's naming traditions, name meanings, initials, and nicknames. Choose something that is sweet-sounding and packed with plenty of meaning. Giving your child the perfect moniker is a major moment, so spend the time choosing the best one, one that would even suit the Korean royal family. Above all, have fun with the process!