Birth Announcement Text Message Wording Examples
Whether you're sending photo birth announcements via text or basic text-only messages, these sample birth announcement messages will need some customization. Add the basic text of your choice to your message drafts so you'll be able to quickly add personal stats and send it out after baby's born.
Formal SMS Birth Announcement
Bob and Jen introduce Krysten Sue Mortle, born Tuesday 4/18 at 4:15 p.m. The family will share this message with others and accept visitors at a later date.
Religious SMS Birth Announcement
You have been blessed with this text to rejoice with us in welcoming our sweet angel, Braxtin James Orwell. Through God's grace he arrived, all 9 lbs and 22 in on 6/30 at 5:23 a.m. Prayers for the new family welcome.
Clever SMS Birth Announcement
Use the emojis on your text messaging app to create clever baby announcements.
(Couple emoji, Arrow pointing right emoji, Baby emoji), Carter Randall Thatcher 8.7#, 21 (Ruler emoji), (Birthday cake emoji) 3/13 (Heart eyes emoji)
(Baby bottle emoji, Clock emoji - means "Baby time")! (Waving emoji) Julie Pearl Johnson on 9-12-19, (No cell phone sign emoji - means no sharing),
(Waving emoji, Globe emoji -means "Hello world")! I'm Denver Roger Montane, born at 6:22 p.m. on January 9th(Kissing face emoji). (Nursing mom with baby emoji, OK emoji - means mom and baby are okay)
Funny SMS Birth Announcement
Don't hit "ignore!" Ginger Marie Stapleton will be stealing a lot of your attention, all 6 lbs, 20 inches of her. Born 8/23, she'll meet you next week!
Baby Girl Birth Announcement Text
This girl rules our world! Rylynn Ann Smith burst into the world at 8:45 a.m. on July 11th. When she's ready for visitors, we'll let you know!
Baby Boy Birth Announcement Text
There's a new poster boy in town named Owen Marcus Litton! Weighing in at 9 lbs. and 24 in., he's sure to fill your heart. Text the new dad, Jim for more info.
Adoption SMS Birth Announcement
Becky and Don have finally added our +1 and present her only to you, Vera Ann Borman was chosen to join our clan on 5/13/19.
SMS Birth Announcement to Friends
Rexford Whittier Hammond is here! At 7:34 a.m. January 10th we brought 7 pounds of joy into our hearts. Send congrats to Jim's phone while mom and baby rest.
Text Message Birth Announcement to Co-Workers
Janice gave birth to a precious baby boy/girl 8/13, Gemma Jade Jones. They're doing great and welcome messages via email.
SMS Birth Announcement to Family
Welcome to the family Logan Wyatt Alexander, born Monday, June 5th at 9 p.m. He weighs 6 lbs, 7 oz and is 22 inches long. Hospital visiting hours are 10 a.m. to 4 p.m, we hope to see you soon!
Baby Born Text From Father
Shelly is a superstar who gave birth to our first son, Xander Alan Maxwell on 9/21 at 4 a.m. We're all doing great and welcome your call or visit.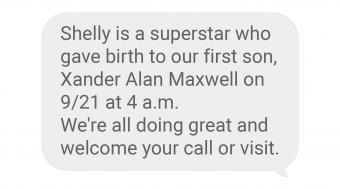 Birth Announcement Text on Behalf of New Parents
Geoff and Anne Briggs would like to share their new baby boy/girl, Odin Doyle Shelters, born on 4/13 and weighing 8 lbs. The family is well and will reach out when they're settled.
What to Include in an SMS Birth Announcement
Think of a text message birth announcement as the summarized version of what you might include in a printed birth announcement. You want to give friends and family the basic information to introduce your new baby and know that mom and baby are doing okay.
Standard Information to Include
Text messages are meant to be brief and should accompany a photo of the new baby or new family. If you're tech savvy, you can add the words on top of baby's picture and send the whole thing as an image message. Keep in mind a standard text message can fit 160 characters. Must have birth announcement text message material includes:
Baby's full name
Baby's date of birth
Whether or not message recipients can share the message with others
Optional Information to Include
Depending on your message recipients and your personal preferences, you might want to include other brief information such as:
Baby's weight
Baby's height
Baby's gender if it's a surprise
Both parent's names
Who to contact or how to best contact you for more information
When you'll be ready for visitors
Who baby looks like or a dominant personality trait
Text Message Birth Announcement Etiquette
The etiquette for sending birth announcements via text message isn't much different than all other types of announcements. However, it can be seen as a less personal way of sharing that is best for friends, distant family members, or emailing co-workers.
Send out a text to close family members as soon as you are settled at the hospital after baby is born.
Send individual messages to immediate family members or a group message just to them.
Group messages are okay for friends and co-workers.
A close family member can send the SMS announcement to others on your behalf.
You can get away with sending announcements up to one month after baby is born.
Tailor texts to your audience. For example family members should get a photo, while co-workers don't need one.
Birth Announcement Information for Special Circumstances
The birth of a new baby can sometimes come with unexpected surprises or unhappy circumstances. Use these tips if you plan to send out texts after your baby is born in a special circumstance.
If you're announcing twins, include whether they are fraternal or identical as most people will want to know.
For premature babies, it's okay to exclude birth weight.
If the baby is not doing well or did not survive, sending a serious text and asking for privacy can be helpful.
For the birth of multiples, send a separate text message for each baby.
For difficult circumstances, give only need-to-know information and designate someone close to the family who can field questions or offers of help.
Spread the Joyous News Quickly
The moments and days after you have given birth or adopted a baby are busy and exhausting. Birth announcement SMS messages are a quick and easy way to let friends and family know baby has arrived and the whole family is doing well. Once you get settled at home, you'll have the chance to share more information on social media, via letters, and during visits.