Some middle schools have junior high proms as a dance event for younger teens. Here's what you need to know about these events.
About Junior High Proms
Junior high proms usually come at the end of the school year. A lot of kids might be hesitant to attend, but these dances can be a lot of fun. This is your chance to attend a grownup event, get dressed up, and socialize. The dances are often like a costume party, especially if they're planned around a particular school dance theme. There is no need to take the evening too seriously, but rather to enjoy yourself and get the chance to dance with a guy or girl you've had your eye on. Some people will bring dates while others will come with friends or have group dates.
Finding a Date
If you want to take a date, ask someone who you know you'll have a great time with. This can be a friend, a boyfriend or girlfriend, or a crush. You can choose to ask your potential date in a casual way, or by doing something creative. You can also go with a large group of friends and all hang out together instead of pairing off. Either way, you're bound to have fun together.
Transportation Options
Because you probably aren't driving quite yet, you'll need to arrange for some transportation. You can have a family member take you to the dance, or arrange to take a limo or party bus with your friends. An adult will most likely need to help you organize this type of transportation. Be sure to book a car or limo a few weeks in advance and split the cost with friends.
Before Prom
Prior to heading to the dance, you and your friends and/or date can meet at a buddy's house, have dinner, and take some pictures. You can also head to a restaurant with whoever you are attending the dance with. Many school dances serve dinner, so be sure to check ahead of time. You can also organize a get together at someone's house and do a mini potluck with appetizers prior to heading to the dance together.
Prom Etiquette
If you are planning on taking a date to the prom, be sure to hang out primarily with them. Spending time with them in a group setting is fine, but don't ditch them for long periods of time during the evening. Always be polite and courteous to your date and any adults chaperoning.
Middle School Prom Dress Up Themes
These dances often have dress up themes:
Masquerade ball
Cinco de Mayo
Rock-and-roll
Neon or glow in the dark (with glow sticks)
Fairy tale
Black and white
60s, 70s or 80s decades
Patriotic
Hawaii or vacation
What to Wear to Middle School Prom
Junior high dances are more casual than high school dances, but they're still a good excuse to dress up. See what your school recommends for dress code or dress up based on the themed event. You'll need to respect the guidelines even if you think school dress codes are bad.
Girls Prom Outfits
Most girls will be comfortable in modest dresses that are knee to ankle length. Unlike high school proms, the dress code usually is not formal. Dresses worn to church, spring dresses, sundresses, and colorful dresses are good for this event. There is no need to spend a lot of money or go overboard. Borrowing a dress from an older sibling or even renting a prom dress can keep the cost down. If you want to go for a dressier look, go for a dress that is longer. You might consider dressing up a black winter dress by adding some color, such as a hot pink ribbon around the waist, some lace, or a shawl.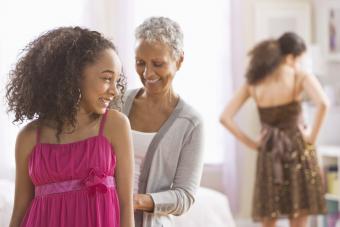 Guys Prom Clothes
For guys, middle school proms probably don't require a suit and tie, but ask around to see what your friends are doing. Most guys will likely be wearing khaki pants and a button-up shirt. For shoes, guys typically like to keep it really casual with sneakers, like Vans skate shoes or Pumas, but it really depends on your personal style. Many guys wear clothes that are similar to what they wear on a regular school day. Dress up your look with a tie, or try a printed tuxedo t-shirt.
The Night of the Dance
If you are going to your middle school prom, get together with friends to get ready. This can start the night on a good note. Also, don't feel bad if you don't have a date or aren't sure if anyone will ask you to dance. This is not a night to pressure yourself, but rather to do something different by dressing up and getting out of your comfort zone. It can be fun just to see everyone else dressed up and your junior high gym decked out. This may be your first dance event, so keep it casual and soak up the experience.