Turning 20 is a momentous occasion! If you or someone you know is turning 20, celebrate the big day in social media style with a carefully selected caption. From sassy selfie sayings to cute captions and inspirational expressions, you're sure to find just the right thing to say in the long list below.
Super-Short 20th Birthday Captions for Yourself
Let the Insta-world know it's your birthday with these super-short selfie captions. Each of the captions below is limited to four words or less.
Decade 2.0.
Hello, big 2-0!
Halfway to 40.
Milestone 2.0.
Teen alumnus.
20 is 'da bomb!
Adulting ahead.
Decade upgrade.
Former teenager.
Retired teenager.
Turn 20 and chill.
Teenager no more.
Early 20 something.
Adulting on the way.
Entering my second decade.
Insta-Ready 20th Birthday Captions for Yourself
You don't have to stick with four words or less to let the world know that you're celebrating the big 2-0. Use the captions below to say happy birthday to yourself.
20 looks amazing on me.
Showing 20 how it's done.
Don't hate me because I'm 20.
Not legal yet, but getting there!
Growing older but not growing up.
Smilin' like only a 20-year-old can.
My long-awaited 20s have arrived.
Does this birthday make me look 20?
I'm 20 - it's time to rise to the occasion.
20 and counting - on my way to growing up.
Now that I've hit the big 2-0, I'm just gonna go with the flow.
Look out world, here I come - this is my last birthday before 21.
I've been waiting my whole life to see 20 candles on my birthday cake.
You young teenagers don't know what you're missing! - Signed, your now 20-year-old friend.
Baddie 20th Birthday Captions for Yourself
For a bit of snarky birthday humor befitting a baddie such as yourself, consider one of the snappy--and somewhat savage--captions below.
Tearing up my 20s!
Showing 20 who's boss.
Making 20 mine, all mine.
Leaving my teens in the dust.
Looking forward to my terrible 20s.
20 years of awesomeness in the making.
Being 20 like it's never been done before.
20 never looked so good on anyone, ever.
Raising the bar for 20-year-olds everywhere.
Sure, I'm getting older - but I'm also getting better.
I may be 20, but my world still revolves around me.
Just in case you wonder what 20 is supposed to look like.
What will people call my teenage hijinx now that I'm 20?
I may have to grow up, but I'll never give up my childish ways.
To everyone who said I wouldn't make it through my teenage years: I proved you wrong!
Turning 20 Captions for Instagram
Celebrate turning 20 with a creative caption that uniquely marks the occasion. The sayings below offer a great way to mark to the occasion.
20 years in the making.
Rolling into a new decade.
A new decade has dawned.
Adulting really begins at 20.
I've been promoted to my 20s.
Open the door to a new decade.
Welcome to your second decade.
Decade number two has arrived.
Waving goodbye to my teen years.
And just like that, 20 years appears.
Hello, 20! I worked hard to get here.
Spring forward into your second decade.
Watching the odometer roll over to 20.
Welcome to 20. There's a first time for everything.
Happy 20th Birthday Captions for Instagram
Want to wish someone you care about a heartfelt happy 20th birthday? Post one of the captions below on Instagram along with a photo of the birthday person.
May your 20th birthday be your best one yet.
Turning 20 is but a promise that the best is yet to come.
Happy 20th! There's no better year than this one right here.
Wishing this brand new 20-year-old an incredible birthday.
There's no better age to be than just having turned 20. Happy birthday!
Happy 20th birthday. Keep your inner child alive and you'll go far in life.
It's time to shift gears now that you've reached the milestone of 20 years.
No matter how great your teenage years were, the best is yet to come. Happy 20s!
Wishing you an incredible 20th birthday celebration. What a momentous occasion!
Happy birthday! As you move into your 20s, never lose your sense of childhood wonder.
The day you were born, our family really hit the jackpot. Have a wonderful 20th birthday.
The world became a brighter place 20 years ago today - because that's the day you were born.
Welcome to your twenties. You're leaving your teenage years behind, but the best is yet to come.
Face forward and march into the great unknown now that you've reached your 20th birthday milestone.
Cute 20th Birthday Captions
Sincere birthday wishes don't have to be serious to be meaningful. Help the newest 20-year-old in your life celebrate their birthday with one of the cute captions below.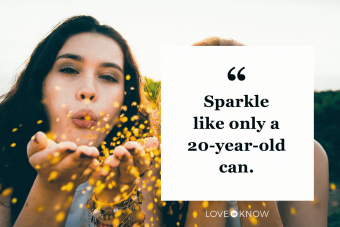 Sparkle like only a 20-year-old can.
Two decades down, plenty left to go!
Party like only a recent teenager can.
Enjoy your decade upgrade! Happy 2.0.
Cheers to you as you celebrate 20 years!
Just yesterday, you were but a wee teenager.
Age is just a number, but maturity is priceless.
Hip, hip, hooray in honor of your 20th birthday!
Congratulations on graduating from your teens.
Age is just a number, and yours is starting to climb.
Welcome to your last trip around the sun before you turn 21.
Congratulations on the completion of your 20th trip around the sun.
The teenager who perseveres will reach 20 years - and keep on going.
Mark the date of your birth by celebrating your first 20 years on Earth.
Funny 20th Birthday Captions
Birthdays are a great time for funny captions, especially when the birthday person is celebrating a major milestone like the big 2-0.
You made it to 20! Ain't that a cake in the teeth?
Make the most of your last pre-legal birthday party!
Two decades down, only two more to go until you hit 40.
Welcome to your 20s, where no one gets a participation trophy.
It's time to start making sense of all the lessons you learned in your teens!
Now that you're 20, your birthday celebration is getting a bit too hot to candle.
I'm jealous that you're turning 20 before me, but I'm glad that you'll hit 40 first.
Don't leave all the childish things behind - you won't have anything left! Happy 20th.
The dilemma of being 20 - you still want to party like a teenager, but you'll feel it like a grownup.
Happy 20th birthday; you're standing on the brink. You're no longer a teenager, but you still can't drink.
Now that you're 20, from this day forward, the older you get, the more fondly you'll remember the past.
At 20, you're beginning the transition from being glad it's your birthday to being happy to still be alive.
Enjoy your last year of trying to find an old person to buy beer for you. Next year you'll be that old person.
You'll never get to say "but I'm just a teenager" ever again. Happy birthday, and let that sink in.
Choose the Right Words for Turning 20
Whether you're the birthday person or if you're looking for the right way to wish someone else a happy 20th, the best birthday wishes start with a stellar saying. Choose a turn of phrase that expresses the meaning you want to convey with a tone that is just right for such a major milestone. From a cute or funny saying or birthday meme to a heartfelt sentiment, celebrate this special birthday in style with an eloquent expression.