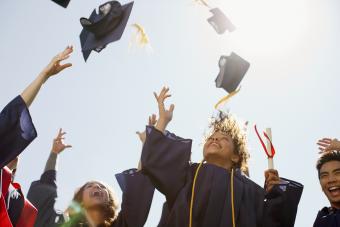 Graduation is a momentous occasion. If you're graduating high school, you've been working to make it to this day for 12 long years. No matter what your graduation is celebrating, make sure that you mark the moment with a meaningful remark about your hard work, struggles, successes, and future endeavors!
Short Graduation Quotes for Your Next Chapter
It takes a lot to make it to graduation, and you probably spent your whole high school career drafting essays. Get a break from composition writing with a short graduation quote to pair with your Instagram post!
Looking forward towards my future!
What can I say? I make graduation day look good.
BABAM!
Finally free!
Onward and upward!
Well, that just happened. #Isurvived
Hard work really does pay off.
Hello adulthood!
Adventure awaits...
Feeling accomplished...
Real world, here I come!
Anyone hiring? #straightAgrad
Ready for a reset.
It's time to start the next chapter.
It is long awaited, but I have graduated!
Ready for anything this world throws at me.
It's the first day of the rest of my life.
Ready to follow more of my fears!
Done learning about history....now I'm about to make it!
Keep calm and carry on. Enjoy the present before this day is gone. #graduationday
Inspirational High School Graduation Quotes
High school is hard. Entering the real world and going off on your own can seem even more challenging. Find inspiration with these high school graduation quotes that bring encouragement for what lies ahead.
Opening the door to the next chapter of my life!
Starting this new chapter with great ambition and a desire to learn more.
Poised to be persistent until I prevail at my next pursuit!
Off to follow my passions so that I can find my purpose.
I pushed the limits and overcame. Now I look to my future and set my aim. #infinitepossibilities
Challenges and failures only make us stronger. Ready to see what life throws at me next!
They say good things come to those who wait. I say, they come to those who seek.
The path less traveled will always bring unexpected surprises.
We overcame obstacles, and that made us stronger for the challenges of tomorrow.
Looking left and looking right, all you can see is the building blocks of the future. #Classof_____
No one can take away your knowledge, so soak in as much as you can get. #highereducation
There is no telling where life might take me next! #unlimitedpotential
Open to possibilities and making a conscious effort to step outside my comfort zone. #findingmypotential
Bring on the challenges! I am ready to become the best version of myself!
Meaningful Quotes for Graduation
Did you struggle on your way to graduating? Who didn't? Along the way, there are always the people who lift you up and encourage you to keep pushing forward. You also pushed yourself. These meaningful quotes can serve as an eloquent way to share your appreciation for their love and support and highlight your success!
Humbled by the failures that taught me the lessons that got me to where I am today. Grateful for the mentors who lifted me up along the way.
Our actions are what cause the ripples of change. Let's make this world a better place!
Graduation would be incomplete without "u"! Thank you for your love and support.
And now the real work begins. Ready to take on the future!
Put me in coach! I am off to the big leagues now. #readyforthegamecalledlife
As the sun sets on this momentous day, we plan to shine bright on tomorrow's horizon.
Life is a marathon, not a race. Soaking in this moment. For tomorrow brings more hurdles, but I am ready to take them on.
Here's to the people who pushed me to do my best, even when I didn't want to learn. I am here today because of your support and guidance.
I stressed, I sacrificed, and I surpassed expectations.
To the naysayers, bet you didn't expect this! Thankful for my wonderful support system, who got me to this moment.
Now is our chance to push boundaries and exceed expectations. The world is what we make of it!
Feeling pride and delight in this big accomplishment, but humbling myself so that I can take on the obstacles of tomorrow.
Funny Graduation Quotes & Quips That Are Pretty Grad-ical
Funny graduation quotes are a favored choice for both the class clown and the profound, yet punny pupil. Check out these clever quotes that would make even your most serious teachers smirk.
I'll calc-you-later!
Grade A egghead right here!
Is that my diploma showing? Oops, my grad!
Being an English major is going to be lit!
Can you leave me a-loan please?
Grads all folks!
Looks like this bookworm is all checked out! #collegebound
I found the formula to success!
Let's cell-ebrate! I passed biology! #happygraduationday
Turns out that working for this tassel was worth the hassle.
Guess who got his PhD today? #publichighschooldiploma
I don't always graduate, but when I do, it's from ____________ high school.
With my high school diploma squared away, I'm now calculating my next move.
I'm a little ticked. I thought that once graduation day came and went that I would be done with alarm clocks. #timeforreallife
Movie & TV Quotes for Graduates Looking Towards the Future
Walt Disney left a key part out of many of his many fairy tales. While dreams really do come true, there are no fairy godmothers or magic spells. There is hard work and perseverance. There are also struggles along the way. You made this day happen. You are the reason for your success. These movie and television quotes are the perfect way to remind yourself to stop for a minute and soak it all in, and then forge on into your fantastic future!
Famous Quotes to Motivate & Inspire New Grads
The change makers of our past are an inspiration for our future! If you're looking for a remark that will truly make an impression, consider one of these excerpts from the commentary of some of the most notable figures in history.
"Failure is the condiment that gives success its flavor." - Truman Capote
"It is time to chase every dream, accept every challenge, strive for greatness, honor every promise, and recommit to your community." - LeBron James

"Education is the most powerful weapon which you can use to change the world." - Nelson Mandela

"Life is like riding a bicycle. To keep your balance you must keep moving." - Albert Einstein.

"Don't settle for average. Bring your best to the moment. Then, whether it fails or succeeds, at least you know you gave all you had." - Angela Bassett
Graduation Quotes Can Express Excitement & Appreciation
Graduation quotes are fantastic for speeches, social media posts, and thank you notes for graduation gifts. You can also include them in cards when giving graduation gifts to your closest friends. No matter what, they can serve as an uplifting sentiment and a nod to your plans for the future.