Choosing what to write inside a Christmas card doesn't have to be difficult. It's all about knowing the recipient and the type of message you'd like to send - from funny holiday wishes to meaningful messages. These Christmas card sayings can help inspire you to wish everyone on your list a special holiday season this year.
Meaningful Christmas Card Messages for Friends
When it comes to Christmas card messages for good friends, you can choose sayings that are casual and fun. These are people you know very well, so pick a message that plays up that familiarity.
Sharing with you the love and hope this season brings.
Hoping you are having as wonderful a holiday season as we are!
Looking forward to seeing you this holiday season.
Excited to share this holiday season with you.
Sending you love and joy this Christmas season.
Joyful Christmas Card Sayings for Family
When you write Christmas card messages for family, you can talk about how important these people are to you and what you wish for them this holiday season. These can be meaningful messages that really show how you feel.
Enjoy a cozy Christmas morning and share love with friends and family this season.
Sending you love and joy this Christmas and every day.
No one knows the love of Christmas like family. So glad you're ours.
So grateful for our family this holiday season.
Hoping you are having a wonderful Christmas! Can't wait to see you in the summer.
Cheerful Christmas Card Sayings for Acquaintances
It can be difficult to know what to write in a Christmas card to neighbors and acquaintances, since you may not know these people as well. In this case, choose sayings that are a little more formal and general than what you might say to good friends.
May the peace of the season fall upon you as gently as the snowflakes on Christmas morning.
Here's to a merry and bright Christmas Day!
Sending warm wishes to you and your family this Christmas!
May your holiday season shine as brightly as the twinkling stars on Christmas Eve.
Bringing you a message of joy and hope this Christmas and into the coming year!
Festive Christmas Card Messages for Co-Workers
Whether you see your co-workers every day or only go to the office occasionally, it's great to send holiday greetings. If you aren't certain about how your co-workers celebrate the holidays, be sure to keep your greeting non-denominational.
Grateful to work with you this year and hoping you have an amazing holiday!
Thanks for being such an amazing co-worker this year. I hope your holiday is great!
Enjoy the holidays with your family. You know we'll all be here when you get back.
Wishing you a joyful holiday away from the office.
Seasons greetings from your cube-mate!
Professional Christmas Card Sayings for Businesses and Co-Workers
If you own a business and need to send holiday wishes to clients or business associates, it's best to keep the greetings professional. You may not always know the religious customs of the recipient, so it's best to avoid anything that indicates the person will be celebrating in the same way you do.
Hoping this holiday season is joyful.
Happy holidays from all of us here at [business name].
Best wishes for a joyful holiday season!
May your holiday season be filled with joy and the New Year brimming with hope.
May your holiday be joyous.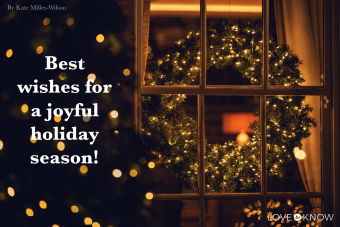 Christmas Card Messages for Kids
Writing a Christmas card to a kid can be a little challenging because many of the standard holiday greetings are designed for adults. Think about what makes Christmas a special holiday for kids, and base your message on that.
Here's to hoping Santa fills your Christmas stocking with everything you wished for and more!
Don't forget to put out milk and cookies for Santa this year! Hope you have a great Christmas.
Christmas is a time of magic. Listen for sleigh bells as you fall asleep.
Santa told me you were on the nice list. I hope your Christmas is great.
Merry Christmas to the best kid on Santa's list.
Funny Christmas Card Messages for Anyone
Christmas has plenty of sentimental and meaningful moments, but it's also a great time to enjoy a few laughs. These funny Christmas card messages will have everyone on your list laughing.
Have yourself a merry little Christmas right meow.
Break out the elastic waistband. The holidays are here.
Hoping your Christmas is as happy as your sweater is ugly.
Here's to a happy holiday and new year filled with fewer items on your to-do list.
Hoping Santa brings you plenty of wine and Netflix this holiday season.
Non-Religious Christmas Card Messages
Many people celebrate Christmas as a secular holiday instead of a religious one. You can keep your Christmas card sayings non-religious by including elements of secular Christmas traditions.
Wishing you lots of hot chocolate and snowball fights this holiday season.
Here's to a jolly holiday and a joyful new year.
Hoping you get plenty of your favorite cookies this season.
Santa told me what he's getting you, and you're going to love it.
Wishing you joy and plenty of cheer this holiday season and all next year.
Religious Christmas Card Sayings
Some Christmas card sayings are religious, and these can be perfect when you know the recipient shares your spiritual view of the holidays. Show your faith with a special message in your card.
May the Lord's blessings be upon you this Christmas season as we honor the miracles of the past and those to come.
Praying you will have a wonderful Christmas and blessed new year.
Sending you love as we celebrate the birth of our savior.
Remembering the true meaning of Christmas and hoping your holiday is blessed.
May the Lord bless you this holiday season and always.
Tips for Writing Great Christmas Card Messages
Good Christmas card sayings are all about considering the circumstances and beliefs of the person to whom you're giving the card. Keep these tips in mind as you write your message:
If you know the religious beliefs of the person who will receive the card, keep those in mind as you write. If you don't know their spiritual leanings, avoid the mention of religion in your message.
Think about how well you know the person before you write the note. If you know them well, your tone can be casual. If not, keep it a bit more formal.
When you're writing a Christmas card message for a teacher, pastor, mail person, or other professional, it's perfectly acceptable to mention their role in your life. In fact, a short thank-you message for their service during the year can be a wonderful addition to your holiday card.
Take special care writing messages to those who have recently lost a loved one. It can be difficult to know what to write in a Christmas card to someone who is grieving, but it's always good to offer sympathy messages in addition to holiday wishes.
Make Your Holiday Greetings Something Special
The perfect Christmas card message can take your holiday greetings from standard to something special. Whether you purchase cards or print your own Christmas cards, what you write inside is important. Take a moment to consider the recipient, and your Christmas card saying will be perfect.