Mesmerizing Halloween Eye Makeup
You don't have to be a professional makeup artist to create a memorable Halloween eye makeup look that will complement your costume. While a costume itself serves to fulfill a specific vibe or theme, your makeup can either make or break that desired look. The details matter. Whether you want to keep things simple with only a little beauty makeup, or you want to add full special effects to your optic area, don't forget to spend as much time focusing on your eyes as the rest of your costume. After all, the eyes are the window to the soul.
Wicked Witchy Eyes
For a quick and easy witchy eye, you want to focus on color. A rich smoky eye can turn you into the baddest witch on the block, or a pop of color can give you the quirkiest, eccentric vibe of a contemporary witch. When it comes to your color palette, you want to use hues like purples, greens, blacks, and silvers, as these all can read well with any witch costume you put together.
Creepy Clown Eye Makeup
Black and white face paint is a must-have for any clown makeup look. To accentuate the eyes on a clown costume, you'll want to ring them in a dark pigment and create a diamond shape around the eye socket, slowly stretching the lines upwards and downwards across the face. This helps draw attention directly to your eyes, and to that slightly sinister look you're giving people.
Fairy Dust Eye Makeup
Be like Tinkerbell this Halloween and embrace the golden shimmer of fairy dust. To accompany your fairy costume, you can focus on highlighting your eyes with a lot of shimmery products. With modern makeup, you have the option of using face-safe glitter and sequins, or a high shine eye mousse or eyeshadow. However, if you're finding that your products aren't leaving enough pigment to really give off that glint of shine, then you should apply a base coat on your eyes before applying your glittery product over the top. This will help boost the pigment quality of those lower-grade colors.
Vampiric Eye Makeup
If you want to evoke Hollywood's classic vampire, you need to keep your eyes shadowed from the sun. Add dimension to your shadowy look, extending your gray and black shadows underneath your lash line, concentrating the darkest shades around the outer edges and applying lighter shades around the inner corners.
Feeling Skeletal Eye Makeup
Without his dramatic makeup, this skeleton would be nothing more than just a bag of bones. To recreate this skeletal makeup around your eyes, apply thick black eyeshadow or face paint around the eye sockets. If you really want to commit to your dead ensemble, you can add blackout contact lenses to give yourself that empty eye appearance.
Harlequin Eye Makeup
Harlequins and their Joker counterparts are well known for their jovial, borderline insane humor. To bring a barrel of laughs to your eye makeup, try creating some signature line work using liquid liner or face paint, and adding a thick and smoky eye to call attention to your eyes. Don't forget to paint all of these details atop a white base layer to give you that porcelain finish that's indicative of this character.
Zombie Eye Makeup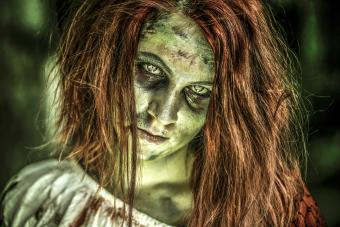 For a radioactive zombie look, you want to focus on the natural colors associated with decay. Shades of green and brown will all naturally work their way across the skin as the human body decomposes, and you can replicate this in your makeup by sponging on a green body paint, and adding depth using yellows and browns for highlights and shadows.
Unmasking Yourself Eye Makeup
When creating a partial mask over your face, you want to make sure to only apply 'beauty' makeup to one half of your face. The other half should remain relatively bare, with a clearly demarcated shadow line drawn around the forehead and down the nose and chin. The design of your eye makeup with this costume all depends on your personal taste; you can either make it bold or simple depending on your beauty makeup skills.
Mad Hatter Eye Makeup
The Mad Hatter character is well known for its connection to the textile industry, and some of the intrinsic elements of the industry are extravagance and color. You want to pack as much pigment as you can into your eye makeup for this costume, and bring it all the way to the edge of the brow. Make sure to blend all of your colors together for a seamless look.
Ice Cold Eye Makeup
If you want to be cold as ice this Halloween, make sure your eyes pop with the right makeup. Give yourself a pure white basecoat that you can set your other makeup on top of. This will contrast incredibly well with the blues you're using and make your eyes a striking feature to behold. Keep in mind that there are many shades of blue, and you want to choose blue hues with an undertone that's complementary to your skin. For instance, warmer blues will have hints of rich reds and purples, while cooler blues can have specs of white.
Spider Queen Eye Makeup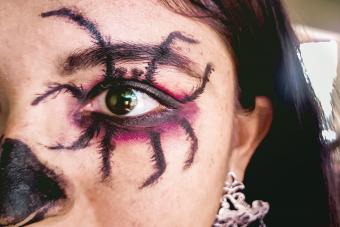 Arachnophobia is out this Halloween. Spider lovers can wear their devotion with pride using this unique spooky spider eye makeup. To create this look, you want to use dark purple, glittery eyeshadow and cover the entire lid and underneath the lid. Buff out the edges using a lighter shade of purple, and then using an eyeliner brush, work lines of the eyeshadow from the lid across different parts of the upper cheek and browline. This works great with a liquid or cream eyeshadow, as it will apply super smoothly. Make sure you have eight of these 'legs' and then add your fuzzy feelers off the edges, and voila!
It's All About the Eyes
Inevitably, people are going to lock eyes with you on All Hallows' Eve, whether you're giving out candy, or making your way through a haunted house. To ensure that your costume gives everyone the creeps, don't skimp on your makeup. Eye makeup can really elevate a costume from average to a true spectacle; and if you're planning on getting first prize at the costume contest this year, then you better make them look fabulous.