Halloween season is officially underway. But sadly, many children cannot take part in the season's excitement because of food allergies. Thankfully, the Teal Pumpkin Project is an inclusive initiative that strives to help all kids enjoy this haunting holiday. If you want to learn more and become a part of this amazing enterprise, we explain how you can make Halloween a spooktacular holiday for everyone!
What Is the Teal Pumpkin Project?
Did you know that 5.6 million children under the age of 18 have food allergies? That equates to one in every 13 kids. Many people don't realize that there are nine main food allergens, and seven of those are in the sweet treats that are handed out every Halloween. These include milk, eggs, peanuts, tree nuts, wheat, soy, and sesame. 
Food Allergy Research and Education (FARE) is an organization that aims to improve to the lives of individuals with food allergies. That's why they created the Teal Pumpkin Project. Participants of this awesome initiative put teal-colored pumpkins on their doorstep and hand out non-food treats to trick-or-treaters to ensure that everyone can actively and safely participate in this fang-tastic holiday.
How to Participate in the Teal Pumpkin Project
Participation in the Teal Pumpkin Project is simple. Here is how you can get involved.
Paint a Teal Pumpkin
This can be a great Halloween craft to do with your kids or your friends. Grab some large pumpkins and paint them teal. Then, place them on your porch so people who pass by know that you are participating in the project.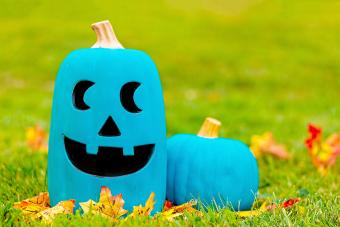 Fast Fact
Did you know that pumpkins come in all colors of the rainbow, including blue? For those who don't want to get crafty or just don't have the time, you can also buy blue pumpkins and display them on your porch.
Add Yourself to the Teal Pumpkin Project Map
Starting October 1st, the Teal Pumpkin Project will launch their map where you can add your allergen-free trick-or-treating location. This allows families to search for safe spots in their area to visit on Halloween night and plan their route.
Post a Teal Pumpkin Printable in Your Neighborhood
The Teal Pumpkin Project has loads of free teal pumpkin printable pages for participants to print out and post in their neighborhoods. We recommend displaying these at least two weeks before October 31st to ensure that you get a lot of eyes on your flyers. 
Quick Tip
Ask your child's school if they will allow you to post these flyers on their announcement board or on the front doors of the building. This can help families who live nearby to see where to take their kids this holiday.
Purchase & Hand Out Fun, Non-Food Treats & Toys
This is the most important part. Instead of buying the typical Reese's and Snickers, snag some fun non-food items to pass out instead. The best part about this is not only are these treats safe for everyone, but kids can actually get long-term use out of them. That extends the excitement of Halloween.
Share the Teal Pumpkin Meaning & Get Others Involved
Many people are unaware of the Teal Pumpkin Project. By taking the time to explain to others the teal pumpkin meaning and the importance of getting involved, you can be a part of making this world a more inclusive place.
Top Non-Food Treat Ideas to Replace Candy
Finding non-candy treats for Halloween doesn't have to be hard. You can snag all these items in bulk for an affordable price!
Glow sticks, bracelets, and necklaces
Halloween rubber duckies
Stickers
Spider rings
Fun erasers
Novelty cups
Hair scrunchies
Magnets
Halloween stamps
Vampire fangs
Balloons
Bubbles
Play Doh
Bouncy balls
Slap bracelets
Army men
Mini pop fidget toys
Fast Fact
CVS is the exclusive retail partner of the Teal Pumpkin Project, and they will offer a wide assortment of non-food treats in their stores and online.
The Teal Pumpkin Project Makes Sure That Everyone Is Included
Food allergies affect your family members, neighbors, and friends. You may not even know that they suffer from this type of condition. The Teal Pumpkin Project is just one way that you can make sure the individuals who suffer from these invisible medical issues feel seen and included.