If you're hosting a spooktacular gathering this Halloween, there are lots of ways to give your table decorations a festive flair. These Halloween party table ideas range from eerily elegant to creepy cool and include everything in between. Get inspired to create a table your guests will never forget.
Halloween Party Table Ideas for Every Gathering
From a console table in your entryway to a Halloween buffet table in your dining room, there are lots of ways to use festive Halloween decorations to make your party even more fun. You can decorate for a grown-up Halloween party with these fun table ideas or use them when your kids have a party.
Elegant Carved Pumpkin and Flowers
Carve a pumpkin in your favorite design, such as a cute house with windows or a nature-inspired motif. Arrange fall flowers, nuts, apples, and other natural autumn decorations around the pumpkin and add a pretty Halloween candle holder or two.
Poison Apples and Bare Branches
Display a bare black branch in a vase next to a tray of "poison" apples. You can use traditional candy apples from your grocery store, but replace the straight sticks with crooked ones. Add extra Halloween touches to this table decoration in the form of candles, pumpkins, or a witch's hat.
Smoky Toadstool Halloween Table Decoration
Capturing smoke in a bell jar is a neat trick that can give your table decorations some magical style. Smoke won't stay in the air inside the jar for more than about 15 or 20 minutes, but you can add more from time to time to keep this table decoration looking great. Simply use a candle or match and blow it out inside the jar, allowing the smoke to stay there. Display paper or artificial toad stools inside the jar.
Pumpkins and Twinkle Lights
Create an arrangement of different pumpkins and gourds on a table for your Halloween party. Choose all different sizes and textures and consider painting a few of the pumpkins black for some Halloween style. Add twinkle lights around the pumpkins to bring a little magic to the display.
Windblown Witch's Hat
Give your guests an elegant and spooky decoration by placing a witch's hat on a table in your foyer. Add a simple vase with a branch. Choose a branch with just a few leaves still clinging to it and allow it to lean to one side for a spooky, windblown fall look.
Skull and Spiders
Arrange a super creepy and cool table decoration for your Halloween party by placing a skull on a small table. Stretch a fake spiderweb over the top of the skull and tape it to the underside of the table. Scatter plastic spiders over the entire display.
Pumpkin Full of Flowers
An easy Halloween table decoration idea is to hollow out a pumpkin and fill it with flowers. Start by removing the top and inside of the pumpkin as you would to carve a jack-o'-lantern. Then, add a short glass vase and fill with a bouquet of fall-colored flowers.
Animal Skull With Leaves
Pick up a real or artificial animal skull and use it as a Halloween party table decoration. You can make it pretty with lots of leaves, either in bright green or in fall colors. Add a tiny haunted house on top if you want some extra style.
Spray-Painted Ceramics
You can purchase ceramic pumpkins in any color and then spray paint them in varying tones to make a beautiful Halloween table display. Muted colors like dark orange, cream, and black can lend some sophistication to your party decorations. Alternatively, you can choose brighter shades for a more playful look.
White Pumpkin With Spider Accents
A white pumpkin makes a classy Halloween decoration that has a sophisticated, neutral tone and a simple and elegant style. You can add some magic by scattering little gold star confetti on the pumpkin and on the table around it. Toss a few fake spiders on the table too to a give it a little spooky Halloween flair.
Natural Fall Beauty on the Table
Create a Halloween table decoration you can leave up through Thanksgiving with a display that's all about natural beauty. Choose an old round cutting board or piece of wood and place the most beautiful pumpkin you can find in the center. Scatter fall leaves and smaller gourds around it.
Mini Pumpkins and Greenery
You can scale this table decoration to fit any size or shape of table, and it also works as a centerpiece. Simply use artificial greenery to make a background for mini pumpkins of different colors. Scatter them over the surface of the greenery and add some fairy lights or candles if you want a little illumination.
Bird Cage and Old Lace
An empty antique bird cage offers a bit of sophistication and a little dark mystery in this neutral display. Place an old lace tablecloth under the bird cage. Add candles in fall colors, some pumpkins and gourds, and a vase of grasses and dried fall flowers.
Halloween Centerpieces for Your Dining Table
Host a Halloween dinner party with lots of style by using festive DIY Halloween table centerpieces to set the mood and the table at the same time. Many of these ideas start with a Halloween table cloth, but you can also just place them on a wooden table for a simpler look.
Skull and Red Flowers
Give your Halloween table some Goth glamor with this simple centerpiece. Place a fake skull in the middle of the dining table and surrounded it with dried flowers or artificial blooms in deep red shades.
Creepy Floral Arrangement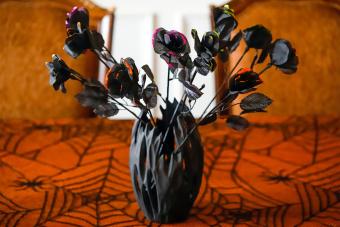 Stop by your local thrift store and find the weirdest looking vase you can. Then pick up some artificial flowers from the craft shop and break out a can of matte black spray paint. Spray the vase and the flowers and arrange them in the center of the table for an unnerving display. For a little color, leave just the edges of the petals unpainted.
Skull Halloween Table Runner With Candles
It's easy to arrange a long Halloween centerpiece that's low enough for guests to talk over. Start by placing a dark-colored table runner down the center of your dining table. Then put several fake skulls on the runner and add candles and dried flowers. It will feel sophisticated and spooky.
Simple Pumpkin Centerpiece and Table Decoration
Set a simple table with a large uncarved pumpkin as the centerpiece, flanking it with candles for a touch of elegance. You can make things a bit fancier by using a metallic tablecloth and adding paper bats as place cards at each spot or using autumn leaves as your table runner.
Orange Table Runner With Neutrals
Pick up a long piece of orange chiffon fabric or an orange scarf and use it as a table runner for your party. Don't worry about making it flat; instead, let it flow down the center of the table. Add neutral accents like a bouquet of grasses and some metallic chargers.
High Spiderweb Branch
This spooky centerpiece is easy to make and lots of fun. Because it extends over guests' heads, it won't interfere with conversation at the table. To make it, find a branch from outside and spray paint it flat black. Nail it to a flat board so you can set it on the table. Add fake spiderwebs and even some spiders and watch guests squirm.
Perfect Pumpkin on a Pedestal
Make a simple and lovely centerpiece for your Halloween party table by placing a perfect pumpkin on a cake plate or pedestal. The pumpkin will be low enough that it won't interfere with conversation, but it will still have visual impact. Add some trailing leaves and berries in a free-form design that will give this plenty of natural charm.
Goofy Gourds Centerpiece
Turn a collection of fall gourds into an adorable Halloween centerpiece. You'll need a piece of wood, a basket, or a large plate to gather them together. Arrange the gourds and attach googly eyes to them to make everyone smile.
Gathering of Bold Fall Colors
Group a ton of small gourds, fall leaves, and flowers in lots of bright fall colors. You can arrange these items down the center of the table and place a few pieces on each plate too. It will give the impression of overflowing oranges, yellows, and reds and will make your Halloween party extra bright and pretty.
Creepy Crawly Harvest
Gather a bunch of mini pumpkins together in a basket, adding straw and grasses to create a harvest look. Then make the whole thing super creepy by tossing a bunch of fake spiders into and on top of the basket. Add a Halloween sign for even more fun.
Miniature Skeleton Halloween Table Decoration
Pick up a small skeleton at your local discount store, craft store, or Halloween shop and use it to create a centerpiece for your Halloween party table. Simply pose the skeleton in a kneeling position and use wire to help it maintain that pose. Any craft wire will work for this.
Orange Flowers and Assorted Gourds
Create an elegant display with a bouquet of bright orange flowers and an assortment of gourds. Choose gourds that are varying sizes, colors, and shapes and scatter them on a light-colored tablecloth for a fresh and festive look.
Halloween Cake Centerpiece
If you've made a Halloween cake for your party, put it to good use as a centerpiece on your dining table. Everyone can admire your beautiful decorating work and look forward to sampling the sweet treat after the main meal is served. Flank the cake with candles for an elegant look.
Halloween Trick-or-Treat Table Ideas
If you're handing out candy to trick or treaters at your Halloween party, these delightful table decorations with make it even more fun. They're the perfect way to display your Halloween treats.
Spooky Candy Cauldron
Cover a table in a dark cloth and scatter candy and treats over the top. Add a cauldron with dry ice to give in a spooky and menacing feel. You can place a liner bowl in the cauldron so the dry ice "smoke" comes out around it, but no one will accidentally touch it. Be sure to keep the actual dry ice out of kids' reach.
Creepy Crawly Spiders and Mini Buckets
Give out miniature jack-o'-lantern candy buckets to guests while giving trick-or-treaters the chance to reach into a larger, standard-sized bucket. You can give this Halloween table decoration a bit more creep factor by scattering plastic spiders on the table. Throw a few in with the candy for a little extra trick with the treat.
Glowing Jack-o'-Lantern Jars
Cover your trick-or-treat table with an orange gingham tablecloth and then paint some jack-o-'lantern jars to decorate it. Choose any large jars you have around. They can be the same size or different sizes; it's up to you. Spray paint the jars with a thin layer of orange paint. Tape black paper mouths and eyes to the outside of the jars and put candles inside.
Halloween Sign Treat Table
Use the wall behind your trick-or-treat table to add even more decoration to your display. Hang a Halloween banner or sign and some orange and black decorations on the wall and lay the table with a dark cloth and lots of tasty treats.
Spiderweb Table Cloth and Ghost Candles
Use a giant fake spiderweb as a tablecloth for your Halloween party trick-or-treat table and add some homemade ghost candles to the mix. You can make the ghost candles by painting wine bottles with white spray paint and taping dark paper eyes to them. Place white candles in the necks of the bottle candleholders and light them for a fun glow. Scatter your treats on the table for everyone to sample.
Funny Painted Leaves
Cover your trick-or-treat table with a display of painted leaves. This is a fun project for kids to make for Halloween, and it will make everyone smile. Simply collect leaves and paint faces on them with black paint or a Sharpie. Then scatter them over your trick-or-treat table at your Halloween party.
Broom and Blackboard
Give the impression that the witch of the house has just stepped away for a moment and left the trick-or-treat table unattended at your party. This Halloween decoration is easy to make and offers plenty of opportunity to get creative. Lean a broom against your trick-or-treat table and put a chalkboard in view. Write a Halloween message on the board and add accents like lanterns, witch's hats, or pumpkins.
Get Inspired by Your Halloween Party Theme
In addition to these fun Halloween party table decoration ideas, you can get inspired by the theme of your Halloween party. If you're having a zombie-themed party, scatter a few zombie body parts on your tables. If it's a pumpkin-themed bash, use lots of pumpkins in your decorations. It's fun to get creative with your decorations, and your guests will love the way everything looks.