Does Dollar Tree have stylish fall decor? I decided to find out for myself. I discovered some seriously cute fall decorations at Dollar Tree, and the affordable prices are unmatched. For stuff this cute, I couldn't believe most items were only $1.25. With a $25 budget, I created a stunning fall display on my fireplace mantel by sourcing all my fall decor from the Dollar Tree. 
What Kind of Fall Decor Does Dollar Tree Have
Affordable prices are so appealing, especially for seasonal items. But I wasn't entirely sure what type of fall decor I might find at the Dollar Tree for between one and five dollars. Boy, was I surprised! I shopped at two local Dollar Trees and found a wide range of fall decor in multiple styles.
Farmhouse-themed items like wooden signs, checkered pumpkins, and plenty of burlap
Modern styles sporting velvet, jewel tones, and lots of metallic details
Subtle items like floral stems and storage containers with a nod to the season
Spooky, silly, and elegant Halloween decorations
Harvest-themed items like faux corn picks, mini hay bales, and signs saying "thankful" in stylish script
Enamel, ceramic, and glass items that fit various styles
Small decorations that fit every style from cottagecore to modern rustic
How I Decorated My Mantel With Dollar Tree Fall Decor
My fireplace mantel needed a quick fall update that was easy to do — I'm not the best with DIY decor — and affordable. I wanted something that complemented my home, since I tend to love both traditional and modern style elements. After I browsed Dollar Tree for a little while, I knew exactly what I was going to do.
Decor Supplies
1 ceramic stack of white pumpkins ($5)
2 large velvet pumpkins ($5 each)
2 small velvet pumpkins ($1.25 each)
1 metallic acorn ($1.25)
1 metallic pine cone ($1.25)
3-4 floral sprigs ($1.25 each)
1 pack of glitter pumpkins ($1.25)
1 glass vase (I already had one at home, but Dollar Tree has tons of styles for as little as $1.25)
Total cost: $25
Decorating
I started by clearing my mantel entirely. I wanted to see the blank canvas clearly.
Next, I started layering the larger items in a balanced way. My four heaviest pieces created the subtle symmetry I wanted.
I filled the vase with the glitter pumpkins, then started arranging the floral sprigs. 
Once the four larger items were on the mantel in a balanced way for height and weight, it was time to add the smaller pieces. I placed the pinecones thoughtfully at the forefront of the vignette 
I decided to stack a smaller pumpkin on one of the larger ones to balance the height of the floral arrangement and tucked the other deeper into the display.
Need to Know
Trial and error is a normal part of decorating. Move pieces around or start from scratch until you get the look you want.
My finished look was the perfect balance of traditional and modern season style. The rich jewel tones of the pumpkins brought the color I wanted, while the metallic details throughout gave the vignette a subtle elegance. The florals softened everything a bit. Standing back to see the final product, I couldn't believe I only spent $25 to get the look.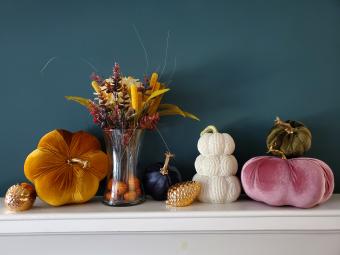 A Quick & Easy Fall Coffee Bar Update
While I was shopping for fall mantel decor, I realized that my coffee bar could also use a little fall update. I was mainly inspired by all the cute items at Dollar Tree that I could picture covering my counter. Here's how I created the easiest fall coffee bar with Dollar Tree finds.
Supplies
1 tall ceramic stack of pumpkins ($5)
1 farmhouse style fall pitcher ($5)
1 glass pumpkin jar ($1.25)
1 fall loaf dish ($1.25)
1 acorn plate ($1.25)
1 wooden fall-inspired coffee plaque ($1.25)
4 fall floral sprigs ($1.25 each)
1 small ceramic pumpkin place-setting plaque ($1.25)
Small woven pumpkin clips ($1.25 / pack of 3)
Total cost: $22.50
Decorating
I used the ceramic stack of white pumpkins for height on one side of my coffee maker. Designer hack: I used a sturdy spool of ribbon to elevate the ceramic statue a bit. The spool is hidden, but the altered height helped balance things out.
The pitcher balanced that height on the other side of the coffee maker. 
With the glass jar full of my favorite ground coffee, I slid that in next to the pumpkin stack.
Next, I needed an option for tea. That's where the little loaf dish came in. It balanced the heaviness of the pitcher well.
The acorn plate would act as my spoon rest.
I used the coffee plaque alongside the pumpkin stack and glass jar to create a mini vignette.
I fluffed the florals and added them to the pitcher, eucalyptus taking center stage. 
I wrote a cute fall caption on the little pumpkin plaque.
A scattering of the pumpkin clips completed the look.
If you love seasonal coffee or tea drinks, your hot beverage bar might need a little fall refresh. This was so quick to do and unbelievably affordable.
Tips for Finding Fall Decor at the Dollar Tree
If you're shopping for fall decor at the Dollar Tree as a first timer — like me — these are some of the tips I picked up.
Shop multiple locations. I was surprised to see the difference in inventory and styles at the two locations I shopped.
Check the Halloween department for super-cute pumpkins with a spooky or glittery flair.
Take your time. It's easy to overlook the cute decorations crammed into the shelves. 
Be sure you check the end caps of the aisles — some of the cutest things are displayed there. 
Shop early. Some locations put fall decor out as early as mid-July. You'll want to jump on those stylish deals as quickly as you can. 
Dig deep. Sometimes items get tucked behind other decorations, so move things around to make sure you aren't missing anything.
Look online first. If you want to be as efficient as possible, knowing what you're looking for ahead of time will help. 
If you love it, buy it. You can always bring it back if it doesn't work. You certainly don't want to spot a cute decoration and miss your chance to take it home.
Look for non-seasonal decor you may need. Clear vases, ceramic trays, glass jars, and wooden plaques might help support your more specific fall selections.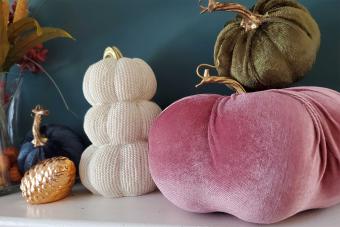 Dollar Tree Makes Seasonal Decor Affordable
More than anything, I love that the seasonal decor at Dollar Tree is so affordable that I can try a new style every fall. I could also see much of this decor doubling as thoughtful seasonal gifts and adorable party decor. The fall decor at Dollar Tree is beautiful for a fall tablescape, fireplace mantel, kitchen counters, and your outdoor entertainment space.