From spooky season to harvest time, your fireplace mantel decor tells of the changing seasons with each fall refresh. Find your fall mantel decor style and create a lovely vignette with these designer tips.
Whether you're decorating for a cozy fall theme or you're ready to celebrate Halloween, these fall fireplace decorations should give you some serious autumn inspiration.
White Pumpkin Decor Looks Elegant or Rustic
More Details
Orange pumpkins may be the mascot of fall, but the color doesn't complement every design style or home color palette. That's why we've all lucked out with white pumpkins! They bring fall decor to nearly any mantel, no matter your style. Pair with a vibrant green garland, and you can start sneaking those pumpkins into your decor before summer is officially over.
Need to Know
White pumpkins work in a long list of interior styles, including: farmhouse, coastal, minimal, glam, and rustic aesthetics
Transition With Fall Florals
It's a controversial question. When exactly is it acceptable to start decorating for fall? Whatever your preference, a few fall florals will help you transition from one season to the next without making your longings for fall too obvious.
Florals are a timeless fireplace mantel decor option, and if you choose fall florals, you can start adding those hints of autumn subtly. Mums, sunflowers, pansies, and cosmos keep your mantel colorful for the end of summer but help introduce a fall preview.
Knitted Pumpkins Make a Cottagecore Mantel
More Details
The cottagecore craze doesn't appear to be slowing down, and we're not mad about it. Because now we get to try this interior style alongside our autumn decor. Which means we can fill our mantels with cute knitted pumpkins!
This autumnal nod to craft and artistry feels cozy and sweet alongside soft white decor, light wood tones, and autumn greenery.
Make a Haunted Mansion Mantel
The cozy, colorful warmth of fall is certainly beautiful. But many of us anticipate the dark, haunted vibes of spooky season. Showcase your personal Halloween style with a haunted mansion-themed mantel. Cobwebs, antique candle holders, vintage books, and a skull or two make your mantel a spooky masterpiece for the season.
Helpful Hack
This fall mantel decor theme is easily sourced from your local thrift shop. If you find something that looks like it could tell a scary story or two, it might make your Halloween mantel decor pop.
Combine Halloween & Fall Decor
Can't decide between spooky season and traditional fall decor? Combine the two for a warm and frightening display. We think "cozy horror" should be the next fall decor trend.
Bright orange pumpkins alongside silly skeletons just make sense any time between the end of summer and the start of winter. Pinecones and spiders totally go together! Yes, you can pair your plaid prints with layers of cobwebs. Fake bloodstains on your pumpkin patch sign? Why not?
Farmhouse Fall Decor Brings Cozy Vibes
More Details
The farmhouse interior style was truly made for fall decor. The cozy, rustic characteristics of the aesthetic fit right into the decor we love during sweater season. Warm neutrals, buffalo check, galvanized metal, and all the twine you can scrounge up make this an effortless fall mantel theme.
Warm Up Your Mantel With Twinkle Lights
If flocking makes your Christmas decor look complete, then warm twinkle lights are the cherry on top of your fall decorations. They highlight the warm and welcoming feelings of the season while drawing the eye to your favorite autumn decor pieces.
Weave a strand of twinkling lights between your pumpkins and throughout your fall garland for the final touch on your seasonal vignette.
Light Some Spooky Candles
Twinkle lights may feel a little too dainty for your Halloween mantel, but candles add spooky warmth to the style. The light of a flame glinting off the edge of a haunted heirloom or adding dark depth to your spray of fake blood is exactly what your sinister setting needs to make an impact.
Paint Your Pumpkins a Bold Color
You have artificial pumpkins collected over the years and none of them match in color or style. All you need to make this hodgepodge of autumn work is a can of spray paint.
Whether your pumpkins are styrofoam, plastic, metal, glass, or ceramic, you can give them a fun refresh with a coat of paint. Try a pop of pink, a mix of neutrals (we love a beige moment, and it's pretty bold for a pumpkin), or a jarring jet black to give your fall mantel a unique twist.
Quick Tip
Glow-in-the-dark paint helps your mantel make a statement at night and gives the illusion of frightening floating pumpkins.
Spooky Silhouettes Are an Easy Halloween Look
More Details
You don't want to go full horror, but you're also not a fan of the typical pumpkin patch look. How about a lineup of subtle silhouettes with a nod to the spooky parts of the season? Witches on brooms, haunted houses, howling werewolves, and eerie headstones look elegant and neutral as metal or wooden silhouettes on your mantel.
Get on the Glitter Train
Glitter either has die-hard fans or sworn enemies. If you fall under the "love it" category, don't be afraid to bring it into your fall decor.
For Halloween or harvest decor, glitter brings the glam. We normally think of glitter for Christmas and New Year's decor, but the shiny stuff looks just as stellar on a bright orange pumpkin or a creepy black spider.
Try Colorful & Quirky Details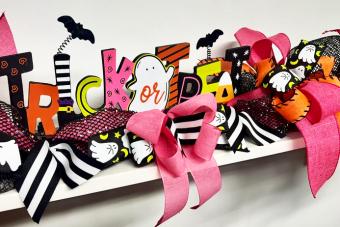 More Details
If harvest orange and spooky black don't speak to your decor style, you might try some unconventional colors for the season. Lime green, hot pink, neon orange, or highlighter yellow might be your fall decor speed, and you can definitely use those colors on your mantel. Lean into your quirky side and choose the zany and vibrant decorations that others might shy away from.
Harvest-Themed Decor Lasts Until Thanksgiving
A one-and-done mantel theme is possible and can look elegant in your home for months. Look for harvest, Thanksgiving, and nature-inspired details to create a more timeless look on your fireplace. This approach will have your mantel on trend until it's time dust off the Christmas decor.
Don't Forget the Hearth
All eyes go to the mantel over your fireplace. Especially when it's dripping with seasonal decor. But your hearth is also an opportunity to have some fun with autumn decorations. It's great for large pumpkins, fall-inspired pillows, your favorite Halloween skeleton, and the extra garland from your mantel.
Fall Into Your Personal Autumn Mantel Style
Just because everyone else is using velvet pumpkins this year doesn't mean you have to. Though, they are an elegant choice if that's your goal. Instead, choose the fall decor you'll eagerly unpack year after year. Maybe it holds a bit of nostalgia, or maybe it's a beacon of your personal style. Fall is a season for embracing what brings you joy, makes your home feel welcoming, and inspires a cozy escape from life.