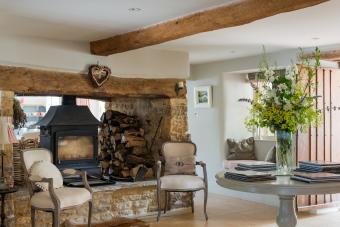 Bring the comforting vibes of the rural English countryside to your home with a cottagecore aesthetic and style. Cottagecore is marked by a love for handcrafted details, vintage elements, and a focus on tradition and self-sustainability. Though the essence of the cottagecore style is simple, there is a maximalist approach to the styling of this aesthetic. If you are drawn to European style, romance, and even a bit of fairytale magic, the cottagecore aesthetic will fit perfectly into your home.
Greet Guests With a Striking Door
A home sporting the cottagecore style needs a front door that tells the world of the romanticized aesthetic inside. Try a soft paint color like lilac, dusty blue, blush, or pale yellow. Rich shades of green, purple, and blue are more sophisticated options for this aesthetic. Rustic wood doors also work well for this English-inspired style. Add plenty of flowers and vines to the exterior of your home to frame your cottagecore door.
Display Vintage China
A cottagecore home would feel incomplete without at least one vintage china piece on display. Whether you have an entire cabinet full of teacups or just a few pieces to display in your kitchen, hand-painted details like antique china elevate your cottagecore design.
Add Flowers Wherever Possible
Cottagecore style focuses on elements of nature and embracing the simple beauty of rural areas. Bring nature into your home as much as possible by adding plants and flowers wherever you can. A vase of flowers on your dining table or nightstand is a must and additional plants throughout your home will only add to your aesthetic.
Add an Antique Bed
Carry the cottagecore vibes through your entire home, including the bedrooms. Use antique or vintage style bed frames for an authentic cottage look. Try a brass or metal frame bed, an upholstered headboard featuring a vintage print, or a traditional wooden frame.
Choose Neutral Linens
Though there are plenty of opportunities to use color in the cottage style, linens are often neutral. Bedsheets, towels, tea towels, and other household linens in cottagecore feature shades of white, cream, beige, and soft gray.
Cover Beds in Quilts
Though many linens seen in the cottagecore aesthetic are neutral or light in shade, other bedding elements are often full of color and prints. Vintage style quilts fit seamlessly into a cottage styled bedroom and create a nostalgic and comforting atmosphere for a master suit, nursery, or guest room.
Include White Painted Furniture
Cottagecore style uses a blend of painted and unfinished furniture. Be sure to add a couple of white painted pieces to your space if you want your cottage style to have a comforting, sweet, and simplistic atmosphere.
Add Reclaimed Wood Pieces
You see painted furniture often in cottagecore, but antique wood pieces and reclaimed wood details are also an important element of this design. Work in a few wooden tables or use reclaimed wood on a feature wall or fireplace mantel to add texture and interest to your cottage-style space.
Find a Use for Vintage-Style Wallpaper
The cottagecore style is anything but boring, and vintage-style wallpaper is an element of this aesthetic with endless possibilities. Use floral, paisley, striped, and other types of wallpaper throughout your home to add color and pattern to every space.
Design a Cream Kitchen
The stark whites of minimalist styles move aside for the warm and traditional shades of cream in the cottage style. A brown, yellow, or pink undertone on walls or cabinetry gives your cottage home a soft and welcoming vibe.
Bring in Baskets
Cottagecore is defined by small details that point toward a simpler life and a nostalgic perspective. A collection of baskets throughout your home offers practicality and a looks back on some of the most beloved details of traditional design styles.
Find a Use for Amber Glass
You will certainly see all shades of glass in the cottagecore aesthetic. A trending shade of glass for this design style is amber. Amber glass jars, vases, and dining pieces are all well suited for a cottagecore home.
Decorate With Taper Candles
Tap into the romance and old world charm of the cottagecore trend with plenty of taper candles. A table with a vintage candle holder and an abundance of tapers is a classic cottage design detail.
Paint Walls in Neutral Shades
Cottagecore is a branch of the maximalist style, but the foundations of the aesthetic are very simple. Embrace this style juxtaposition by using a neutral color scheme throughout your cottage home. With neutral walls, your vibrant cottage style decor will be the focus of your design process.
Accent With Greens
One of the easiest colors to introduce in your cottage-style home is green. Whether you choose a pale, muted, or rich, deep green, this color is the perfect accent almost every time. Use green on feature walls, accent furniture, drapery, and tabletop decor.
Find a Vintage Mirror
Vintage mirrors and photo frames are an absolute must for a cottage-styled space. Find a truly vintage mirror or DIY your own for a design detail that captures the essence of the cottage aesthetic.
Hang Vintage Photo Frames
The walls of your cottagecore home will need a few vintage touches to stay on top of the trend. Look for black and white photos in antique frames or hang traditional oil paintings of natures scenes. The trick to making this look work for your cottage style is to hang small or medium frames in collections rather than letting one large piece take center stage.
Tie Your Look Together With Drapes
The cottagecore aesthetic lends itself well to a few types of drapes, so there are a handful of options that could work for your home. A simple approach is using neutral linen or white sheer drapes, while a more extravagant choice is a large floral print. The perfect blend of simple and fun is a small floral print, which looks classic and timeless in the cottagecore style.
Style a Traditional Desk
Incorporate the cottagecore style in every part of your home, including your work space. Try a traditional desk style with a decorative side chair. Mix and match wood and painted materials and place your desk near a window. A bit of fun upholstery on your chair will complete this cottagecore vignette.
Display an Abundance of Ceramics
In keeping with the maximalist styling of the cottagecore aesthetic, try creating a collection of ceramics. Vintage or hand-painted versions will fit nicely with a traditional style, while solid and textured ceramics will blend in with a more refined take on the cottage trend.
Place Pillows Everywhere
Whether it's floral prints, frilly trim, or jacquard details, throw pillows are a defining characteristic of cottage style. If you're looking for a simplistic approach, a collection of white or cream pillows will look elegant. If you want a fun styling, mix floral patterns with textured pillows in rich colors.
Decorate With Your Book Collection
Books are a must have for any cottagecore home aiming to be reminiscent of a fairytale or nostalgic rural life. Use your book collection to elevate your cottage style by arranging books on shelves, in small collections, and on your tabletops. You might also include decorative details that feature books like painting, framed pages, and even textile prints.
Work in Warm Details
Cottagecore feels so inviting because of the warmth the style carries. Incorporate plenty of details in your cottage style home that set the tone for a warm and welcoming space. Try adding natural elements like wood and stone, placing the focus of a room on a fireplace or wood stove, adding twinkle lights and candles, and using layers of textiles throughout every room.
Use Floral Prints Wherever Possible
If the dreamy and feminine qualities of the cottagecore style feel like home to you, be sure to use floral prints wherever you can. Whether in upholstery, painted ceramics, wallpaper, or drapes, florals will take your cottage style from simple rural aesthetic to stunning floral fairytale.
Add Cottage Style With Shutters
The exterior of your home is just as important as the interior for achieving the cottagecore look. If you can include shutters on your home's exterior, you can help the style encompass more than just the interior rooms. Reclaimed exterior fixtures, lattice work, ornate trim, and the addition of color also help drive home the cottagecore style on the exterior of your house.
Include Vintage Light Fixtures
Lighting is an important design feature for every style imaginable. In the cottagecore style, simple lighting with vintage details helps carry the essence of the trend. Look for lamps that feature hand-painted details, chandeliers with an old-world style, and sconces with antique finishes.
Make Your House a Home With Cottagecore
If you love embracing the simplicity of rural life alongside the maximalist style of English-inspired decor, the cottagecore design trend is perfect for your home. Every detail matters in this home style and with your appreciation for craft and sustainability, you will love getting to incorporate some of your personal values into your interior fashion.