Cozy up with a good book in a reading nook perfectly designed for setting off on a literary adventure. Make your spot beautiful, comfortable, and relaxing with designer reading nook ideas. Use all the best reading nook decor for a mini retreat that carries you worlds away with every turn of the page.
Find a Comfy Chair
Even your favorite novel isn't a fun read if the chair you're sitting on is uncomfortable. Look for an oversized chair with soft material and plenty of plush to keep you comfortable and cozy until the final chapter.
Add a Beautiful Accent Chair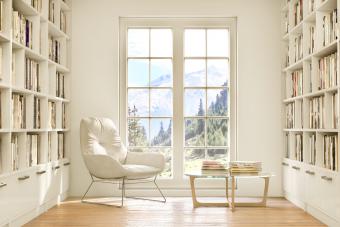 Make your reading nook as beautiful as it is comfy with an elegant accent chair. Find a fun color or a bold print to add interest. You can even find beautiful accent chairs that recline for an extra-comfortable reading experience.
Relax With a Rocking Chair
Rock while you read with an updated take on the traditional rocking chair. You can try an antique rocking chair for a timeless look. Be sure to add pillows and blankets to keep it cozy and comfortable.
Glide in Comfort
For a comfy and transitional look, try a glider in a fun print. A sleek fabric or a small-scale print will look timeless and fit any style of interiors.
Try a Sleek Style in Leather
A leather upholstered chair is an elegant and sleek choice for any reading nook. Add woven textures in pillows and blankets to add softness and variation to the space.
Go Bohemian With an Egg Chair
A wicker or rattan egg chair will give your reading nook a fun bohemian vibe. Add three or four comfortable pillows and a blanket for a tiny oasis in the middle of your room.
Add Extra Comfort With a Loveseat
If you're looking for a reading nook seating option that's bigger than most chairs but still feels compact enough for the space, a love seat might be the perfect solution. Try a cream or gray loveseat for a timeless look or make things fun with a bold print or vibrant color.
Try the Ultimate Comfort Furniture
There's nothing more luxurious and comfortable than a chaise lounge. Add one to your reading nook in a neutral, tufted fabric for a classic look. Try an extra luxurious style in velvet or leather materials.
Make a Reading Nook From a Window Seat
A window seat or bench is the perfect setting for your home's reading nook. Add an upholstered seat for plenty of comfort and amp up the decor with pillows and an elegant window treatment.
Create a Custom Reading Nook by Converting a Closet
An unused closet in your home is the perfect canvas for a custom reading nook. Remove hanging rods and add a built-in seat with upper shelving or lower storage. Paint the inside of the closet a muted or dark shade or add fun wallpaper for a moody nook perfect for getting lost in your favorite read.
Add a Reading Nook to Your Bedroom
You can add a literary getaway to your bedroom with just a few designer details. Try a cozy bench or chaise at the end of your bed or tuck a comfortable chair next to the window. Add accent lighting, baskets for storage, and a blanket for extra comfort.
Create a Reading Nook in Your Living Room
Design a reading retreat in your home's living room by creating a separation of spaces. Use a rug and floor lamp to separate the space from the rest of the room and angle the chair in a direction slightly off from the rest of the furniture to designate a clear difference between the room and your reading nook.
Design a Bright Reading Nook in Your Sunroom
A sunroom is the perfect place for a reading nook. Use comfortable wicker or rattan furniture for a lightweight feel and add a garden stool so there's somewhere to set your page-turner when you're not reading. Plenty of plants and an outdoor rug will set you up for the perfect sunny reading experience.
Have an Escape in Your Home Office
A home office is a great place to add a reading nook for work breaks and getting some much needed alone time when you just want to relax. Add a sofa, chaise, or large armchair to your home office and make sure it faces away from your work area. A window with plenty of natural light is the ideal place for your reading nook, or you can try adding accent lighting to a corner of the room for a clear designation of spaces. Here, it's totally okay to relax where you work.
Add Extra Storage Under Your Window Seat
Every reading nook needs storage for books and cozy elements. For a built-in unit beneath a window or even inside a closet, shelving beneath the seat is perfect for storing all of your favorite reading material.
Use Hidden Storage in Your Window Seat
A window seat or bench is the perfect place for hidden storage. A hinged seat top offers plenty of space for storing blankets, pillows, and all those books you'll work your way through in your beautiful new reading nook.
Baskets Offer Beautiful Storage
Your reading nook needs a place for all that reading material. If built-in or hidden storage isn't an option, try a set of beautiful baskets next to your reading area. Wicker and woven baskets offer a classic look. Wire baskets with leather details add a modern industrial style to your reading nook.
Built-in Shelves Are Beautiful & Functional
A built-in shelving unit in your converted closet, next to a window seat, or tucked behind your reading nook will offer all the storage you need. There's plenty of space for books, plus extra room for beautiful decorative items like vases, statues, and trinkets.
Floating Shelves Provide a Lightweight Storage Option
When built-ins aren't an option for your reading nook, floating shelves offer a lightweight storage option that looks clean and modern. Arrange them in a parallel fashion for a streamlined way of displaying books or stagger your floating shelves for a transitional and casual look.
Storage Ottomans Are Classy & Useful
A storage ottoman is the perfect way to gain space for all your reading nook necessities and create a beautiful option for a tabletop or foot rest while you're relaxing. Try a bold print or fun color to brighten up your space or opt for a designer texture like velvet or leather for a sophisticated look.
Try a Side Table With Extra Storage
A small side table is a great option for your reading nook and tucks in neatly next to a chair or chaise. Look for a side table that isn't bulky but offers some sort of storage, whether it's a drawer, a couple of shelves, or a lower main shelf for storing large decorative items or stacks of books.
Add a Drum End Table for a Transitional Look
A drum end table doesn't have a large amount of storage, but it can offer a stylish look that's unmatched for your reading nook. Go for sleek and modern with a black drum table, rustic with a wooden or metal drum table, or glam and luxurious with a gold or silver drum table. Layer books on a blanket on top for a casual and effortless look.
Nesting End Tables Offer Extra Tabletop Space
Two end tables are better than one. Try metal, glass, or wood nesting tables to save on floor space when needed, but have access to additional table top space while you're enjoying your relaxing reading nook.
Keep Everything Tidy With a Basket End Table
Keep your reading nook tidy, with plenty of storage space in useful areas. An end table with an attached basket is a great way to keep blankets, pillows, and other items out of the way.
Stack Books as a Table
Books stacked in two or three piles can create a table-like structure perfect for a small lamp or setting a cup of coffee while reading. Arrange the books in alternating angles to keep the look casual or create a subtle spiral for an abstract approach.
Keep Books Organized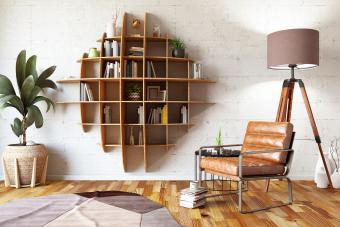 For all the reads you're not currently working through, make sure they're stored and organized beautifully to keep your reading nook tidy and stylish. Stick to a side-by-side lineup for a traditional look or decorate your shelves with intention by creating visual triangles on your shelves with books and decorative items. Stack books vertically and top with decor, mimicking triangular shapes as you work your way through the entire shelf.
Store Books Backwards for a Stylish Look
Try a sleek and stylish look on your book shelves by flipping books around so their pages face outward rather than the spines. This creates a neutral and elegant feel. Consider organizing them alphabetically so you'll know the general location of your favorite reads.
Mount Picture Lights for an Elegant Display
Use picture lights over book shelves or photo frames in your reading nook for an instantly elevated style. This is a great way to gain a little extra light in your reading nook, add to the cozy ambiance, and create a space with professionally designed details.
Add Extra Decor
Don't overlook the opportunity to bring decorative flair to your reading nook. Even if you're the only one who ever sees the space, take the time to add elements you truly love. A vase of fresh flowers, a family heirloom, or a tray of trinkets are great ways to bring personality to your reading nook.
Lightweight Window Treatments Keep the Space Open
Stick to lightweight window treatments in your reading nook so everything stays open and bright. Try linen or sheer drapes for added softness or a light and neutral window shade that adds texture.
Try a Floor Lamp for Extra Light
A floor lamp is a sophisticated way to add extra light to your reading nook. Try a pharmacy-style floor lamp in a brass finish for a studious and traditional look. Sputnik-style lamps are a great way to embrace retro designs in a modern way. An industrial-inspired lamp is great for transitional styles and can look sleek and modern or more traditional depending on the finish.
Fun Table Lamps Add Personality
Try a fun table lamp style to add personality to your reading nook on a nearby table or shelf. Ceramic and stone lamp bases are earthy and neutral. Brass or glass bases are luxurious and glamorous. Wicker or rattan lamp bases have a relaxing and coastal vibe, while metal options feel more industrial and academic.
Sconces Elevate Your Reading Nook
Sconces mounted near your reading nook instantly elevate the space and add an elegant and high-end vibe. Make sure the scale of the sconces suits the space well, and mount them near your actual reading area so you can enjoy the added light.
Large Down-filled Pillows Add Luxurious Comfort
Make your reading as comfy as you can with luxurious pillows. Oversized throw pillows filled with down look elegant, but they also offer plenty of comfort when you're relaxing in your reading nook.
Mix & Match Throw Pillows Make It Comfy and Cozy
Throw pillows in various sizes, shapes, textures, and colors will keep your reading nook visually interesting in a simple way. With a collection of neutral pillows, try mixing rough and soft textures. For more colorful pillow collections, mix in a few prints alongside solids for a balanced look. Throw in a fun pillow or two like pillows that feature leather accents, fringe, fur, or luxurious velvet.
Layers of Blankets Create Designer Comfort
Take comfort and aesthetic to another level with plenty of layered blankets in your reading nook. Try a few different textures and mix colors and prints for a visually interesting collection. Layer a lightweight throw over a heavyweight blanket for a balanced look. Add in a striped, plaid, or faux fur blanket for a stylish highlight.
Ground the Space With a Rug
Rugs are great for creating separation in a space, adding texture, and keeping everything grounded. For a traditional approach, try a Persian or vintage-style rug. For more modern spaces, a geometric print rug or a rug with heavy texture is a great way to go.
Feature Literary Art for a Personal Touch
For hanging art, look for pieces that remind you of your favorite literary themes. Whether it's a nature scene, something abstract, or a tribute to your favorite author, art inspired by literature will give your reading nook a unique feature that reminds you of your love of books every time you see it.
Moody Colors Set the Stage for Your Reading Nook
Create a literary oasis with a moody or muted color palette in your reading nook. Muted or deep shades of navy, olive, maroon, sage, or slate add an academic vibe to your reading nook. Muted shades of terracotta, teal, and rose can add a fun but elegant pop of color. Try these colors on walls for a striking look or add them in subtle details like pillows, art, and decorative items.
Try Neutrals for a Timeless Look
For a timeless approach that complements your other decor, a neutral color palette is always a safe choice. Use neutrals in your paint, textiles, and decor for seamlessly blending everything together.
Make Your Reading Nook Sophisticated With Rich Colors
Deep, rich jewel tones are fun while maintaining sophistication. Use rich shades of navy, emerald, burgundy, plum, and gold in your reading nook for a warm and elegant invitation to relax and recharge.
Try a Beach-Inspired Color Palette
Make your nook the center of calm and relaxation by incorporating beach-inspired colors. Use shades of cream, white, sand, beige, and soft blue on walls. Accent with light wood tones, navy textiles, and creamy linens or cottons for a space that feels like a true getaway.
Use Wood Accents to Add Warmth
Tables, shelving, seating, and even small decorative items that feature wood can bring warmth to your reading nook and elevate the style. Use light-toned woods for a modern look that is soothing, soft, and bright. Try dark and rich wood tones for a sophisticated, artistic, or romantic style. For a transitional style, or for embracing a modern vintage look, mix wood tones together.
Display Your Books in a Creative Way
Your reading nook is where you escape to your favorite literary worlds, so try showcasing your love of books and stories with DIY book art. There are endless ways to turn books into art displays that create a reading nook unlike any other.
Make Your Reading Nook a True Escape
Settle in and escape from daily life in your designer reading nook. These tips and tricks can help turn your small reading space into a literary retreat. Use colors, textures, and decor that feel inviting to you, and be sure to add your own personal touches to the space for a reading nook that is completely yours.