You work from home and frequently have overnight guests, but you only have one spare room that isn't currently occupied. Fortunately, it's a conundrum with an easy solution! Create a multipurpose space that serves as your place of work during the week and a relaxing retreat for your guests on the weekends.
You can create a combined home office and guest room that doesn't overwhelm and isn't overly complicated. In fact, minimalism and simplicity are your best friends when creating your home office and guest room combo. Follow a few simple steps and throw in some creative ideas along the way to turn that spare room into the welcoming and efficient space it needs to be.
Make Your Guest Room and Home Office Combo Functional
Function is an important part of any space, especially a home office. If this is where you'll be working or learning, you want to make sure each element of the room provides something positive for the space.
Use a Floor Lamp
You may be trying to save tabletop space in your combined home office and guest room. If that's the case, opt for a floor lamp that could light your desk and the bedside area at the same time, or that you can easily move as needed when the room's function changes.
Create Multipurpose Storage
You need a place for files, and your guests need a place for belongings. Nightstands that double as filing cabinets or dressers that hold a few office supplies help keep the furniture to a minimum so your room doesn't feel crowded while still providing the storage you need.
Add Shelving
Shelves are a great addition to guest rooms and offices alike. These can hold reference material for your home office while providing your guests a few welcoming decorative elements. Try to stick to shelving that is wall-mounted, like a collection of floating shelves. Wall-mounted shelving saves space in the room and allows the shelves to double as wall decor.
Bring in a Lightweight Desk
Chances are you don't need a large or heavy desk for your home office. By opting for a lightweight and smaller desk, you provide yourself the option to move the desk out of the room so your guests have more space. This also allows the guest portion of the room to take center stage visually.
Use Hidden Storage
Storage might prove to be a tricky element in your home office and guest room combo, especially if space is limited. Search for storage options that serve an additional purpose. A beautiful and sturdy storage ottoman can add texture and warmth to your room while holding extra blankets for your guests. Storage ottomans can also provide additional seating in the room without taking up too much space.
Add Wall-Mounted Lighting
Wall-mounted lighting in your home office guest room is perfect for saving tabletop and floor space. This type of lighting also creates a welcoming ambience for your guests and a cozy atmosphere for you during work hours. Try a light mounted near the bed for added convenience for your guests.
Combine a Bed and Comfy Sofa
If your space is small, it might be challenging to fit a bed in with your desk and other furnishings. Try adding a comfy sofa along one of the walls. Sofas can double as a place for you to relax and for your guests to get some sleep.
Bring in the Right Chair
A rolling desk chair makes the most sense in many home offices. When your office doubles as a guest room, however, you might want to choose a more traditional accent or side chair. This adds more texture and comfort to the space and helps it feel less industrial for your guests.
Consider Backless Seating
If you find you need a desk seating option that moves easily or can simply be rolled out of the space, try a backless desk stool. A rolling stool gives you adequate seating for your work hours and provides a moveable seating option for guests. A stool will draw less attention than a traditional rolling desk chair and allow the other elements of the room to command attention.
Work at a Small Table
If you're determined to have a full bed in your guest room but have to compromise on your desk, a small round table might be perfect. This gives you a workspace as well as a place for your guests to sit for morning coffee or evening tea. A small round table with a chair or two can replace your desk, so you have plenty of room for a cozy guest bed.
Try Disappearing Furniture
To really save space, look for ways you can add furniture that is easily tucked away. Try a Murphy bed that folds into the wall, a desk that folds away or shrinks to a smaller end table, or a trundle bed for when you welcome multiple guests.
Use Every Inch
Is your home office/guest room space on the small side? No room for a desk or a bed? Your solution is a soft and comfortable couch that doubles as office seating and a resting area for guests. A small coffee table or end table nearby gives you tabletop space for all of your office necessities.
Pay Attention to Wall Color and Texture
The choice of wall paint or details in every room of your home matters, but you could feel especially overwhelmed choosing a color for a two-in-one room. Another factor to consider is texture - details like paneling could add interest to your room. There are a few safe options that are as relaxing for your guests as they are calming for you.
Incorporate Vertical Paneling
If you struggle to make your combo room feel spacious, consider vertical paneling in a light neutral shade. This will lengthen your walls and add texture for visual interest. Just one wall accented in this can change the entire room. Try placing paneling accents on the wall behind your bed or in front of your desk to draw the eye to the most important part of the room.
Choose Subtle Greens
Green is a calming and creative color that adds life to the walls in your space. For a home office guest room, you might choose a subtle gray-toned green. Doing so creates a neutral canvas for your office but keeps a subtle color present so you and your guests feel the space is welcoming.
Consider Moody Blues
A deep and moody blue also works well for providing calm to your multipurpose room. A medium or deep blue is soft enough that it isn't distracting for your office, but it has enough richness to feel cozy for your guests.
Simplify With Gray
Neutrals are your best friend when you're unsure of what paint color to choose. Gray has been a trending classic for years, and it's still a great choice for a guest room or office since it lends itself well to any other colors you may use. Choose a light shade of gray to help your space feel open and bright.
Add Black Accents
White or neutral walls might make your office guest room feel plain or sterile. For depth and contrast, try trimming your walls with black or using black finishes on your lighting and other decorative elements. Pops of black throughout the room bring sophistication and elegance to the space.
Make the Most of Your Windows
Drawing attention to and dressing the windows in your office guest room impacts your space greatly. Utilize the natural light as much as you can and use window treatments that add function and beauty to your room.
Embrace Natural Light
Natural light from your windows provides an energetic place for your office as well as an inviting retreat for anyone staying in your guest room. Embrace and highlight windows as much as you are able. Position your desk or a relaxing armchair near the window and be sure to allow for a window treatment that lets all the light into your room.
Add Functional Window Treatments
Blinds and shades are a functional and beautiful option for your guest room office windows. These allow you to filter light softly into the room, block light out entirely, or lift the treatment for full light exposure. Having light-filtering options for a home office and a guest room allows you to utilize as much natural light as you want, depending on how you're using the room at any given time.
Hang Sheer Drapes
Blinds and shades can be a bigger investment, so opt for drapes if you're working on a budget. Sheer drapes help you filter light into the room in a soft way, and they add light texture to your space.
Try Linen Drapes
A linen drape offers more light filtration and an additional level of elegance and warmth to your room. Your guests will feel right at home while having the option to block out a little light and relax.
Add a Window Seat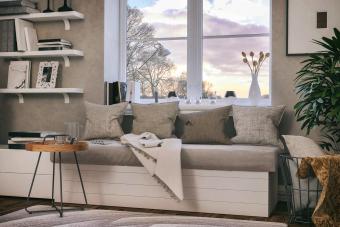 A window seat is an excellent space saver in your home office guest room. Window seats can serve as additional seating or storage area for your guests. It could also be a comfortable work space for you, and it adds more texture and visual interest to the room.
Take Your Room to the Next Level With Decor Details
The beauty really is in the details. Small decor elements take every room to the next level, and it's a great way to add visual interest and function without blowing the budget.
Bring the Outdoors in With Plants
Indoor plants give life to your room and provide health benefits to the air. Low-maintenance plants are great for a home office and add nature-inspired texture to a guest room so your guests feel that extra level of comfort and relaxation.
Add Extra Function With Trays
Small and large trays in wood, wicker, ceramic, and metal add texture and function to your guest room office. Small trays are great for your guests to drop keys, wallets, and phones during their stay. Larger trays act as a catch-all for paperwork, documents, and files in your home office space.
Use Art That Soothes
Art pieces among your decor may be something you've already considered. Keep in mind that both you and your guests will want to feel relaxed and calm in this space, so try abstract art that has neutral colors and soft details or opt for art that showcases nature.
Incorporate Texture
One of the easiest ways to add a cozy atmosphere to any room is by incorporating texture. Your office area may contain a lot of smooth and hard surfaces - the wooden desk, the metal cabinet, the plastic parts of your desk chair. Try offsetting these surfaces with softer elements that elevate the guest room portion of your space. Add pillows of varying textures to your bed. Throw a chunky knit blanket on your desk chair or add an ottoman featuring a natural fiber to add plenty of variation.
Ground the Room
Designating spaces in a multipurpose room starts with the floors. Add a rug to your guest room office to ground the space, add more texture, and separate the work area from the relaxation space.
Focus on the Bed
The bed usually takes center stage in a guest room, so be sure you don't overlook its details. Be sure to have plenty of layers in varying colors and textures. Offer pillows in different sizes and use sheets that feel luxurious. Set a tray with guest necessities on the bed for a warm welcome.
Add a Mirror
A full-length mirror placed thoughtfully in the room is a useful element for your guests. A mirror also helps your room feel more spacious if you lack square footage or windows in the space.
Helpful Guest Room Home Office Ideas
Using one room for multiple purposes is a normal part of every home, and it doesn't have to be overwhelming or difficult. Get a firm grip on your vision for the space, pay attention to the most important purposes your office serves, and then implement any of these tips that serve your vision for the room. A few small details can take your multipurpose room to a cozy and calm home office that doubles as a retreat for your home's overnight guests.