You've found the perfect paint color, now it's time to think about choosing the best paint finish for your bedroom. Though paint finish is most often chosen for its maintenance and its surface appearance, the sheen you choose can also have an effect on color. Flat and matte paint finishes can subdue the intensity of vibrant colors, making them soft and comfortable, while glossy paint can exaggerate a paint color's vibrance.
Finding the Right Paint Finish
Sampling paint color for your bedroom is essential, but it's also important to know that the pre-packaged paint samples sold in stores are formulated with a flat finish. The difference in reflectiveness between paint finish types can make a big difference in how your color appears when it's applied to your wall. Purchasing a quart of your desired color in your desired sheen may be necessary to get a realistic look at the results. Choosing the best paint finish for your bedroom is a matter of personal taste, but knowing why one finish is recommended over another, and the considerations for each, can help you avoid disappointing results.
Flat or Matte Finish
Flat paint has gotten a bad rap as the default finish for builders and landlords. Standard flat paint is less expensive and easier to cover and touch up, which is a desirable feature for large volume builders and landlords. However, the old flat paint has evolved into a sought-after finish designed by specialty paint brands who have developed their own formulas. The newer formulas of flat and matte paint are often marketed as having a rich and velvety finish. While there is still the basic flat paint sold for simple painting projects, there are many more options available to achieve the look you want. As a paint finish without reflection, flat paint can look dull in a room that lacks sufficient lighting. Matte finishes are best suited for adult bedrooms and rooms without kid and pet activities due to the difficulty of cleaning up scuffs and marks.
Tips for Using Flat Paint Finish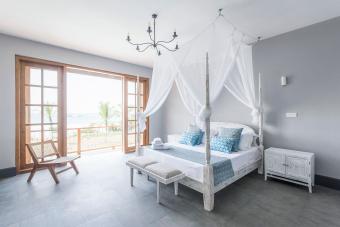 Want to give flat paint a try?
Flat paint is a popular choice for bedroom walls and ceilings.
To create a relaxing space, flat paint softens the bedroom's lighting through its lack of light reflection.
The matte quality of flat paint can give you more color options, as you can open your possibilities to richer colors which will look muted without the reflection of glossier finishes.
Flat paint hides wall imperfections very well.
Eggshell Finish
The eggshell finish gets its name from its similarity to the slightly matte appearance of eggshells. With a little more sheen than flat paint, eggshell finish is a great choice for bedrooms due to its softness and low reflectivity. Eggshell paint has grown in popularity due to its versatility in a variety of rooms. While it's still not suitable for high-activity rooms due to durability, it can take a little more action than a flat paint finish. The unique eggshell finish has a slight luster that elevates it above matte finishes, while still offering the benefits of flat paint.
Tips for Using Eggshell Paint Finish
If eggshell sounds right for you, keep these tips in mind:
Use for bedroom walls and ceilings with few imperfections.
It's a slight improvement over flat paint in bringing out the depth of paint colors.
It hides wall imperfections well.
Touch-ups are still easier than glossier paints.
Satin Finish
It can be confusing when you shop for paint without knowing that one brand's satin is another brand's eggshell. Knowing the benefits of what is typically expected of a satin paint finish can help you ask for the right sheen for your project.
Tips for Using Satin Paint Finish
Satin finish offers a happy medium between flat and gloss.
As the Goldilocks of the paint finish world, satin paint lands in the just-right zone between flat and semi-gloss finishes.
It offers a more elegant finish for bedroom walls than flat or eggshell.
Can be used on ceilings to add more light, but may highlight major imperfections.
Satin paint can be known by other names, so be sure to ask before purchasing to be sure you're getting the sheen you are expecting.
Semi-Gloss Finish
Semi-gloss paint is the workhorse of the paint finish world. Trim, doors, and cabinetry are ideal for a semi-gloss finish because of its crisp appearance and easy cleaning. While some decorators suggest using it for bedroom walls, the shine of this finish can derail a relaxing color scheme.
Tips for Using Semi-Gloss Finish
Want to try using semi-gloss in the bedroom?
Semi-gloss paint is perfect for trim, doors, and cabinets--anywhere you want a durable and beautiful finish.
The sheen of semi-gloss makes it a poor choice for walls or ceilings with noticeable imperfections.
The reflective nature of semi-gloss paint can increase glare and eye-strain, and it is not recommended for a bedroom or home office ceiling.
The ease of care makes this finish a good option for kids' rooms, play rooms, and active family rooms.
High-Gloss Finish
High gloss paint is true to its name with a shiny finish that is rarely suitable for bedroom walls or ceilings. While semi-gloss is a more elegant look for trim and doors, high-gloss is often the best choice for cabinets and other surfaces with very heavy use. In the past, high gloss paint was used on kitchen ceilings before moisture and smoke exhaust systems became more efficient. The durability and vibrancy of high-gloss paint make it a DIY favorite for painting furniture and decor.
Tips for Using High-Gloss Finish
There are times it's appropriate to use high-gloss finish in the bedroom.
A high gloss finish is suitable for cabinets and trim, making them pop against light colors.
High-gloss paint has a high level of reflectivity which shows every imperfect in walls and ceilings, and is best left to painting professionals for those surfaces.
Dressers and nightstands can be transformed into on-trend color accent pieces when painted with a high gloss finish.
The reflective quality of high-gloss paint can give any room a spacious look, but too much reflection can make the room look cold.
Make the Best of Your Decorating Project With the Right Paint Finish
Knowing the secrets of choosing the right paint finish can help you with future decorating projects, as the principles applies to any room in your home. No color palette is complete without a plan for selecting the best paint for the job.