White may be the go-to trim color in most homes, but there's still plenty of room for the often overlooked dark trim. Whether your goal is to add dark trim to your home for a sophisticated and traditional look or you're trying to work with existing dark trim, there are just a few tips to follow to ensure your home's style looks intentional and elevated with this timeless detail.
Creating a Color Palette With Dark Trim
When it comes time to select your overall color scheme, whether for the interior or exterior of your home, your first step is deciding if the dark trim will be used as a tool to contrast your other colors or blend them in. This decision will help determine the other colors needed in your palette. Stick to a few simple color rules, and you will easily find the perfect palette for your home.
An example of contrasting dark trim is black trim on a white house. An example of blending is dark gray trim on a light to medium gray house. The first highlights the intense and differing qualities of the colors, while the latter allows for slight variations among similar colors or shades.
Contrasting Dark Trim Color Schemes
If your goal is to create contrast or you're simply trying to work with existing dark trim but don't want to commit to dark walls, try classic contrasting color schemes to create a timeless look. When creating your color palette, try to stick to the rule of three and choose a base color, a secondary color (that's your trim), and an accent color.
Classic Black and White
Try the classic combo of a white home exterior surrounded by black trim and a striking front door in red for a traditional and timeless look. You can swap the red for a rich wood stain, a classic green, or even carry the black in your trim over to your door for a neutral option.
Warm Contrast
If you're aiming for something less common yet classic, try a warm cream tone on your walls with olive green trim and warm shades of camel in your furniture and decor. All of these colors should have a warm undertone, with your trim standing out as the darkest.
Cool Contrast
If warmer tones aren't suitable for your home, go the cool route with dark navy trim or a cool dark gray against an icy blue-toned white. Throw in pops of contrasting colors like burgundy, red, coral, or rust to add extra interest and additional contrast to the space.
Wood Trim Contrast
If wood trim best fits your home, opt for a dark walnut or chestnut against beige and add in touches of black to create a neutral color palette with a lot of depth. This is a classic look that adds dimension and acts as a blank slate for all of your decor.
Contrast With a Twist
An unexpected way to use dark trim is to surround it with an even darker color on your walls. Your trim could be a rich and golden walnut complemented by dark emerald walls and hints of tan throughout your decor.
Opposites Attract
You can achieve contrast with more than just shade. Certain colors on the color wheel are exactly opposite each other, making them perfect for a striking design detail. Contrast the orange or red tones in your wood trim with deep blue or green walls. Lighten up the two darker shades with a medium tone neutral in the same color family as your trim for accent.
Go Blonde
Your trim may not be a stained wood, but your cabinets, home exterior, or wall paneling may be. For a striking contrast that looks modern and elegant, accent black or charcoal trim with blonde-toned woods and pops of white.
Brighten Things Up
For the most impactful contrast to draw the eyes of your guests, contrast dark trim with an unexpected bright color. Home exteriors are a great opportunity to do this. Contrast a yellow exterior with white trim and a jet black door.
Blended Dark Trim Color Schemes
Feeling the dark trim trend, but don't love the intensity of contrast? Try a blended look. Monochromatic color schemes work perfectly with dark colored trim. You can achieve a monochromatic palette with a collection of similar colors that differ in shade or by utilizing the same color in multiple places.
Blended Monochrome
An easy way to fully embrace the monochrome look is to paint your walls in the same color as your dark trim. Use the same color in a different finish or even go a shade or two lighter for some variation. A dark teal is perfect for this as it allows you to accent with warm tones like gold or cool tones like eggplant.
Neutral Monochrome Blend
If you prefer a neutral option, shades of gray are always timeless and versatile. Combine charcoal trim with gray siding and lighter gray accents for a striking update to your exterior. Make sure your grays all have the same undertone - blue, purple, or yellow. Consistency in tone is the key to a seamless monochrome scheme with gray colors.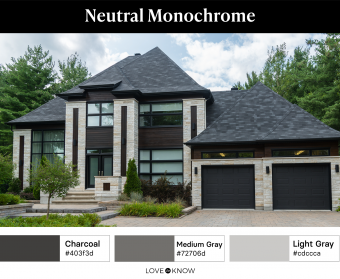 Warm Wood Blend
Looking for a way to blend in the dark wood trim in your home? Add a wall color that is similar to the shade of the wood's stain. If your wood has the rich reds of mahogany, bring in a rust or burnt orange wall color with brighter hints of other warm tones in your decor. A blended look like this will lengthen your walls and bring the focus away from trim if it's something you don't wish to highlight.
Bright Blend
Blending your dark trim in doesn't have to be just for stark monochrome looks. Step outside of the box a little and blend a dark navy trim with a cool slate gray and white throughout your furnishings and decor. This approach helps blend your dark trim without compromising on the clean and bright look you want.
Blush and Burgundy
Perfect for historical homes or rooms that call for whimsy, blush colored walls with burgundy trim are a great way to blend muted shades of red. Let these two primary colors take center stage in your room and accent with deep browns or matte blacks.
Warm Greens
Using dark trim is your opportunity to play with colors that you often shy away from. Dark shades of a color can feel less intense than their brighter counterparts. Do you want to add a fun shade of green to your home? Opt for a rich green on your trim and blend it with a warm beige and accents of olive. The trick here is making sure all of your colors carry that same warm undertone. This palette is a great introduction into depth and color if you usually prefer a neutral look.
Cool Grays
Do the cooler shades call to you? Purple toned grays are perfect for creating a blended look. Try a pop of periwinkle with purple-toned navy trim and a lavender-toned gray as your primary color.
Make It Moody
Dark, blended color palettes create a moody atmosphere in your home office or den. The trick is to blend all the colors in a way that feels effortless. Try a deep, warm purple on your walls surrounded by a dark wood stained trim. This pair of colors blends well with accents of brown-black or contrasts nicely against gold.
Fully Committed
If dark colors really sing in your space, embrace them. Carry a matte black from your trim to your walls and warm things up with accents of hunter green, dark brown, or an elegant eggplant purple. This color palette is dark and daring, but the impact is unforgettable.
Why Choose Dark Trim?
You may be trying to work with existing dark trim in a rental or simply don't have the time to change all of your trim to white, and that's okay. Dark trim has its own timeless qualities that add elegance to your home. If you're considering adding dark trim to your home, you can be assured that there are many benefits it will bring to your space.
Dark trim may highlight the architectural qualities of your home or add visual interest to a builder grade house. Dark trim can make a home office moody and sophisticated, create welcoming warmth in a dining room, and even help your home's exterior stand out among the white trimmed homes in your neighborhood. Most historical homes lend themselves very well to dark trim, and new builds are a great opportunity to create a unique look. Dark trim might be just the thing your home needs to feel curated and designed specifically for you.
Types of Dark Color Trim
There are two main types of dark color trim, and this can affect how your color scheme comes together. There is dark stained wood trim and dark painted trim. Each of these categories contains basic colors that may vary in hue but are all dark in shade, so the possibilities are truly endless.
Dark Wood Stains for Trim
Walnut or dark walnut
Jacobean
Mahogany
Ebony
Chestnut
Dark Paint Colors for Trim
Black
Brown
Dark Gray
Burgundy
Olive
Dark Green
Navy
Dark Trim for Your Home
Dark trim can bring sophistication to your home whether it's stained or painted. Interior and exterior dark trim adds a unique and elegant touch to your home's design and may help it stand out among its white trim counterparts. Using dark trim can be simple and seamless once you know how to use it among your other colors. The key is to understand the contrasting or blended look you're trying to achieve and then choose colors and shades that fit your home and style.