Navy blue is a timeless color that seems to go with everything in home decor. Though it's not really a neutral color, navy blue has become an unofficial neutral in decorating because of its effortless style. Creating a navy blue color palette can spark your imagination as you discover gorgeous new color combinations for your living room featuring this stylish color.
What Goes With Navy Blue Home Decor?
The beauty of a classic color like navy blue is that it works with almost everything. In a room with a neutral color palette, adding navy blue accents can help to anchor the space and add interest. If you'd like a bigger share of navy blue goodness, most sofa and chair retailers offer it as a fabric option as an alternative to the usual neutral beige and gray. In a white room, navy blue makes a crisp contrast color that can make adding pops of bright color more harmonious.
Fall In Love With a Navy Blue Color Palette
What's not to love about a versatile and sophisticated color like navy blue? The beauty of this classic color is how well navy blue works with other hues. Get inspired by imaginative color combinations that pair colors in unexpected ways. Navy blue is perfect for a living room, but you can also get creative with it in other rooms of your home.
Navy Blue + Coral
Sophisticated and stylish, a navy blue and coral color scheme is a stunning choice for glam, contemporary, and traditional, spaces. Paired with gold or silver accents, this color combination radiates major Art Deco vibes.
Navy Blue + Yellow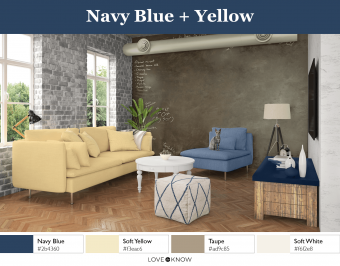 Once the standard color scheme for French country decorating, navy blue and yellow has branched out and is a popular combination for modern and contemporary spaces. As a complementary color combination, the opposite position of blue and yellow on the color wheel creates an energetic and welcoming mix.
Navy Blue + Gray
Navy blue can be a calming addition to a gray color palette. It's easy for a gray palette to become a little blah, so adding a strong color like navy blue can break up the monotony in a super stylish way. Navy blue can be a dynamic combination with charcoal gray when paired with a vibrant accent color like yellow or pink.
Navy Blue in a Monochromatic Living Room
Despite its reputation as a sophisticated color, navy blue can be as casual as you need it to be. A navy blue living room color scheme is welcoming and comfortable, like an old pair of jeans. Navy blue pairs with almost any color and can be used to bring order to a scattered color palette. Using varying shades of blue, you can create a monochromatic color scheme that is relaxing and serene.
Coastal Navy Blue Color Palette
Pair navy blue with other ocean-inspired hues for a refreshing color palette. This color scheme looks wonderful with light wood floors and furniture, completing the natural beach-inspired look.
Navy Blue Contemporary Style
If you're so over decorating with black, navy blue might be your new favorite color. Like black, navy blue is perfect for the clean lines and simplicity of contemporary style. Navy blue can be used in the same way black would be used in your contemporary color palette, but it's also perfect for upholstered furniture and area rugs.
Navy Blue Eclectic Style
While it's not quite maximalism, eclectic style shares the design principal of more is more. Navy blue makes a stabilizing statement when paired with eclectic furniture, accessories, and color palette. Add navy blue to your eclectic space to anchor your favorite art and accent pieces.
Navy Blue + Green
The versatility of navy blue really shines when paired with green in a color palette. Whether you choose navy blue and olive green, or even a vibrant grass green, navy is the perfect backdrop for a fresh and crisp color scheme. Navy blue kitchens are especially stylish when they are part of an open great room design, as your color palette can span the entire space.
Don't Stop at Navy Blue Living Room Color Schemes
There's a stylish navy blue color palette for every room in your home. The designer's secret to interior color is to repeat key colors in other rooms of the house. Using navy blue as a featured color, you can mix it in beautiful color schemes all over your house for a pulled-together look.
Navy Blue for the Bedroom
While most bedroom color palettes consider navy blue as an accent color, used for bedding and window treatments, it can also take on a more prominent role. Navy blue bedroom wall color is growing in popularity because of the desire for a more relaxed space. Use navy blue as an accent wall behind your headboard, or as an all-over wall color if you have great natural lighting.
Navy Blue + Neutrals
Even though navy blue is practically a neutral color itself, it still isn't actually a neutral - but it works beautifully in a palette with the real thing. Pair navy with beige or off-white for elevated neutral style that can be used in a variety of styles.
Navy Blue + Red
Drawing on traditional styles, navy blue and red offer a friendly and welcoming style to living rooms, dining rooms, and home exteriors. Add a neutral, like white or cream, to break up the intensity of these dynamic colors.
Navy Blue Dining Room Inspiration
Dining rooms are often the place where dramatic colors and showy light fixtures are expected. Navy blue can be used to create drama as a paint color, or as an accent color in an area rug or artwork. A color scheme with navy blue can be formal or casual, to fit the needs of every lifestyle.
Navy Blue + White
Is there a more classic color combination than navy blue and white? This color palette works with every style, from traditional to totally contemporary. The secret to this palette's success is in its simplicity and versatility.
Classic Navy Blue Exterior Color
In a sea of beige and gray homes, the bold choice of a navy blue exterior is a classic look that can elevate your home's architectural style. Navy blue creates a dramatic backdrop for your landscaping and trees. Paired with white trim and a red door, it's a timeless look.
Try a Navy Blue Accent Wall
If you want to add a pop of navy to any room, accent walls will always be in style. A navy blue accent wall can be part of any color scheme, and can deliver an instant style update to any room. The richness of this dark hue creates an effortless focal point for any space.