Gray is a popular neutral color, and for good reason. The range of gray color palettes gives you unlimited decorating options because it's a neutral that can be considered warm or cool. The flexibility of gray means that it will work with a variety of colors and decorating styles.
Cool Gray Color Palettes
Gray, in its original formula, is simply a mix of black and white. For interior design uses, popular gray colors can have blue or green added, to give it an updated look, while still staying true to its cool nature. It's easy to create a color scheme with cool grays, as they work with all types of hues from dark to pastel.
Warm Gray Color Palettes
Warm grays exploded in popularity in the 1990s, and have become a permanent fixture in the decorating world. The versatility of these relaxing neutrals makes them an easy choice for interiors and exteriors. Warm grays are often called greige, which is a play on the words beige and gray. By adding a warm brown undertone, greige becomes the most-versatile neutral color because it can be paired with cool or warm colors in a gray color scheme.
How Undertones and Temperature Make Choosing Colors Easier
To create the perfect color scheme, especially when it includes paint, it's helpful to know a little bit about undertones and color temperatures. You won't need to become a color expert, but you can save yourself time by recognizing the subtleties of colors and how they work together.
Undertones: Unless it's a pure or primary color, the colors you see in paint and decor they are mixed with other colors. Undertones appear when one of the colors in the mix is recognizable. That mix can completely change what you thought was a neutral color. A designer secret for choosing paint is to look at a color name to see if there's a clue about the undertone; it's often right there in the name.
Color temperature: Colors can be either warm or cool, and it can impact your palette. Warm colors are energetic and can appear to advance in a room, while cool colors are more passive and can retreat into the background. Gray can be mixed with cool blue or warm brown to change its color temperature.
Color Palettes for Gray Furniture
Gray has outpaced brown and beige as the most popular upholstered furniture color. With the popularity of wood and wood-like flooring, gray furniture gives a space more definition and lightens up the room.
How to Pair Gray With Pastel Colors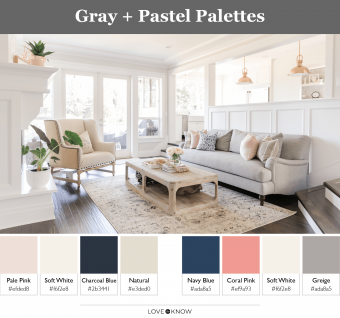 In most instances, pastel colors can be difficult to pair with neutrals. The toned down nature of pastels can clash with warm colors, or become lost in a color scheme. The right gray neutral can highlight light colors while keeping them looking fresh. The secret to creating a gray color palette with pastels is choosing the right shade of gray. You'll want to have a clear distinction between colors, meaning a mix of dark and light.
Versatile Charcoal Gray Palettes
When you're looking for a color to anchor your palette, charcoal gray should be a consideration. Charcoal is sophisticated, like black, but the slight difference in their shades keeps it from feeling too stark or formal. You can pair charcoal in any color palette, in place of black or dark brown. Charcoal is the perfect base for a monochromatic color scheme, which is not only relaxing but super sophisticated with warm metallic gold accents.
Choosing the Right Color Palette
There are simple steps you can take to ensure that you've chosen the best gray color palette for your home. Knowing what mood you'd like to create in the space is an important first step, and using inspirational photos online is an easy way to start. Collecting paint chips and fabric samples can help you pair colors in real life, and sampling paint on your walls is essential. The most important consideration in creating any color scheme is personal taste and surrounding yourself with colors and decor you love is the most important measure of success in decorating.